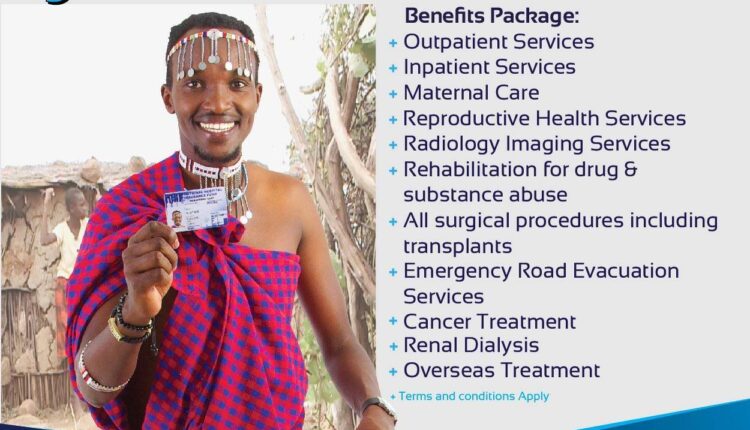 How to apply for NHIF, Packages and Requirements
Locally and globally, the National Hospital Insurance Fund (NHIF) provides a variety of outpatient and inpatient treatments. The services include enhanced maternity care, complete covering of renal dialysis, and heart surgery expenses.
In addition, people with chronic conditions have access to medical treatment at nearly no additional expense. NHIF is an excellent insurance policy for both you and your family.
You may register for the National Hospital Insurance Funds offline or online by self-registering or by visiting a Huduma location.
A Kenyan resident who has reached the age of 18 and earns more than KES 1,000 per month or KES 12,000 per year is qualified for NHIF enrollment. Additionally, international students and foreign citizens may apply if they have the required documentation, such as copies of their passports and work permits.
New NHIF rates went into effect in 2019, with the lowest payment being KES 150 on a monthly income of up to KES 5,999 and the maximum contribution being KES 1,700 on a monthly income of above KES 100,000. Self-employed individuals will pay a monthly fee of KES 500.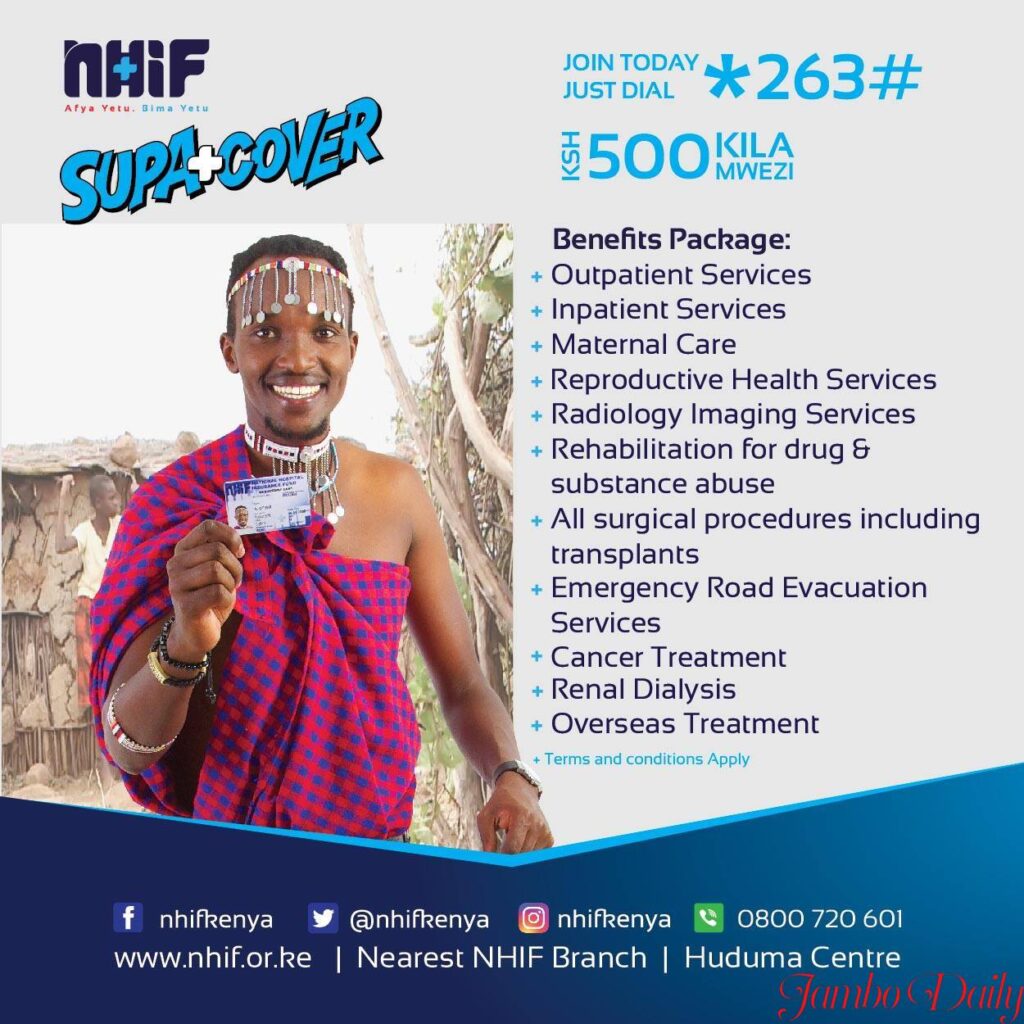 Requirements For NHIF Registration
A copy of the National ID
A copy of your spouse's National ID, if applicable.
Colored passport photo (including spouse & dependents if applicable)
For employed people, a copy of the employment letter.
Original and copies of birth certificates for dependents.
Requirements For Foreign Students
Photocopy of your passport.
Colored passport size photo.
Submit the required amount under the Voluntary/Self Employed Category
Requirements For Foreign Nationals
Photocopies of an alien certificate, work permit, and passport (including spouse).
Colored passport size photo (including spouse if applicable).
Employers Requirements
Certificate of Registration
PIN Certificate
Procedure for applying NHIF offline (in-person) and online
How to apply offline
To apply, the applicant should go to the National Hospital Insurance Fund (NIHIF) offices or Huduma Canter.
You will be issued an NHIF Individual Registration Form or an Employer Registration Form to fill out and submit, depending on your application type.
The form may also be downloaded and filled out before coming into the office to submit it. The paperwork may be obtained from the NHIF website and filled out before submitting them.
Fill in your personal information, spouse information, children's information, and desired outpatient facility information.
Proceed to pay the Ksh 1500 registration fee.
Attach copies of needed papers to the NHIF offices for processing, such as a copy of your ID, passport picture, marriage license if you are married, business PIN and company registration certificate, and bank payment slip.
It usually takes seven days to finish registration. The NHIF ID card must be picked up in person. During collecting, you must have identification with you.
How to apply online
Go to NHIF's online registration website.
Depending on the form of registration you qualify for, choose "Employer, "Employee," or "self-employed."
Following your decision, a page with an application form will appear, which you must complete.
Please attach the necessary documentation. A copy of your ID, a passport picture, a marriage certificate if you are married, a business PIN and a company registration certificate are examples of these papers.
Review your application data after uploading the papers, then click Save. This will provide an online invoice with payment instructions for your registration.
Make the necessary registration charges. As stated in the instructions.
Following payment, you will get an email with your status. In addition, you will get an SMS confirmation of registration payment to your telephone number.
Print the acknowledgment of the registration form and take it to any NHIF office or Huduma center in your area to get your card produced.

Photo/Courtesy
Eligibility
Kenyan residents
The person must be at least eighteen years old. (After the age of 18, there is no age restriction.)
A person who earns more than Ksh. 1,000 per month or Ksh. 12,000 per year via salaried or self-employment.
The person must have a source of income in Kenya.
Individuals employed on a contract or a casual basis
Foreign travelers licensed to work or study in Kenya are among the voluntary donors.
Fees
The application is entirely free.
Members in the voluntary category make payments of Kshs.500 per month (Kshs.6000 per year). Contributions are paid according to income for individuals in formal employment.
Validity
After 60 days from the date of registration, the insurance becomes active.
As long as the monthly payment is made, the registration is active.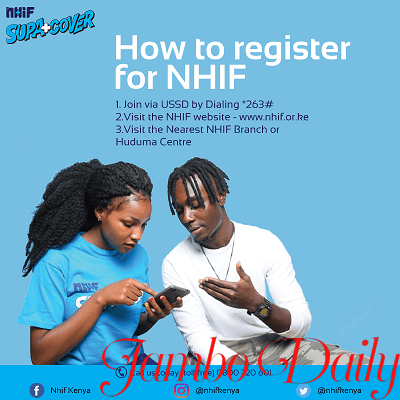 Benefits of NHIF cover
NHIF members are given services at the hospital, and the hospital files a claim for payment with the Fund.
Provides coverage for the donor, their spouse, and any children they've disclosed.
It covers most of the country's more than 400 government-accredited institutions and some private health care providers.
It provides inpatient treatments in private and expensive hospitals on a co-payment basis.
Some private and government hospitals provide a complete maternity care package, including CS (Caesarean section).
Dialysis sessions cost Ksh 2,500 each.
Vasectomy, tubal ligation, and family planning
The NHIF does not exclude any illness.
Office Locations & Contacts
National Hospital Insurance Fund
P.O. Box: 30443 – 00100, Nairobi, Kenya.
Phone: 0800 720 601, (020) 2723255/56
Phone: (020) 2714793/94, (020) 2722527
SMS to 21101 for help
Fax: (020) 2714806
Enquiries: ek.ro.fihn@eracremotsuc
Complaints: ek.ro.fihn@stnialpmoc
Liaise: ek.ro.fihn@ofni
Fraud: ek.ro.fihn@duarf or (020) 2714803
Website: http://www.nhif.or.ke/healthinsurance/