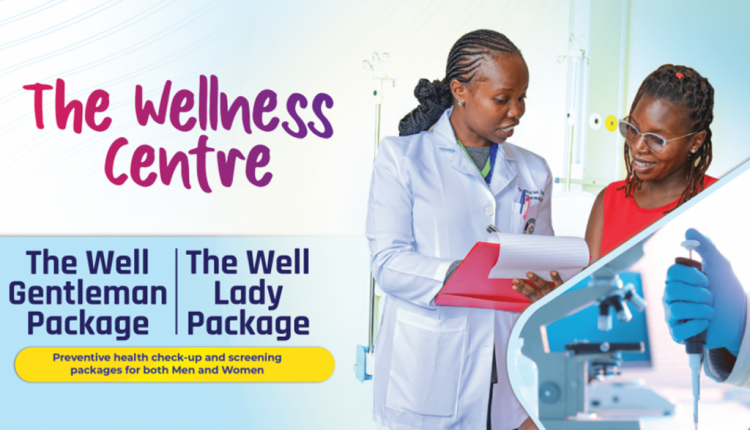 Full Body Screening Hospitals in Nairobi
This is a list of full-body screening hospitals in Nairobi that provide wellness check services at affordable prices. Wellness checks are another term for full body screening services. Wellness checks are tests that provide a broad picture or snapshot of the body's normal functioning.
The check-ups are primarily intended to reduce the likelihood of medical illnesses or conditions that may arise unexpectedly in the future. Kidney function tests, blood sugar, total blood count, urine test, thyroid function test, and so on are some of the tests and checks that are performed.
List of Full Body Screening Hospitals in Nairobi
1. The Karen Hospital
The Karen hospital is a 102-bed multispecialty hospital located along Lang'ata road in Nairobi Kenya. It offers patient-focused world-class medical diagnosis and treatment, according the highest standard of medical care to its patients.
In addition to that, they offer full-body screening services poised as wellness checks for people of all ages and gender. The cost of full body screening at The Karen Hospital starts at Ksh 10,800 and it varies depending on age and gender.
Their comprehensive adult wellness checkup is priced at Ksh 43,700 and Ksh 5,000 for a Child wellness check.
You can view more here Karen hospital annual wellness check-up
Read also List of The Karen Hospital Branches in Kenya, Their Locations and Contacts
2. Bliss Medical Centre
Bliss Healthcare is Kenya's leading integrated healthcare network, offering comprehensive outpatient services. They pride themselves on offering efficient, accessible, high-quality, and cost-effective healthcare services in Kenya's urban and rural settings across 37 counties.
Full body screening is available at any of their 69 medical centers across the country. A special health checkup encompassing 33 tests aimed at identifying potential diseases/cancers costs Ksh14,500.
For more information, visit their site Bliss Medical Centre
3. Nairobi Women's Hospital
Nairobi Hospital has several branches in the capital. Standard wellness packages start at 8,000 shillings and include tests like urinalysis, stool analysis, full blood count, lipid profile, fasting blood sugar, and pap smear. The executive wellness package costs Kshs.14,500.
Read The Nairobi Womens Hospital Branches in Kenya, Their Locations and Contacts
4. MP Shah Hospital
It is an advanced 210-bed facility that provides a complete wellness package for Kshs. 19,999 all-inclusive. Urine tests, kidney function tests, total blood count, blood sugar, blood group, uric acid, pap smear, ECG, and thyroid function tests are among the tests and checks performed.
Read List of Level 5 Hospitals in Kenya, Their Locations, and Contacts
5. Kenyatta University Teaching, Research & Referral Hospital
Kenyatta University Teaching, Referral & Research Hospital (KUTRRH) is a top Public National Referral Hospital (Level 6) with 650 beds and cutting-edge medical technology.
Preventive health screenings are extremely beneficial in the early detection of various illnesses and risk factors. Kenyatta University Teaching Referral and Research Hospital's wellness center provides a one-stop shop for health screening needs, as well as early detection and management of diseases.
They have three full-body screening packages; Platinum, Gold, and Bronze for both men and women. The prices are as follows:
Platinum package- Ksh 45,000
Gold Package- Ksh 20,000
Bronze package- Ksh 10,000
Foe more information, visit https://www.kutrrh.go.ke/wellness/
6. Matter Hospital
It is a leading healthcare facility that charges Kshs. 13,000 and 14,000 for a well-man check and a well-woman check, respectively. Full blood count, urinalysis, stool microscopy, dental check, ECG, uric acid, creatinine, mammogram, and eye exam are among the tests.
7. Amref Medical Centre
It began as a staff clinic, providing outpatient medical services to Amref health staff and their beneficiaries. Amref offers a variety of wellness checks for a total of 20,000 shillings. Full blood count, urine analysis, stool analysis, liver function screening, thyroid function tests, ECG, cervical cancer screening, and other tests are performed.
8. The Nairobi Hospital
It provides a well-woman package for a total of Kshs 32,620. Consultation fees, stool microscopy, liver function tests, lipid profile, fasting blood sugar, chest x-ray, ECG, and stool for occult blood are all included.
9. Metropolis Lab
Metropolis lab locations include Westlands, Parklands, Upperhill, and Eastleigh. It provides health master comprehensive and health master advanced wellness checks at reasonable prices ranging from Kshs. 10,000 to Kshs. 12,000 per check.
10. Riverdale Medical Centre
The hospital charges Kshs. 14,999 for a basic wellness package. ECG, pap smear, liver function test, urinalysis, lipid profile, random blood sugar, breast exam, and dental check-up are examples of such tests.
11. Meditest Diagnostic Service
It is a cutting-edge medical facility in Westlands. It provides comprehensive wellness checks at a low cost of Kshs. 15,000. Send an email to info@meditestdiagnostic.com if you have any further questions.
12. Columbia Africa
Columbia Africa offers a thorough health checkup economy package for both males and females for Kshs. 6,350, a comprehensive health checkup platinum package for males and females over the age of 50 for Kshs. 15,500, and a full medical checkup gold package for males and females aged 40-50 for Kshs. 13,900 and 14,200, respectively.
Conclusion: Full Body Screening Hospitals in Nairobi
These are some of the best full-body screening hospitals in Nairobi that can guarantee quality services. However, there are many other hospitals and medical facilities offering the same services across the country.