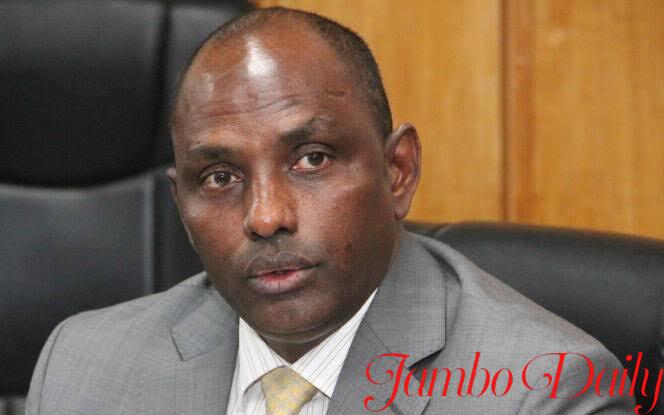 Ukur Yatani Bio, Career, Age, Family, Wife, Education and Net Worth
Ukur Yatani Kanacho is a Kenyan politician who served as the first governor of Marsabit County. Currently, he is serving as the Cabinet Secretary for Treasury since January 14th, 2020, taking over from his predecessor Henry Rotich. In addition, he has also served as a Kenyan Ambassador to Austria from 2009 to 2012. Prior to his appointment as the Cabinet Secretary for Treasury and Planning, he was serving as a Cabinet Secretary for Labour and Social Protection. As a well-known politician, he started serving as a Member of Parliament for North Horr Constituency in 2006. Following the 2010 constitutional reforms, he vied and won the election as the first governor of Marsabit County and served for one term from 2013 to 2017.
Ukur Yatani Age and Place of Birth
Yatani was born on 12th March 1967 and he is 54 years as of 2021. He was born in the North Horr sub-county in Marsabit County.
Ukur Yatani Education
He attended Maikona primary school in 1975 and he was then moved to North Horr Primary school in 1978, where he sat for his Certificate of Primary Education in 1981. Ukur was a bright student in school as he emerged as the top candidate in the then Marsabit District. After that, he joined  Garbatulla High school, through the Jomo Kenyatta Foundation scholarship. Between 1986 and 1987 he joined Kabarnet High school for his A-levels. He has a Bachelor of Arts degree from the University of Egerton which he acquired in 1991. In addition, he also holds a Master of Public Administration and Public Policy from the University of York in the UK.
Ukur Yatani Family and Wife
Yatani has not yet revealed any information regarding his parents or family background. As they say every successful man there is a woman behind, Yatani is married to one lovely lady, Dr. Gumato Yatani, and they have two kids together.
Ukur Yatani Net Worth
According to the papers he submitted to the parliament declaring his wealth, he had a net worth of Ksh 295 million. According to him, his wealth has been highly contributed by his investments in the transport businesses, real estate, and moveable assets.
Career
Early Career
Ukur began his career as a civil servant began when he was hired as a District Officer for the Government of Kenya. As a result of his outstanding performance, he quickly rose to the next rank becoming the new Senior District Officer. After that, he earned a promotion and became the new District Commissioner in July 2002. As District Commission, he was able to fully conduct state business, maintain law and order, implement long-term strategic plans that helped in upgrading government services and the lives of local people.
Political Career
In 2006, he was elected to represent the people of North Horr constituency as a Member of Parliament. He was elected in a by-election after the death of Godana who died due to an aviation accident. At the time he was elected, the Marsabit North District was developed and he supervised the formation of several administrative units across the constituency. As a result of several administrative being formed the constituency gained more independence and service delivery also improved. Ukur only served for one term as a Member of Parliament.
Ukur was appointed as an assistant minister in the Ministry of Science and Technology. As an assistant minister, he was helping the minister in performing all ministerial and government functions. In 2009, he was named as the Ambassador to Austria in the Ministry of Foreign Affairs. In addition, he was also appointed as Kenya's Permanent Representative to the United Nations, Vienna.
While serving as an Ambassador, he gave support and consular services to Kenyans living abroad. Moreover, he also promoted trade and economic cooperation with a variety of European nations. Having achieved this he contributed to the realization of Kenya's Vision 2030.
Furthermore, Ukur also served on the Board of Governors of the International Atomic Energy Agency for the International Atomic Energy Agency. The board works to promote the peaceful use of nuclear energy around the world. Still, as the Ambassador, he held a senior leadership position at various diplomatic ns international agencies at the United Nations. In addition, he also chaired the African Group of Ambassadors.  He served as the ambassador for only three years.
In 2013, he declared his bid to run for a gubernatorial seat, which was created after the 2010 constitutional reforms. He vied for the seat and he won the 2013 general election becoming the first person to serve as the governor of Marsabit County. Being the first governor he was given the mandate to build the newly formed county from a zero point. He was also mandated to bring peace and economic growth to the county.
During his tenure as the governor, he upgraded 5,000 kilometers of gravel road, tarmacked Marsabit town roads. In addition, he also spearheaded the installation of solar-based street lighting and drainage systems and stimulated an economic revival through investments. Ukur went ahead and stimulated an economic revival through investments in agriculture and livestock.
He went further to support the cultural festivals and Turkana Cultural Festival was nominated for India's prestigious Tagore Award. Ukur then joined hands with the national government alongside other big investors to establish new two roads and the largest wind power plant in Africa.
Serving as the Cabinet Secretary
Yatani was appointed as the Cabinet Secretary for the first time on 16th, February 2018 by H.E Uhuru Kenyatta. He was appointed to head the Ministry of Labour and Social Protection. One year later, on 24 July 2019, he was appointed to serve as the acting Cabinet Secretary for Treasury, after the dismissal of Henry Rotich. On January 24th, 2020 he was officially confirmed as the permanent cabinet secretary for Treasury.