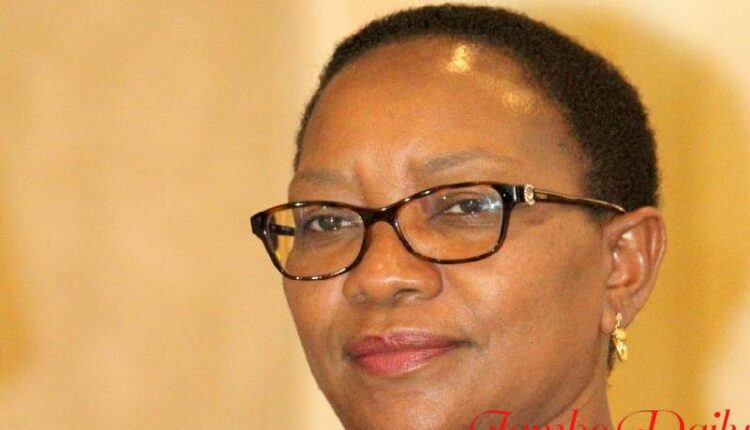 Sicily Kariuki Bio, Career, Age, Education, Kids, Husband and Net Worth
Sicily Kanini Kariuki is a Kenyan politician currently serving as the Cabinet Secretary for Water, Sanitation, and Irrigation. She was appointed in that position by President Uhuru Kenyatta on 20th January 2020 to serve under his administration. Prior to her appointment, she was serving as the Cabinet Secretary for Health from 2018 to 2020.
In addition, she has also served as the Cabinet Secretary for Public Service, Youth, and Gender Affairs where she was appointed in December 2015. Furthermore, she has also worked as the managing director (MD) and Chief Executive Officer of the Tea Board of Kenya. Sicily has also worked as a chief executive officer of the Fresh Produce Exporters Association of Kenya.
Sicily Kariuki Age and Birth Place
She was born in  Kangaru Village, Manyatta constituency in Embu County. However, the details on when she was born are still unknown at the moment but it will be updated as soon as possible.
Education Background
Sicily attended the University of Nairobi where she acquired her bachelor's degree. After that, she joined the Eastern And Southern Sothern African Management Institute (ESAMI) where she acquired her Master's Degree in Business Administration and specialized in strategic management. In addition, she also holds a Ph.D. in law regulation from Michigan StateUniversity in the United States.
Sicily Kariuki Family and Husband.
She is the sixth child of the late Mugo and Eunice Wandiri and she has six siblings. She is married to Zabby Kariuki, however, he likes to keep his life private hence much is not known about him. However, according to her, Zabby is a very understanding and supportive husband. They have four kids together. However, she lost one of her daughters, Wendy Muthoni 'Noni' on July 19th, 2020 at the age of 20. Her daughter was pursuing law at the JKUAT Karen campus at the time of her death.
Sicily Kariuki Net Worth
As of 2015, she had a net worth of Ksh 168 million, according to the papers she presented before the parliament when she was being vetted. This amount includes all her assets, investment, and salary.
Professional Career
Though much is not known about her past career, Sicily was really doing well in the business world before being appointed as a CS where she was working as an officer of the Kenyan Investment Authority. In addition, she also served as a Chief Executive Officer(CEO) of the Fresh Produce Exporters Association of Kenya. After that, she was appointed to work as the managing director and chief executive officer of the Tea  Board of Kenya.
As the managing director, she managed to rise the tea industry and in 2012 it was the top earner of the foreign exchange in the country, accounting for Ksh 130 billion which is around $1.3 billion. Sicily also served as the Principal Secretary in the Department of Agriculture under the Ministry of Agriculture, Livestock and Fisheries.
Serving as a Cabinet Secretary
Sicily was appointed for the first time in December 2015 by President Uhuru Kenyatta to serve as the Cabinet Secretary for Public Service Youth and Gender Affairs. Sicily served in that position for three years until 2018. After the re-election of the Jubilee government in 2017, in January 2018 she was appointed as the new Cabinet Secretary for Health. As the Minister for health, she toured Lamu County on November 16th, 2018 where she commissioned a renal/dialysis Unit, a CT Scan machine. In addition, she also commissioned an operating theatre at the Lamu county hospital under the Ministry of Health.
Sicily went ahead and declared that the Ministry of health was going to deliver vaccine preservation equipment, vehicle, and motorbike to the hospital and increase the immunization coverage in the county from the current 77%.  In addition, she urged the County Health Management Team to focus more on supporting the curative service to increase the level of service in the institution.
Still, in 2018, she was appointed by Tedros Adhanom Ghebreyesus, WHO Director-General to serve on the Independent High-level Commission on Non-Communicable Diseases where he served until 2019. On January 20, 2020, she was appointed as the Cabinet Secretary for Water, Sanitation, and Irrigation, leaving the health docket to Dr. Mutahi Kagwe, who was appointed in February 2020.