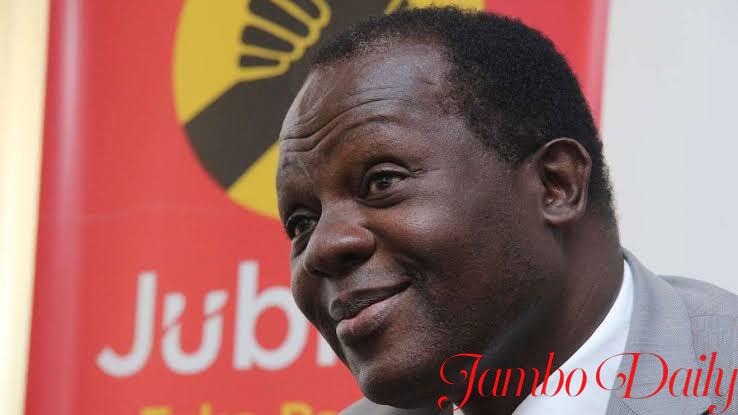 Raphael Tuju Bio, Age, Career, Education, Family, Wife and Net Worth
Raphael Tuju, born in 1959 is a popular Kenyan politician and a business person. Currently, he is serving as a cabinet secretary without a portfolio.
Cabinet secretary without portfolio is a position where one is appointed as minister without any ministry to head. However, despite having no role as a minister, he receives the full salary of a Cabinet Secretary and his vote count during Cabinet meetings.
Tuju was appointed as a CS without portfolio in 2018 by H.E Uhuru Kenyatta to serve under his administration. Before joining politics, Tuju was working as a journalist, TV producer, and real estate Investor.
Tuju started his political journey in 2002 after he was elected as a Member of Parliament (MP) representing the Rarienda constituency. He has also served as Minister for Foreign Affairs for two years from 2005 to 2007.
From 2008 to 2011 he was serving as presidential advisor on matters concerning media and the management of diversity.
Raphael Tuju Age and Birth Place
Tuju was born on 30th March 1959 and he is 62 years old as of 2021. However, much is not known about which county he was born in.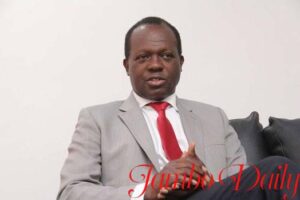 Raphael Tuju Family and Wife
According to Tuju, he was brought up in a very poor family and his parents couldn't afford much. According to him, he wore underwear for the first time when he joined high school.
Tuju lost his father Henry Odiyo Tuju in 2015, he also lost his brother Kefa Oduor Tuju on 19th December 2018 after battling brain cancer.
Currently, Tuju has managed to keep his love life private. Initially, he was married to Ruth Akinyi Wanjere, the couple tied the knot in 1996. However, in 2013 they decided to part ways. The couple had two daughters and one son.
Raphael Tuju Education Background
Tuju began schooling at Majiwa primary school and later transferred to Nakuru West where he completed his primary education. After primary school, he joined Starehe Boys high school a National school.
For his higher education, Tuju holds a Master of Arts degree in mass communication from the University of Leicester in London, United Kingdom.
Raphael Tuju Net Worth
Tuju has not yet disclosed any information concerning his net worth but he is considered as one of the richest politicians in Kenya. Tuju receives the full salary of a cabinet secretary which adds up to approximately 1 million Kenyan Shillings.
Career
Tuju began his career in the late 1980s as a media personality. Tuju worked as a Television news anchor until early 1990, however, he was working in that capacity on a part-time basis.
After that, he started working as a producer and director. As a director, he directed several documentaries, radio and television commercials for international agencies.
During the same period, he was still working as a columnist for Eastern African Standard, a local newspaper. As time went by Tuju continued to climb the career ladder as he became the new lead consultant in the design and implementation of several public communication programs.
In this capacity, he worked for different organizations including World Health Organisation (WHO) in Geneva. He also worked for World Bank, the United States Agency for International Developments, and other know organizations.
In 1992, Tuju founded  Ace communication where he became the director of the company. He served in that capacity until 2001.
Political Career
In 2002, Tuju decided to change his career path and dived into politics contesting for a Member of Parliament s representing the Rarienda constituency. Tuju went ahead and won the December 2002 election, becoming the new Member of Parliament representing the Rarienda people. Despite being his first time running for the position he was able to convince Rarienda people that he was the best fit for the position.
During his tenure as a member of parliament, he managed to build five secondary schools which increased the enrollment of high school students in the Area. In addition, he also spearheads the implementation of major Water projects in the Area.
In 2003 Kibaki took over as the new President of the Republic of Kenya through National Rainbow Coalition (NARC). In the Kibaki administration, Tuju was appointed as a portfolio minister of information and communication. He also served as Minister for Tourism and Wildlife. These two positions served between 2003 and 2005.
At the end of 2005, he was appointed to head the Foreign Affairs docket as the minister. Tuju held the position until 2007. Tuju established his name in politics in 2005 after he was involved in a feud with the then minister of Road, Raila Odinga.
However, due to the conflict between him and Raila. Tuju's political career was seen to be in danger since Raila was Nyanza's political Kingpin and Tuju going against him was seen as a betrayal.
Despite ups and downs, Tuju was named as the minister of foreign affairs on 8th  December 2005. In 2007, was his worst year as he lost his parliamentary seat and he was again replaced with Moses Wetangula as the Minister of Foreign Affairs.
Despite losing both positions, his experience in matters concerning government, and a clean record he landed a new job. In 2008, he became a presidential advisor, advising the president on matters concerning media and management diversity, serving until 2011.
Ahead of the 2013, general election, Tuju founded his political party, Party of Action (POA). The party was going to be his vessel to the country's top job.
In 2017, the TNA party which was being headed by Uhuru Kenyatta, and URP headed by William Ruto dissolved alongside other parties and formed a new party, Jubilee Party. With the formation of the new part, Tuju became the new Secretary-General of Jubilee Party a position he holds up to date.