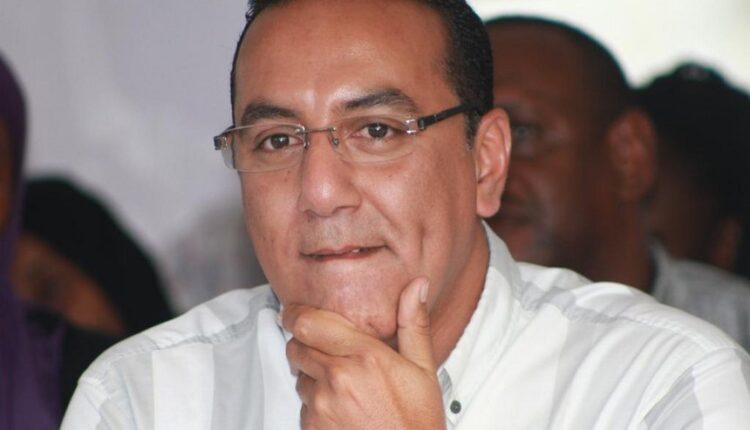 Najib Balala Bio, Career, Age, Education, Family, Wife and Net Worth
Najib Balala is the current Cabinet Secretary for Tourism and a well-known Kenyan politician. He was appointed as the Minister for tourism in 2015 by H.E Uhuru Kenyatta to serve under his administration. Before being moved to the Ministry of Tourism he was serving as the Cabinet Secretay for Mining, which is currently headed by Hon. John Munyes. In addition, he also served as the Minister for Tourism for four years from 2008 to 2012. Being one of the most successful politicians in Kenya he managed to secure a seat as a Member of Parliament representing Mvita Constituency in 2002, where he served until 2007. In addition, he is also the Party Leader of the Republican Congress Party of Kenya (RCPK) which is currently under the Jubilee Party.
Najib Balala Age and Place of Birth
He was born on September 20th, 1967 and he is 54 years as of 2021. He was born in Port city, Mombasa County.
Najib Balala Education  Background
Balala began his schooling at Serani Boys. After that, he joined Kakamega High, a national school where he qualified to join University. Balala joined the University of Toronto in Canada where he studied Business Administration and International Urban Management and Leadership. He has also attended the John F. Kennedy School of Government at Havard University.
Najib Balala Family, Wife and Kids
His father died while he was young and he grew up without a father nd he was raised by his mother, Rahma Saleh who passed  away on 04th February 2015 at the age of 82. He has an elder brother by the name of Salim Mohamed Balala .Balala is married to Najaah Balala, the couple haa four children together including, Naneel, Naeem, Naila and Nusaybah.
Najib Balala Net Worth
He has not yet disclosed his actual net worth. However, he is one of the richest politician in Kenya with an estimated net worth of over 100 million.
Career
After completing his education he joined the private sector in the tourism business. After a while, he moved to a family business where they were dealing with the tea and coffee trade. In 1993, he was elected to serve as the Secretary of The Swahili Cultural Centre where he served for three years until 1996. After that, he was appointed as the Chairman of the Coast Tourist Association in 1996 and served for three years until 1999.
Political Career
His political journey started in 1998 when he was elected as the Mayor of Mombasa. During his tenure as the mayor, he managed to transform Mombasa into an economic hub and changed the affairs at Town Hall by creating and leading the anti-corruption rally. In 2000,  he was appointed as the Chairman of Commerce and Industry where he served for three years until 2003.
After serving as a Mayor in 2002 he decided to run for a higher position and vied for a Member of Parliament in Mvita. He went ahead and won the 2002 general  election becoming the new MP for Mvita Constituency. Balala served as the MP for a full term until December 15th, 2007. While still serving as a Member of Parliament he was appointed as the Minister of Sports, Gender, Culture and Social Services in January 7th 2003. He served in that position until June 31st 2004. At the same time he was serving as an acting Minister Labour from January to June 2003.
On June 31, 2005 he was appointed to serve as the Minister for National Heritage, to served under former President Mwai Kibaki administration. After completing his first term as a Member of Parliament, he decided to seek for re-election during the 2007 general election. On December 27th, 2007, he was declared as the winner of the seat and he earned a second term in office to represent people of Mvita Constituency. In 2008 he was selected as the Minister for Tourism and served for four year until March 2012. Despite serving as an MP he was appointed as the Chairman of the UNWTO Executive Council serving from November 11, 2011 to March 2012.
Ahead of the 2013 election, he formed a political party by the name The Republican Congress Party of Kenya (RCPK) in April 2012. His party later joined other political party such as TNA which was headed by President Uhuru Kenyatta, URP, headed by the Deputy president William Ruto and NARC headed by Charity Ngilu. The Party formed a coalition by the name of Jubilee , which later took the government in 2013 and it was headed by President Uhuru Kenyatta.
Serving as the Cabinet Secretary
Following Jubilee win in 2013, he was appointed as a the new Cabinet Secreatary for Mining in May 15th, 2013. Serving as the Minister of mining he cancelled a Lincenses which were issued by the previous government.Following the cancellation of the Licences, Balala was accused of corruption by one company by the name of Cortec Mining. According to the company, Balala was asking for $1 million for the reinstatement of the license. Since the cancellation of the linceses Kenya has became a best place to invest.
In June 2015, Balala was moved to Tourism docket becoming the new Cabinet Secretary for Tourism. By the time he was being appointed as the cabinet secretary for tourism, he was well versed in the tourism field since he had earlier served as the Minister of Tourism. As a result of his experience in that field, Tourism in Kenya has grown to a noticeable point where many many want to come and see the beauty of Kenya.
On January 12, 2021, Balala announced appointment of a British Super Model, Naomi Campbell as the official Ambassador for tourism Internationally. However, the news were not well received by Kenyan on Twitter as they went on to criticize him on why he didn't choose Lupita Nyong'o a Kenyan actress based in America. Balala will be serving in that position until the end of President Uhuru Kenyata administration.