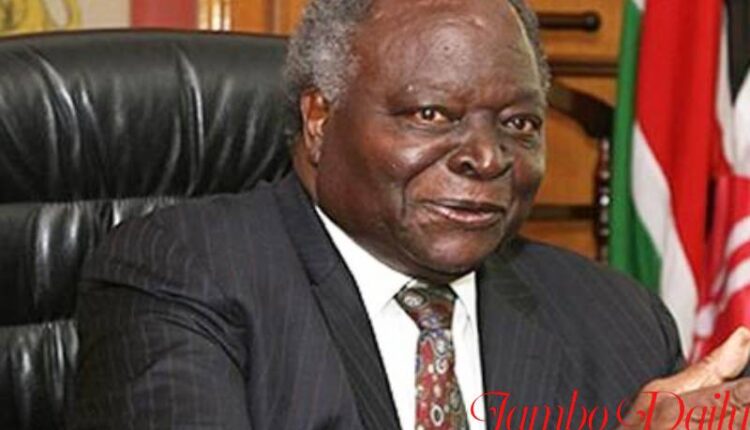 Mwai Kibaki Biography, Career, Age, Death, Wife, Legacy and Net Worth
Mwai Kibaki, born Emilio Stanley Mwai Kibaki was a prominent Kenyan politician who served as the third President of Kenya for a period of ten years from December 2002 to April 2013. After his two terms as the President lapsed, Kibaki officially retired from politics, leaving a legacy that will be remembered by many generations to come.
Prior to his presidential position, Kibaki had served as the fourth Vice President of Kenya under the late former president Daniel Toroitich Arap Moi. The legendary politician served in that capacity for ten years from 1978 to 1988.
Kibaki has also served in numerous ministerial positions during Kenyatta's era as well as Moi's era. Some of the ministerial positions he held included minister of finance serving from 1969 to 1981 under Mzee Jomo Kenyatta.
He then served as Minister of Health and Home Affairs under the late former president Daniel Arap Moi. Moreover, he also served as an opposition leader for four years from 1998 to 2002. In 2002, he took over the sword from Moi and led the country for ten years.
He was well known as an economic master with a key to unlock a locked economy. His hilarious speeches were among many other things that you couldn't get enough of him.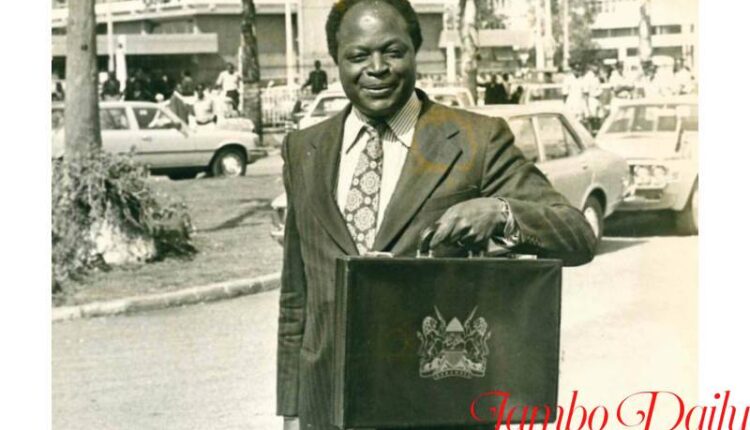 Mwai Kibaki Age and Place of Birth
Kibaki was born on 15th November 1931 in a small village known as Gatuyaini, Othaya in Nyeri County.
Mwai Kibaki Family Background
Mwai Kibaki was born in humble background as the last son of Kibaki Githinji and Teresian Wanjiku. He was born as Mwai Kibaki but later baptized as Emilio Stanley by Italian missionaries.
Mwai Kibaki Education
Kibaki began his education in Gatuyaini, a village school where he spent two years. He later moved to Karima mission school near Othaya before transferring to Mathari School (now Nyeri High School) between 1944 and 1946.
At school, he learned carpentry and masonry in addition to his academic studies. After attending Karima Primary and Nyeri Boarding Primary Schools, he went on to Mang'u High School, where he studied from 1947 to 1950, earning the highest grade in his O Level exams.
Before completing his final year at Mang'u Kibaki wanted to join the army after finishing school but his ambitions were cut short after Chief colonial secretary, Walter Coutts, banned members of Kikuyu, Embu, and Meru communities from joining the military.
After the ban, he decided to join Makerere University in Kampala, Uganda to pursue economics, history, and political science. He graduated with first-class honors and landed a job at Kampala working with Shell Company of East Africa.
He later received a scholarship and jetted to the United Kingdom to undertake postgraduate studies at a British university. Kibaki joined the London School of Economics graduating with a BSc in Public finance.
Wife and Kids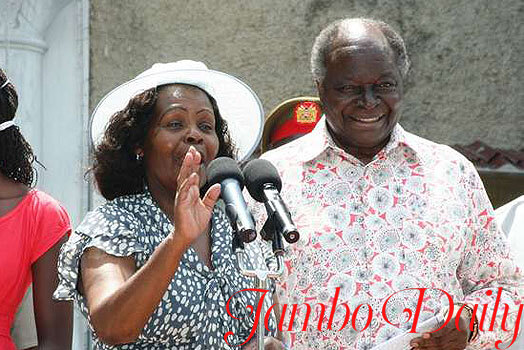 Kibaki was married to the late Lucy Mothoni who passed away in 2016. The two met way back in the 1960s when Lucy was working as a secondary school teacher.
The two got married in 1961 and their reunion was blessed with four kids Judy Wanjiku, Jimmy Kibaki, David Kagai, and Tony Githinji. However, unlike many political families, none of his sons or daughters has aspired to take in his father's footsteps.
However, his marital life didn't lack tides, in 2004 reports started surfacing that Kibaki had marred another woman Mary Wambui and sired a daughter Wangui Mwai.
The report exploded into a huge controversy that forced him to call for an unsigned press conference to declare he only has one wife and four children.
Career
Early Political Career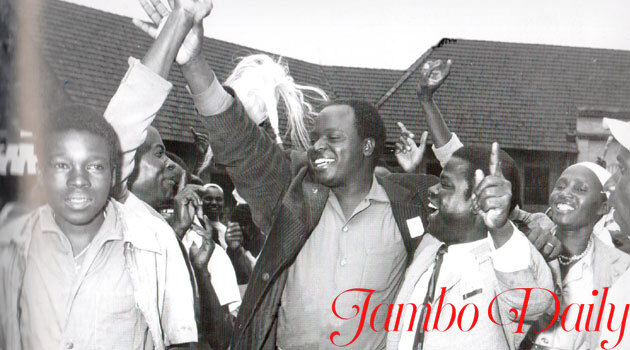 His political career kicked-off way back in 1960, before Kenya, gained its independence. Kibaki was first called by Thomas Joseph Mboya in 1960 to serve as an executive officer for KANU.
Being among the learned leaders at that time he played a major role in drafting Kenya's Independence constitution.
Kibaki was first elected as a member of Parliament in 1963, to represent the people of Donholm Constituency in Nairobi. The same year he was appointed to other government positions including Permanent Secretary for the Treasury, Assistant Minister of Finance, and chairman of the Economic Planning Commission.
Three years later he was elevated to a higher position and became the  Minister of Commerce and Industry. After that, he was appointed as the Minister of Finance and Economic Planning serving until 1982.
In 1974, he changed his battlefield shifting his focus from Nairobi to his home town Othaya in Nyeri, where he vied as a member of parliament serving in that position until his retirement.
Serving as the Vice President
In 1978, the country lost the first president of Kenya Mzee Jomo Kenyatta, and Moi who was the Vice President at the time took the helm as the next President of Kenya. Moi promoted Kibaki to serve as his Vice President the same year since the duo were much closer and learned at the same time.
Despite being picked as the Vice President, he still held the Finance portfolio, before Moi moved him to home affairs in 1982.
Fall Out With Moi
After a decade of being second in command, Kibaki fell on the wrong side of Moi and he was demoted from the Vice President to Minister of Health in 1988.
Despite his fallout with the then President, Kibaki stayed calm and expressed himself as a loyal stalwart of the single ruling party. Prior to the introduction of multi-party politics in 1992 Kibaki had earlier stated that advocating for multi-party democracy and trying to eliminate KANU from power was like trying to cut down a fig tree with a razor blade.
On 25th December 1991, a few days after the repeal of section 2A of the Kenyan constitution which paved a path for the multi-party system, Kibaki surprised many after he handed over his resignation letter.
Presidential Bid and Serving as the Opposition Leader
After that, he went on to form his own political party dubbed Democratic Party (DP). With his new party, he launched his bid to eliminate his former peer from the presidential seat in 1992.
However, Kibaki ended up missing his first short finishing in the third place. He never lost hope he went back to the ballot in 1997, this time facing Raila Amollo Odinga and Daniel Toroitich.
This time he was close to clinching it as he finished as runners-up in front of Raila Odinga. Moi emerged as the winner, while Kibaki and Raila complained of poll rigging, they joined hands and boycotted Moi's swearing-in.
Taking the Presidency in 2002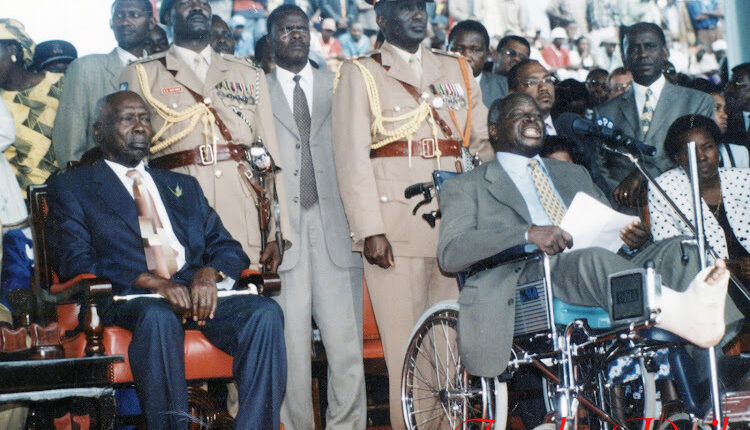 After two unsuccessful trials, Kibaki changed his strategy in 2002, joining hands with several parties to form the National Alliance of Rainbow Coalition (NARC). He also received reinforcement from several leaders who ditched KANU after Moi endorsed Uhuru Kenyatta as his successor.
Raila Odinga who was also ambitious about the seat dropped his bid and supported Kibaki coming up with the slogan "Kibaki Tosha".  During the campaign period, Kibaki was involved in an accident on December 3rd, 2002 and his team had to take over and carry on with the campaign as he underwent treatment.
Despite up and downs, Kibaki managed to defeat Moi's candidate Uhuru Kenyatta and clinched the seat for the first time becoming the third president of Kenya.
During his swearing-in, Kibaki had not fully recovered from the accident and he was sworn in while sitting in a wheelchair. Kibaki appointed the late Michael Kijana Wamalwa as his Vice president who died after a few months while still in office.
Following his death, Kibaki appointed Moody Awori to serve as the Vice President and the two formed a great team together working for one term.
Tenure
When he took over power the first thing Kibaki focused on was education which he believed was the key to a better Kenya. In order to make sure every Kenyan child got educated despite his/her background, Kibaki introduced free education in January 2003.
The move impressed even international leaders including Bill Clinton who later traveled to Kenya to meet Kibaki. In his first term, Kibaki structured the Thika Super Highway, one of the greatest projects he ever did.
2005 Referendum and NARC fallout
In 2005, Kenyans conducted a constitutional referendum that had a review of power vested in the Kenyan Presidency. However, the referendum led to a fallout of the strong ruling party NARC. This was after members of the Liberal Democratic Party LDP led by Raila Odinga, which was part of NARC joined the opposition camp, KANU, and led a NO campaigner that ruled the referendum out.
Following the loss of the referendum election, Kibaki decided to cut down his entire cabinet only sparing the Vice President and Attorney General. The move was aimed at bringing a new team that was going to deliver considering his earlier cabinet had several members supporting the LDP party.
2007 Re-election, Post Election Violence, and Grand Coalition Government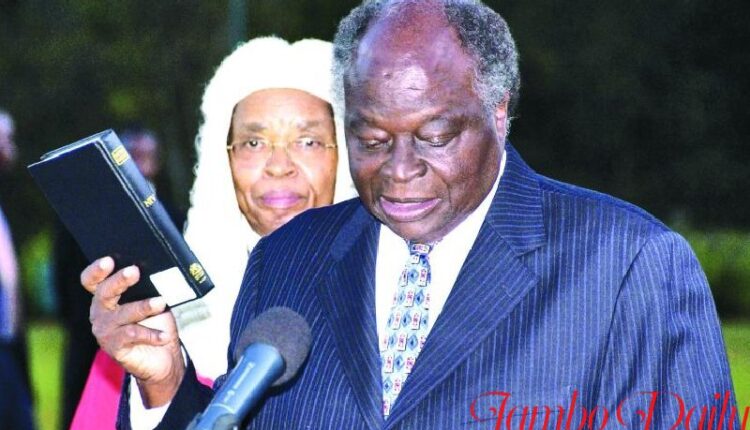 After serving his first term, in January 2007 he declared his bid to seek reelection. However, he was not going to run under the NARC alliance instead he launched a new alliance dubbed the Party of National Unity (PNU).
Some of the parties that were in that alliance included his former party KANU, his own part DP, NARC-Kenya, Ford People, and Shirikisho. His main opponent was his former ally Raila Odinga whom they formed the 2002 government.
During the campaign periods, Raila seemed in control of the election judging from the crowd he was pulling. At the time Raila's right man was William Ruto.
Raila went on to dominate the election leading the better part of the election. However, Kibaki surpassed him in the last minute after the long-awaited votes from Tharaka Nithi arrived.
His win didn't sit well with the opposite side and the tension started to rise, leading to his swearing-in ceremony being done in the evening hours which was unusual.
The feud ended up erupting into a national disaster after communities started fighting with Rift Valley being one of the regions affected by the war.
Following the ugly post-election scene that left many dead and others displaced, the country had to find a solution before things got out of hand. In 2008, the late Koffi Annan, a former United Nations Secretary-General with support from the African Union, US, and the UK chimed in and struck the deal with the Kibaki and Raila forming Grand Coalition Government "Nusu Mkate."
Raila Odinga was later sworn in as the second Prime Minister of Kenya. On the other hand, Kalonzo was not left out of the government as he was appointed as the Vice President.
In his second term, Kibaki and Raila spearheaded the completion of the Thika Super Highway.
Mwai Kibaki Leadership and Legacy
His style of leadership was way different from what was expected of him as the President or what many saw in the previous Presidents. Kibaki maintained a low-profile mode of leadership where he could only appear on TV on important occasions.
His personality still surprises many to date as he never named any project he had initiated after him, he never made news bulletins with reports of his presidential activities. None of the streets was named after him for the ten years he served.
One of his biggest achievements was the revival of Kenya's economy. He raised the country's GDP from 0.6 % in 2002 to 7% in 2007 something that seemed impossible. He is also the brain behind vision 2030 a vision to make Kenya a middle-income country making a GDP of 11% per month.
Mwai Kibaki Net Worth
Kibaki is among a few leaders who ate his own sweat, despite being the president for ten years he never transferred huge parcels of land to his name instead he sustained the ones he has illegally bought.
Kibaki had a net worth of over Kes 100 billion.
Mwai Kibaki Death
Kibaki passed away on 21st April 2022 aged 90 years.