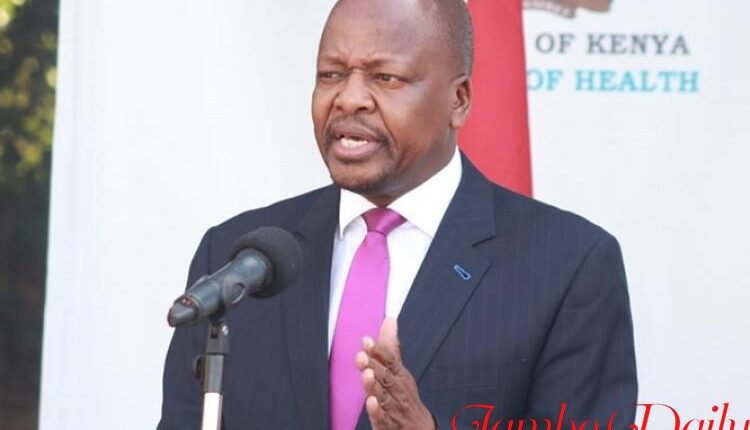 Mutahi Kagwe Bio, Age, Education, Career, Family and Net Worth
Mutahi Kagwe is the Kenyan Cabinet Secretary for Health. He took the oath of office on February 28, 2020, taking over from his predecessor Sicily Kariuki and he will be serving in that position until 2022. In the health sector, he works hand in hand with other senior public servants including, Dr. Mercy Mwangangi the Chief Administration Secretary, Rashid Aman the health CAS and Dr.Patrick Akoth the acting head Department of Health.
Kagwe established his name in the health sector in March 2020 after the strike of Covid19 through his strict guideline in preventing the spread of the virus. Apart from being a Cabinet Secretary, he is also a well-known politician who has served as a Member of Parliament for Mukurweini Constituency in Nyeri County. In addition, he was the first Senator of Nyeri County after winning the 2013 election through Jubilee ticket.
Mutahi Kagwe's Age and Birth Place.
He was born in 1958 and he is 63 years as of 2021, however, the date and month are not available at the moment. Kagwe was born and raised in Mukurweini, Nyeri County.
Education.
He started schooling in 1965 at Kihate Primary School and finished his primary education in 1971. After that, he joined Kagumo High School in 1972 and completed his O and A level in 1977. He passed his A and O level and eventually joined the University of Nairobi (UoN) in 1978. At UoN he studied Bachelor of Commerce (Insuarance) and graduated in 1981. In 1988 he went ahead and joined the United States International University (USIU) where he studied his MBA and graduated in 1992.
Mutahi Kwage's Wife and Family
Kagwe is happily married to Anne Kariuki, he has been blessed with four kids. One of his sons by the name of Kahush is a rapper and a producer. In addition, he is also an IT student studying in Leicester.
Mutahi Kagwe Net Worth
As of 2020, his net worth was estimated to be around Ksh 667 Million according to his wealth paper presented in parliament in February 2020. In addition, being in that position he earns an estimated salary of over Ksh 800,000 monthly. He is the owner of Tell-Em and TNS RMS East Africa companies, TNS RMS is a research agency. Being one of the richest people in Kenya he owns luxurious bungalows in Nairobi and a fleet of posh cars.
Mutahi Kagwe Career
Political Career
Soon after completing his MBA, he decide to join politics and vied for a parliamentary seat in Mukurweini Constituency, Nyeri County during the 2002 election. He went ahead and won the 2002 election, becoming the 5th Member of Parliament for Mukurweni Constituency. During his tenure as a Member of Parliament, he became the Chair of the Parliamentary Committee on Finance, Trade, Tourism, Trade, and Planning. He was then appointed as the Cabinet Minister for Information and Communication.
During his tenure as a Cabinet Minister, he managed to launch the Transformational East African Marine System (T.E.A.M.S). The Transformational East African Marine System was the first Fibre Optic Project for East Africa. In addition, it was also in his tenure that he spearheaded the launch of 'Mpesa' the world's first-ever mobile money transfer system.
In 2013, he went back to politics and vied for the Senatorial seat and he was elected as the first Senator of Nyeri County under Jubilee Party ticket as per the 2010 constitution. His tenure as Senator began in March 2013 and expired in August 2017. As a Senator, he was among the senators who championed "The Best Classroom" a bill that was promoting the provision of ECDE countrywide. In addition, he also voted for the Cyber Security and Protection Bill which up to now prevents cyberbullying.
Serving as Cabinet Secretary for Health
Kagwe assumed full responsibility as the new Cabinet Secretary for Health on February 28, 2020, taking over from Sicily Kariuki. At the time he was taking over Covid 19  was still a world pandemic but Kenya had not recorded any case of Corona Virus. A few weeks later in March 2020, Kenya recorded its first Corona Virus case. After 10 days the tally had raised to 15 cases.
Being the head of the National Emergency Response Committee, he came up with guidelines that would help in preventing the further spread of the virus. This guideline included the banning of public gatherings, wearing masks in public places, keeping social distances, reducing the number of people boarding public vehicles, and increasing the level of hygiene. As a result of his effort in fighting the Virus, he earned recognition in the Street Wall Journal.