Moses Kuria Biography, Career, Illness, Party, Education and Net Worth
Moses Kuria, born and raised in Gatundu is a controversial politician serving as a Cabinet Secretary in the Ministry of Public Service, Performance & Delivery Management. The fearless politician, landed to the Ministry of Public Service, following a Cabinet reshuffle that happened on the 4th of October 2023. Initially, he was heading the Trade and Industry docket, where he served for a period of one year.
The former Gatundu South member of parliament is also the party leader of a new party in town, Chama cha Kazi founded in 2021 and it was among the parties that fielded candidates in all positions except the presidential position across the country.
Before the messy breakup of the Jubilee party, Kuria was one of the close confidants of President Uhuru Kenyatta. A position that landed him in trouble on several occasions while trying to defend the president verbally from the opposition.
Kuria entered into a coalition with Ruto's party and after his gubernatorial bid fell on rocky ground, Kuria was awarded his dream Ministry, the Ministry of Trade and Industry. However,  following back-to-back controversies that were affecting his performance he was moved to the Ministry of Public Service.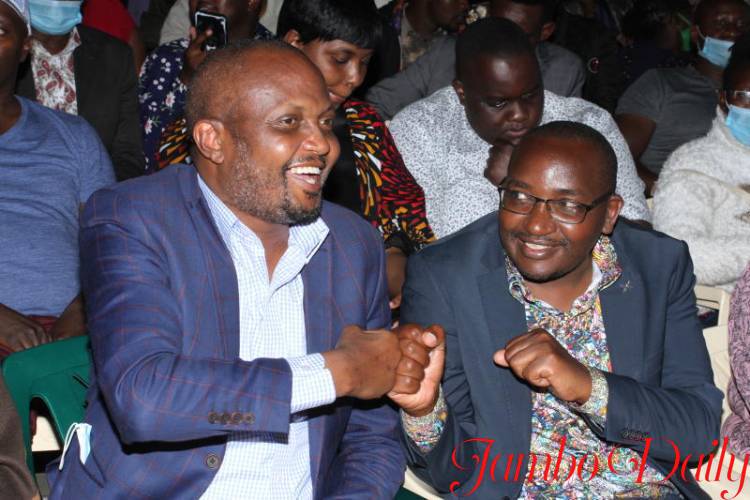 Moses Kuria Age and Place of Birth
The two-time member of parliament was born in Gatundu South, Kenya in 1971.
Moses Kuria Parents, Wife, and Kids
The vocal politician has not yet revealed any information concerning his parents. However, in recent Kuria's homecoming ceremony, his mother delivered a very powerful prayer at Thika Stadium.
Kuria is married to Joyce Njambi, the two met in Saudi Arabia. He is also a proud dad of two sons.
Education
Kuria attended Githuya Primary School in Gatunda before proceeding to Ituru Secondary School. Kuria was a very bright student earning admission at the University of Nairobi where he graduated with a Bachelor of  Commerce degree.
While at the University he was part of the student leadership body, SONU where he served as the treasurer of SONU.
Moses Kuria's Net Worth
Kuria earns a lucrative salary of around Ksh 800k as a member of parliament. His net worth is estimated to be over Ksh 600 million.
Career
Most successful people in life always have a life journey that they have passed before achieving their goals. Kuria's career journey began in 1994 working as an auditor at Family Finance and Building Society.
He worked with the institution for only one year before moving to Rajhi bank in Saudi Arabia the following year. In 2007, he worked with Wamad Information Service based in Dubai as a chief operating officer.
Political Career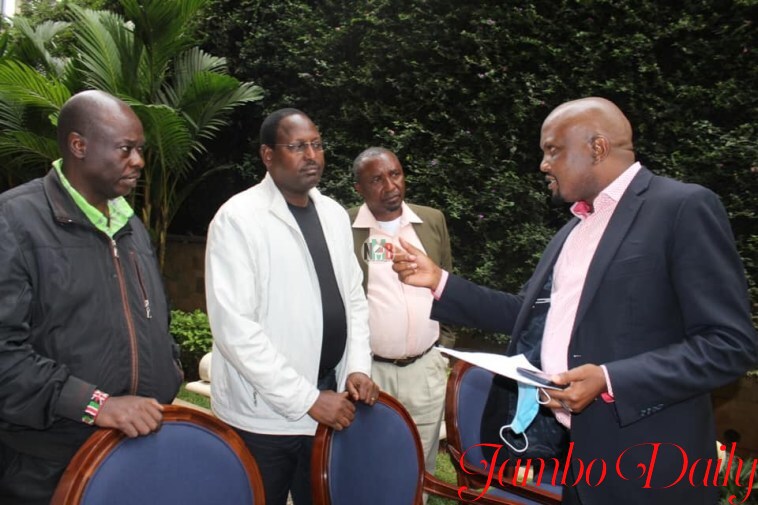 The vocal politician joined the political field in 2007, working closely with the former President of Kenya Mwai Kibaki. During that time, he was serving as the spokesman and director of programs of the Party of National Unity (PNU) which won the 2007 general election.
In 2013, he extended his political wing and decided to vie for an elective position. He returned to his home state and contested as a member of parliament of Gatundu South Constituency.
The people of Gatundu South had elected Jossy Ngugi who died the same year leaving the seat vacant. Kuria was to face Joachim Kamere of the New Democratic Party but stepped down from the race at the last minute. After winning the seat he became the strategy officer for the National Alliance Party (TNA) which was the ruling party at that time.
In 2017, he defended his win and he was re-elected to represent the people of Gatundu South on a Jubilee ticket. Jubilee was formed after the dissolution of TNA, URP, and other parties.
In 2018, things started going south in Jubilee House and it reached a point of partying ways between the President and Deputy President. Leaders within the party had no choice but to choose which way to go either the president's side or his deputy but Kuria decided to follow what he believed was a winning team but never joined the UDA brigade as he moved to the People's Empowerment Party (PEP), becoming the head of the party.
Despite going his separate way, Kuria shifted his presidential support to Ruto's side. Being a strong supporter of H.E William Ruto, Kuria was among the people who were awarded heavily following the UDA win.
During the Cabinet formation by William Ruto, Kuria was awarded one of the most valued dockets, the Ministry of Trade and Industry.  Having a strong background in matters concerning finance and business, he was believed to be the perfect fit for the job.
However, being a politician Kuria went on to pull political stunts picking fights all over social media. This scandal affected his performance and the result of the reshuffle was expected.
Many thought he was among the CSs who were not going to finish the term sitting on the cabinet board. During a recent reshuffle, Kuria was moved to the Ministry of Public Service.
Leg Burn
Recently, he encountered a strange accident after he bought a warmer machine mat. It turned out the warmer was faulty leading to leg burn. As a result, he was admitted to the Karen Hospital where he underwent multiple surgeries before heading to American Hospital in Dubai where he was discharged on February 12th, 2022.