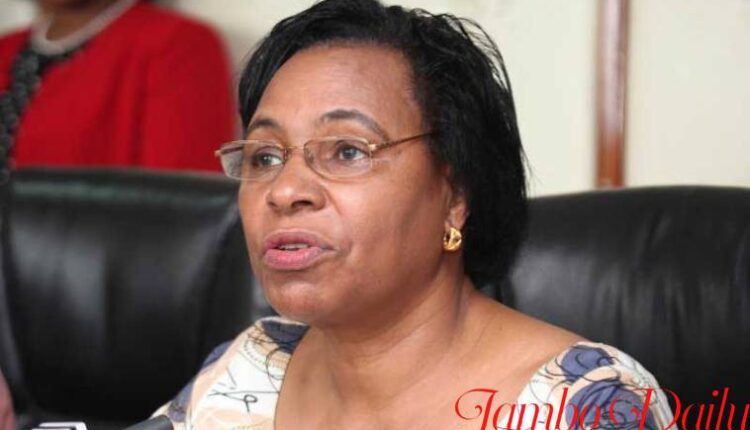 Margaret Kobia Bio, Age, Education, Family, Husband, Career and Net Worth
Margaret Kobia, born in 1958 is a Professor of Management and Entrepreneurship. Currently, she is serving as the Cabinet Secretary for Public Service, Youth, and Gender Affairs in the Republic of Kenya. She was appointed on 26th January 2018 alongside 21 other Cabinet Secretaries by H.E Uhuru Kenyatta. Previously, Kobia was serving as the Chairperson of the Kenya Public Service Commission, a position she held for six years from 2012 to 2018.
Prior to being appointed in this prominent position, she began her career in the education sector as a common high school teacher and later became a researching officer and test developer at the National Examinations Council. After that, she served as a Senior Lecturer in Education at Kenya Science Teachers' College and an acting Deputy Registrar and at Kenyatta  University. Furthermore, she has also served as the Director of the Kenya Institute of Administration (KIA). According to her teaching is her lifeline and she was born to teach. Furthermore, she is a partner at the Kenya Institute of Management and at the Institute of Certified Public Secretaries of Kenya.
Margaret Kobia Age and Birth Place.
She was born in 1958, she is 63 years as of 2021, however, she has not yet revealed any information about her actual date of birth. She was born in Meru county.
Margaret Kobia Education
She attended Mariinya-A-Ruibi Primary School in Maru for her primary education level. Kobia was a bright student and she joined Alliance Girls High School, a national school in 1972. At Alliance, she did both her O-Levels and A-Levels and she graduated in 1977.  After high school, she joined the University of Nairobi in 1979 and graduated with a Bachelor of Education degree. She then proceeded to attain a Master of Education degree at Kenyatta University in 1990. In 1991 she specialized in teacher education. Moreover, Kobia holds a Ph.D. degree, in Human Resource Education and Entrepreneurship, from the University of Illinois at Urbana-Champaign, she attained the degree in 2003 under a scholarship.
Margaret Kobia Family and Husband
Kobia is the firstborn in the family of seven siblings, five sisters, and two brothers. She was raised in a family where food was plenty as her mother was a farmer and housewife while on the other hand, her father worked in the police force. She is married to Silas K.Kobia, a businessman and the founder of Lukiko Consulting Trust (LCT). Silas is also a former chairman of Kenya National Library Services (KNLS). Kobia is a mother of three children, one son, and two daughters.
Margaret Kobia Net Worth
Her net worth has been growing rapidly, though she has not yet revealed her actual net worth. Following her successful career journey, her net worth can be estimated as Ksh 400 million as of 2021.
Career
Soon after graduating with her first degree, she was hired as a teacher in Ngara Girls' High School in 1981. She served as a teacher for six years before moving to Kenya National Examination Council (KNEC), where she was hired as a research officer and test developer. After working with KNEC for several years, she was appointed as a Senior Lecturer in Education at Kenya Science Teachers' College, where she served for four years.
In 1996, she joined Kenyatta University as an Acting deputy registrar and the Director of the Students' Welfare Services Board. Her hard work and determination in every department she worked on led to her promotion to another level. In 2002, she was selected to be the Assistant Commission Secretary at the then Commission for Higher Education which is currently known as Commission for University Education.
After a while, she went back to teaching this time as a senior lecturer in Management, Entrepreneurship, and Research Methodology at Strathmore University. In 2005, she became the new director of Kenya Institute of Administration now ( Kenya School of Government) where she served for 7 years until 2012. Moreover, in 2014 she was elected as the Vice President and board member of the Commonwealth Association of Public Administration and Management ( CAPAM).In she was appointed as the chairperson of the Kenya Public Service Commission. Being appointed in that capacity she became the first Kenyan woman to be appointed in that position. She held the position for six years until 2018.
Serving as a Cabinet Secretary
Kobia was appointed as the Cabinet Secretary for the first time on 26th January 2018, to head the Ministry of Public Service, Youth and Gender Affairs. She was appointed by H.E Uhuru Kenyatta after his reelection in 2017 and she will be serving until the end of President Uhuru's tenure. Despite being one of the powerful women in Kenya, she still to remains humbled. As a result of her outstanding performance and a clean record, she has managed to retain her ministry since she was appointed and she is among the few Cabinet Secretaries who have not been moved to another ministry since her appointment.
Awards and Recognition
 Order of Grand Warrior
Chief Burning Spear
Commonwealth Gordon Draper Award.