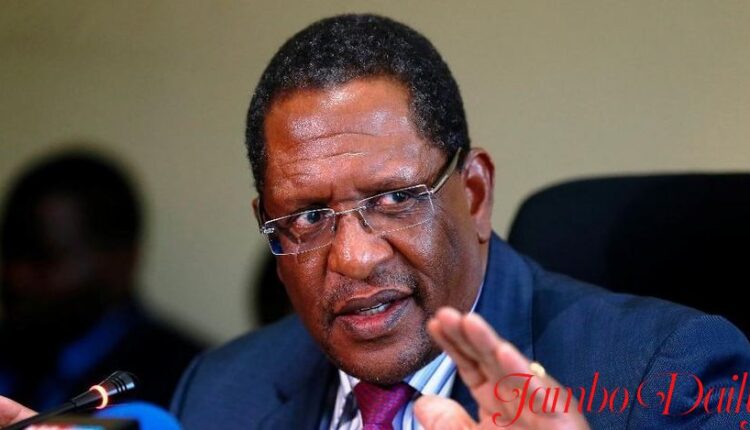 Keriako Tobiko Bio, Age, Education, Net worth, Family, and Net Worth
Keriako Tobiko is a Kenyan attorney currently serving as the  Cabinet Secretary for Environment. Tobiko was appointed in January 2018 by H.E President Uhuru Kenyatta, taking over from his predecessor Prof. Judi Wakhungu who is now the Kenyan ambassador to France. Previously he served as the Director of Public Prosecutions of Kenya. He was the first Director of Public Prosecution of Kenya after the 2010 constitution made the office independent. Tobiko was first appointed as the DPP in 2005, however, in 2005 the office was under  Attorney General's office.  In addition, he is also an advocate of the High Court of Kenya and a former lecturer at the University of Nairobi.
Keriako Tobiko Age and Place of Birth
He was born on December 12th, 1964, he is 56 years as of 2021. He was born in Mashuru, Kajiado County.
Keriako Tobiko Education Background
Tobiko attended Mashuru Primary School in Kajiado Central Constituency, Kajiado County. After that, he joined the Athi River Secondary School for his O levels. He then joined Kanyakine High School in Meru for his A levels, sitting for his Kenya Advanced Certificate of Education (KACE), the exam was done after completing form six during those days.
Tobiko was an A student while in school and scored straight A's in all of his subjects and he was awarded the Gandhi Smarak Award. Having won the award he was given a scholarship at the University of Nairobi where he studied law graduating with a Bachelors's Degree in Law. He then won a Barclays Cambridge Commonwealth scholarship and he joined the University of Cambridge where he graduated with a Master's  Degree in Law.
Keriako Tobiko Family and Wife
He was born in a polygamous family and they were 18 children, however, in 2019, he lost his father. He is the brother of Peris Tobiko, a Kenyan politician and the first Maasai woman to be elected as a Member of the parliament in 2013. Being a secretive person he has not yet revealed any details concerning his wife and Kids in case of any information we will update it as soon as possible.
Keriako Tobiko Net Worth
Tobiko is one of the richest Cabinet Secretaries in Kenya with a net worth of   Sh360 Million and still counting.
Career
he began his career in 1999 when he was hired as a commissioner in the Commission of Inquiry into the Land Law System in Kenya (The Njonjo Land Commission) where he worked until 2002. Moreover, between 2000 to 2005 he was hired again as a commissioner for the Constitution Review Commission (CKRC).
In 2005, he was appointed as the new Director of Public Prosecution, taking over from his predecessor Phillip Murgor, a well-known Kenyan lawyer.  At the time he was being appointed the office of DPP was under Attorney General's office. In 2007, he became a member of the Commonwealth Group of contacts persons on International Cooperation in criminal matters, a membership he holds up to date. Still, in the same year, he became a member of the Governing Council of the National Crime Research Center (NCRC) a membership he holds up to date.
In 2008, he became a member of the Advisory Board of the Witness Protection Agency (WPA) up to date. After that, he became an Ad hoc Secretary to the Constitutional Advisory Committee on Prerogative of Mercy in 2009. Moreover, Tobiko served as an alternate to Attorney General as a member of the Ransley Task Force on Police Reforms in 2008 and 2009. In March 2010, he was appointed by the Attorney General to be the National contact person in relation to cooperation with ICC a position he holds up to date.
After the 2010 referendum passed the office of DPP was now independent and Tobiko was appointed to head the independent office. In addition, Tobiko is an alternate to Attorney General as a member of the Police Reforms Implementation Committee (PRIC). He was also appointed to join the attorney general and  Solicitor-General to represent the Kenyan government n the proceeding before the ICC concerning the 2007/08 post-election violence in March 2011.
In 2018, he handed over his resignation letter to the office of President ahead of his appointment as the Cabinet Secretary for Environment and Forestry. Tobiko was then appointed as the new Cabinet Secretary for Environment and Forestry. The position was the best for him as he is a lover of nature and the environment. As the Environment Minister, he spearheaded a 10 million tree-planting project. The project was aimed to restore the Maasai Mau water tower after the relocation of the people who had settled in the forest.
The 10 million tree planting initiative brought together institutions such as Kenya Water Tower Agency (KWAT), Kenya Forest Service (KFS), Kenya Defense Forces (KDF), and others. His performance in the Ministry has been outstanding from his predecessor and it has kept him in the same position since his appointment.