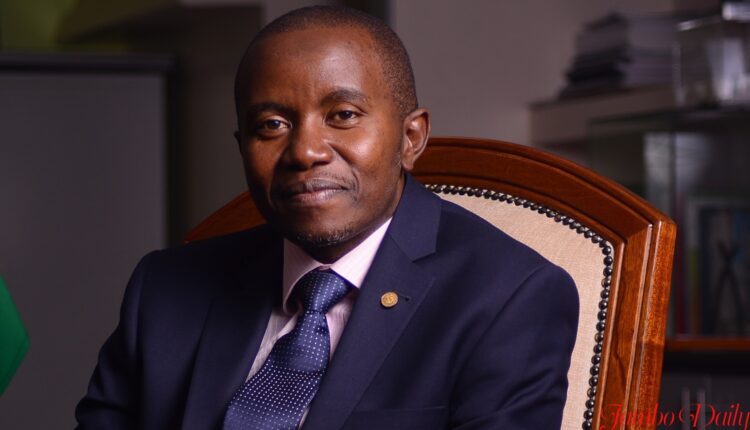 Joseph Mucheru Bio, Career, Age, Education, Siblings, Wife and Net Worth
Joseph Wakaba Mucheru is a former Google Sub-Sahara  Africa Lead and the current Cabinet Secretary for ICT, Innovation, and Youth Affairs. While working with google his office was based in Nairobi, Mucheru was the first Sub-Sahara employee to be hired by Google. Since 2007, he was a key in establishing Google's presence in Africa. Having studied computer science, his main line of work was in technology, and in 1999, he co-founded a company by the name of Wananchi Online where he worked in different positions such as Chief Technology Officer and Chief Technology Officer. Mucheru worked in that company until he was employed by Google. Despite being in the technology industry, Mucheru has also served as a Director of UAP Investment and BitPesa.
Joseph Mucheru Age and Birth Place
Mucheru is a very secretive person and he has not yet revealed his age or where he was born.
Joseph Mucheru Education Background
He started schooling in 1977 at Nairobi Primary and completed his primary level in 1982. After that, he joined Lenana School in 1983 for his A-Level and completed his A-Levels in 1988. Mucheru was a bright student and when he completed his A-levels he joined the City University London in 1989 and graduated in 1993 with BSc. (Hons) in Economics and Computer Science.  After working for several years, in 2008 he went back to school where he attended the Business Executive Programme from the Stanford University Graduate School of Business. In addition, he was also awarded Moran of the Order of the burning spear in 2010 by former President Mwai Kibaki.
Joseph Mucheru Family and Wife
Much is not known about his parents or family background, however, he has five siblings, Liza Mucheru, Annie Garza, Njeri Mucheru, Samuel Gichimu, and Muniu. Mucheru. Mucheru is married to Aida Wambui, however, rumors have it that his wife has filed for a divorce against Mucheru for what she terms as being cruel to her for 10 years.
Joseph Mucheru Net Worth
According to the papers he presented in the parliament during his vetting in 2015, he declared his net worth as Ksh 500 million with a deferred income of Ksh. 267 million.
Career
Mucheru began his career in 1997 working for Webmaster, Technical and Product Development, Management, and Internet Solutions (Formerly Interconnect Limited). He worked with the company for two years until 1999, then moved to Wananchi Online, a company he co-founded. With Wanainchi he was working as a Chief Technology Officer, he worked in that position for five years from 1999 to 2004. After that, he was promoted to a senior position and he started serving as the Strategy and Business Development Director in January 2005. Mucheru served in that position until May 2006 and he became the (Chief Executive Officer CEO)of the company between June 2006 and April 2007. In addition, Mucheru has also served as a Chairman/director at the Telecommunication Service Providers Association of Kenya(TESPOK), he held that position for 9 years from 1998 to 2007.
In June 2007, he joined Lead East Africa, Google Kenya where he served until May 2009. After that, he started serving as Regional Lead, Sub-Saharan Africa, Google Inc, and served in that capacity for three years from April 2009 to April 2012. For two years he worked as a Google Sub Saharan Africa Ambassador and East Africa Lead starting April 2012 to March 2014. Moreover, in 2013 he was appointed as a Director for UAP Investments and in February he served as a Director at BitPesa. He worked with both companies until 2015. In April 2014, he began working as a Google Sub-Saharan African Ambassador and energy Access and Investment Regional Lead Africa, a position he held until December 2015. Furthermore, in April 2015 he was a director at "afbb-all you can be"  where he served until December 2015. While still working with google, in 2014 January Mucheru worked in Advisory Foundation Academy as Advisory Board Member. In 2015, he stepped down from the position he was holding in google and other companies and he was appointed as the Cabinet Secretary for ICT in December 2015 by H.E President Uhuru Kenyata. Since he was appointed in 2015 he has managed to retain his seat up to date, due to his outstanding performances. Since he took over the Technology industry in Kenya has grown rapidly placing Kenya to one of the most developed countries in terms of technology around Africa.