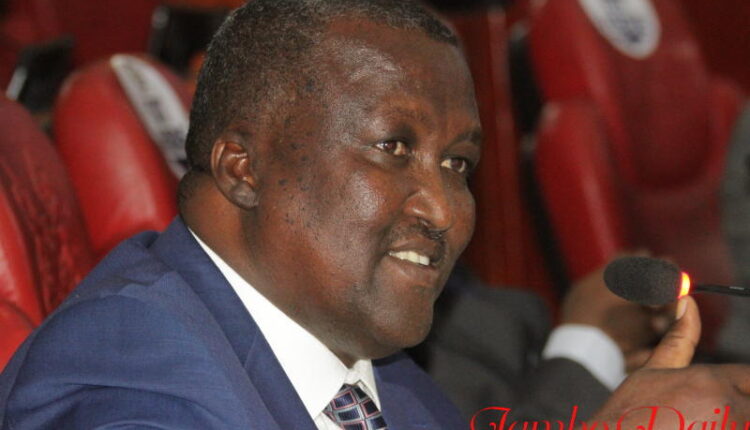 John Munyes Bio, Age, Education, Career, Family, Wife and Net Worth
John Kiyonga Munyes is a well-known Kenyan Politician currently serving as the Cabinet Secretary of Petroleum and Mining since 2018. As a politician, he was elected to represent the people of Turkana North Constituency from 1997 to 2013. During the 2007 election, he was a strong member of the Party of National Unity (PNU). In addition, he also served as Labour minister under former President Mwai Kibaki's administration. He served for three terms as a Member of parliament before running for the Senatorial position in 2013. Previously, the Senatorial position was not available in the constitution and it was formed after 2010 constitution reforms. He managed to win the 2013 election through FORD- Kenya ticket and he became the first Senator of Turkana County.
John Munyes Age and Place of Birth
He was born in 1966 and he is around 55 years as of 2021. Munyes was born in Turkan county.
John Munyes Education Background
Munyes attended Lokitaung Primary where he completed his primary school education. After that, he joined Lodwar High School for his O Level and A-levels. Munyes was smart in school and he managed to score a good grade which enabled him to join St Francis University.
John Munyes Family and Wife
Much is not known about his parents or his family background. However, Munyes is married to one adorable and gorgeous lady by the name of Maryanne Munyes. The couple is very secretive and they have not released any details concerning their kids in the public. In case of any details, we will update it as soon as possible.
John Munyes Net Worth
According to the papers he presented to the parliament during his vetting he declared his worth as Ksh 50 million. However, it raised questions as many said it didn't add up to his long career as a civil servant. In his defense, he said he had invested heavily in livestock and he had experienced losses over the years.
Career
Munyes has worked with several companies before he joined politics. He worked as UNESCO Project Assistant, he then worked as Programme Coordinator of the Intermediate Technology Development Group (ITDG). With ITDG, he was coordinating food security programmes in Turkana District. In addition, he holds an Elder of the Order of the Golden Heart of Kenya (EGH) as a result of the valuable service he gave to the nation.
Political Career
Munyes began his political career in 1997 when he decided to run as a member of parliament in Turkana North Constituency. After he won the 2002 general elections, he was nominated to serve as the Minister for Water and Irrigation in 2003 to serve under former President Mwai Kibaki's administration. Two years later he was moved to the Ministry of State for Special programmes. After that, he was nominated as the Minister for Labour & Social Services.
After 15 years serving as a Member of Parliament, in 2013 he declared to run for a Senatorial position which had just been introduced for the first time under the 2010 constitution reforms. Due to his clean record while serving as an MP he won the seat, becoming the first Senator of Turkana. Munyes served as a Senator for only one term from 2013 to 2017. In January 2018, President Uhuru Kenyatta appointed him as the new Cabinet Secretary of Petroleum and Mining. He is one of the Cabinet Secretaries who have not been moved to other ministries since they were appointed.