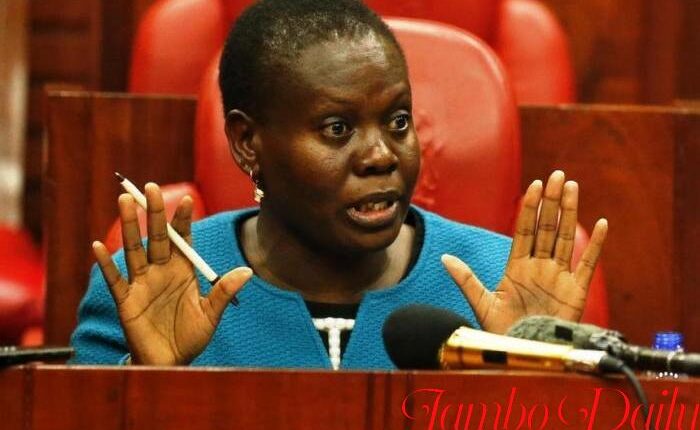 Farida Karoney Bio, Age, Education, Career, Parents, Husband and Net Worth
Farida Karoney Chepchumba is a former chief operating officer (COO) of Royal Media Services. Currently, she is serving as the Cabinet Secretary for Lands and Physical Planning. She was appointed in that position on 26th January 2018 by his H.E Uhuru Mugai Kenyatta to serve under his administration. Prior to her appointment, her main line of work was on Media houses where she has worked in different Tv and Radio station since she graduated.
In addition, she has also served as the Group Editorial for the Royal Media Services. Moreover, she also served as the Assistant Director for Broadcasting and then served as Editorial Head at KTN.
She is one of the Cabinet secretaries who have retained her position since she was appointed. Since she took over as the Minister of Lands in 2018 the ministry has been performing g excellently and many people have been awarded their Title deeds under her tenure.
Farida Karoney Age and Birth Place
She was born in 1969, and she is 52 years as of 2021, however, she has not yet disclosed her actual birthday, in case of any information, we will update it as soon as possible. She was born in Tanzania but grew up in Nandi County.
Farida Karoney Family and Husband
She is the daughter of the late Edward Kiprotich Karoney, however, much is not known about her mother.  She lost her father in October 2020, after he was involved in a motorcycle accident. Karoney's father was hit by a motorcycle(Bodaboda) while he was crossing the busy Kapsabet Road. He died at the age of 74. In October 2021, she lost her elder Sister Nancy Cheptoo, who died of cancer at the age of 54. Cheptoo was a retired teacher. Being a secretive person she has not disclosed any information about his husband and kids in case of any information we will update it as soon as possible.
Farida Karoney Education
She attended Kenyatta University in 1989 and graduated with a Bachelor of Science Education degree in Botany and Zoology in 1992. After that, she joined the University of Nairobi, where she acquired her Postgraduate Diploma in Mass Communication in 1986. In 2005, she went back to the University of Nairobi and enrolled in the MBA degree course, graduating in 2008 with a Master of Business Administration specializing in Strategy. In addition, she holds a Doctor of Philosophy degree from the University of Nairobi.
Farida Karoney Net Worth
She is one of the richest people in Kenya in and she has invested heavily in Agriculture, Shares, and Real Estate. Though she has not yet disclosed her actual net worth, her net worth is estimated to be around Ksh 300million.
Career
She began her career in 1993 as a teacher where she taught Biology at Khamis High School in Mombasa. Karoney worked as a teacher for less than a year before joining Kenya Television Network (KTN) in June 1994. At KTN, she was first hired as a freelance correspondent and after that, she became a reporter. As she gained more experience in the industry, she was promoted to the position of Feature Editor.
Farida left the KTN in December 2000 and joined Nation Media Group in January 2001 as an Editor. Three years later she had risen to the rank of Associate Editor by July 2004. Still, in 2004, she left the Nation Media Group to join The Standard Group, where she worked for only two years from September 2004 to August 2006.  Between 2006 and2007 she was working as a freelance contributor to Radio France Internationale. In addition, during that period she was also working as a freelance producer for Al Jazeera English language. At Al Jazeera she only worked for six months then went back to Standard Media Group in 2007.
After she went back to Standard Media Group she served as the Head of Editorial at their flagship TV station, KTN. She only served for one year at the Network, within this time she served as the Assistant Director for broadcasting at Standard Group Limited until December 2008.
In February 2009, she joined Royal Media Services, serving as the Group Editorial Director. She served in that position for five good years before she was promoted to the position of chief operating officer in August 2014. At the time of her appointment as the Cabinet Secretary, she was serving as the chief operating officer at RMS.
Serving as the Cabinet Secretary
Karoney was appointed as the Cabinet Secretary on 26th January 2018, by H.E Uhuru Kenyatta. She will be serving in that position until the end of President Uhuru's tenure in August 2022. According to her, she will not be joining politics after her term lapses.  Her performance has been described as outstanding since she took over many landowners have managed to acquire their title deed.