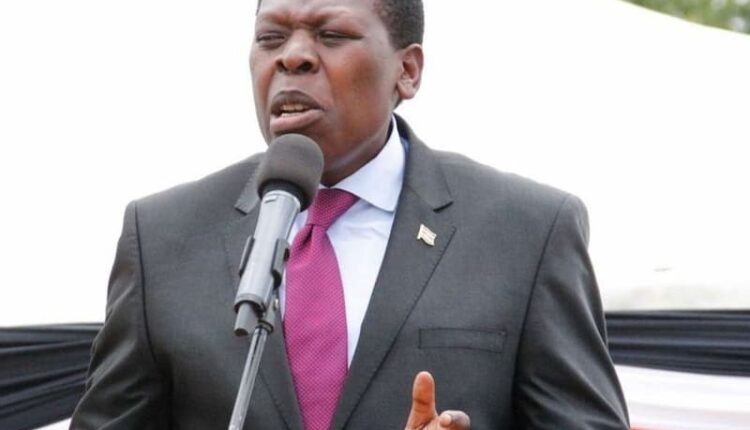 Eugene Wamalwa Bio, Career, Age, Wife, Family, Education and Net Worth
Eugene Ludovic Wamalwa is Cabinet Secretary of the Ministry of Defense in the Republic of Kenya, he is also a well-known politician and a lawyer. He was appointed as the cabinet secretary for defense on 29th September 2021, taking over from his predecessor Monicah Juma who is now the Cabinet Secretary for Energy and Petroleum. Wamalwa was appointed in that position by President Uhuru Kenyatta and he will serve until 2022.
Eugene was previously serving as the Cabinet Secretary of Devolution, a position he served until 29th, September 2021. In addition, he has also served as the Minister of Water and Irrigation. As a politician, he has served as a Member of Parliament representing Saboti Constituency after winning the 2007 election through Ford Kenya party ticket. Moreover, Wamalwa has also served as the Minister for Justice and Constitutional Affairs.
Eugene Wamalwa Age and Place of Birth.
Wamalwa was born on April 1st, 1969 and he is 52 years as of 2021. He was born in Saboti at the foot of Mount Elgon.
Education
Wamalwa has not yet disclosed where he attended his primary school. However, after the primary, he attended Gendia High School in Homa bay- Kenya where he completed his A levels. Following his A-level completion, he joined the University of Nairobi where he studied law and graduated with a bachelor's degree in Law. Afterward, he acquired his diploma in Law at the Kenya School of Law.
Eugene Wamalwa Family and Wife
Wamalwa is the brother of the late Michael Kijana Wamalwa, the eighth Vice President of the Republic of Kenya. However, he has not yet disclosed any information concerning his parents. Wamalwa is married to one lovely wife by the name of Lucy Musudi and together they have been blessed with three children.
 Wamalwa's Net Worth and Wealth
According to the papers he presented in the parliament when he was being vetted for the position of  Cabinet Secretary in 2015. Wamalwa declared his net worth to be Ksh 400 million ($3.6 million)in assets. He also owns farms, houses, and a law firm. Apart from his business Wamalwa earns a good salary which has contributed a lot to his wealth.
Career
Legal Career
His career in legal matters began in 1995 after he was called to the bar. After that, he headed to private legal practice, as a practicing lawyer, he defended Ugandan President Yoweri Kaguta Museveni during the 2001 presidential election petition against Kizza Besigye who was the opposition leader at that time.
Political Career
His political journey started in 2003 after the death of his brother Michael Kijana Wamalwa. Kijana Wamalwa was serving as the eighth Vice President of Kenya and a member of parliament of Saboti Constituency at the time of his death. During the by-election, Eugene decided to vie for the seat and succeed his late brother using the Republican Party of Kenya (RPK) ticket. However, he was defeated by Davies Wafula Nakitare who had vied using the NARC Party ticket.
In 2007, he declared his bid to vie for the same position but this time with a different party ticket. Wamalwa decided to vie for the seat using the Ford Kenya ticket which at the time was under the PNU party which was headed by former President Mwai Kibaki. Wamalwa went ahead and won the 2007 general election and he became the new member of parliament representing Saboti Constituency.
After he completed his first term as an MP, Wamalwa declared to run for a presidential seat during the 2013 election. However, he later dropped his presidential bid and endorsed Musalia Mudavadi who at that time was running under AMANI Coalition.
Serving Cabinet Secretary
Wamalwa was appointed to serve as a Cabinet Secretary for the first in 2015 when he was appointed as the Minister of Water and Irrigation by President Uhuru Kenyatta. After President Uhuru Kenyatta was re-elected in 2017, he appointed Wamalwa as the new Cabinet Secretary of Devolution in January 2018. Wamalwa served in the ministry of Devolution until 29th September 2021 and then he was moved to the Ministry of Defense.