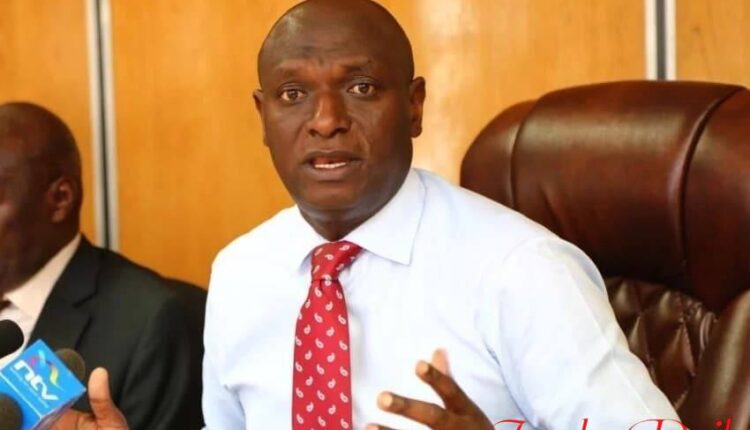 Charles Keter Bio, Family, Career, Education, Wife, Age and Net Worth
Charles Cheruiyot Keter is a well-known Kenyan politician and the current Cabinet Secretary for Devolution. He was a strong member of the URP party before it was dissolved to form Jubilee. In 2013, he became the first Senator for Kericho after 2010, constitution reforms that created the Senatorial position. Moreover, he has also served as a Member of parliament representing Belgut Constituency, after winning the 2007 election. Prior to his appointment as the Cabinet Secretary for Devolution, Keter was serving as the Cabinet Secretary for Energy and Petroleum which is currently being headed by Monicah Juma. He was appointed by President Uhuru Kenyatta to serve in the Devolution sector on 29th September 2021 after President reshuffled the Cabinet. He took over the Devolution sector from his predecessor Eugene Wamalwa who was moved to the Ministry of Defence.
Career
Keter started his career after he was hired by Telkom Kenya Limited as their Systems Analyst. He served in that position for about one year from 1993 to 1994. As a result of his hard work and determination, he was promoted to a higher rank becoming the new Assistant Manager of the Anti-Fraud Section in the same Company. He worked with the company for 9 years before proceeding to Politics.
Political Career
Keter started his political journey in 2002 when he vied for a parliamentary seat. He won the 2002 general election becoming the new Member of parliament representing Belgut Constituency in the National Assembly of Kenya.  In 2007 he moved to Orange Democratic Movement and vied for the same seat under the ODM party ticket. He was voted in for the second term to represent the people of Belgut Constituency.
Despite being a member of parliament, in 2008 he was appointed as the Assistant Minister of Energy where he served until 2013. After 2010, the constitutional amendments that added several positions including the senatorial position, Keter decided to run as the first senator of Kericho during the 2013 general election. He went ahead and won the election becoming the first Senator of Kericho County. After joining the Senate he was appointed as the Deputy majority Leader where he served until 2015.
Serving as a Cabinet Secretary
Having served as an Assistant Minister of Energy from 2008 to 2013, in December 2015, he was appointed as the new Cabinet Secretary for Energy and Petroleum. As the minister of Energy, his role was to supervise and governance the mandate of the Ministry. In addition, it was his responsibility to ensure Kenyan have affordable, sustainable, reliable and quality Energy.  Keter managed to achieve almost 80% on the national key projects under the Uhuru administration.
Keter served as the cabinet secretary for energy for over five years before being transferred to the Ministry of Devolution. Previously the ministry of devolution was being headed by Hon. Eugene Wamalwa who is currently, heading the Ministry of Defence. Keter is expected to continue focusing on the government agenda and improve the devolution sector.
Charles Keter Age and Place of Birth
He was born on November 22, 1969, and he is 51 years old as of 2021. However, details on where he was born are still not known at the moment in case of any updates concerning his birth date we will update it as soon as possible.
Charles Keter Education Background
Keter attended Kapmaso Primary School, in Kabianga, Belgut Constituency in Kerich  County. Keter has not yet disclosed any information concerning where he attended his secondary education. However, after high school, he managed to gain good grades which enabled him to join Kenyatta University, despite coming from a little-known village. At Kenyatta University he acquired an undergraduate degree. In addition,he also holds a Bachelor's degree in double Mathematics from Kenyatta University. Keter also holds a  Global Executive MBA from the United States International University (USIU).
Keter's Family and Wife
Much is not known about his parents or his family's background but the information will be updated as soon as possible. Keter is married to one lovely wife by the name of Winnie Keter and they have two children together. His wife is the head of the Social Economic Empowerment Women Organisation.
Wealth and Net Worth
Keter is one of the richest people in Kenya where his net worth is estimated to be around Ksh 350 million. According to him, he is a businessman and he doesn't depend much on his salary. Keter is an investor in real estate which has contributed to over 60% of his wealth.