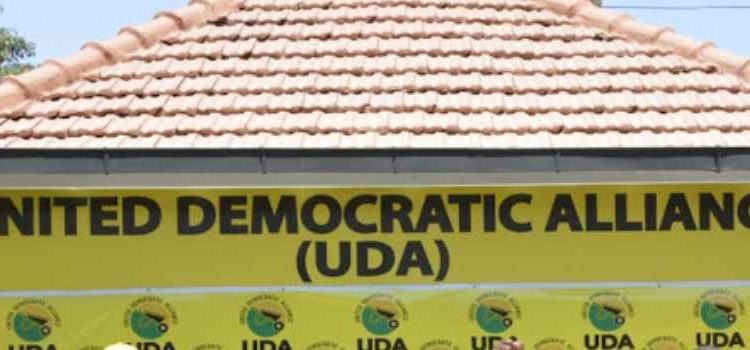 List Of All Registered Political Parties in Kenya
As of 2022, this is a list of all political parties in Kenya that are completely registered. The Registrar Of Political Parties is responsible for registering political parties in Kenya.
In order to influence public policy by electing its candidates to public office, a political party is an organized group of people with shared political goals and viewpoints. A political party's ability to represent the public's expectations and demands of the current political system is one of its primary roles.
Only 81 officially registered political parties were present in Kenya as of January 2022.
List Of All Registered Political Parties in Kenya
| | | |
| --- | --- | --- |
|   | PARTY NAME | ABBREV |
| 1. | NATIONAL RAINBOW COALITION- KENYA | NARC-KENYA |
| 2. | THE NATIONAL VISION PARTY | NVP |
| 3. | THE LABOUR PARTY OF KENYA | LPK |
| 4. | MWANGAZA TU PARTY | MTP |
| 5. | PARTY OF INDEPENDENT CANDIDATES OF KENYA | PICK |
| 6. | RESTORE AND BUILD KENYA | RBK |
| 7. | KENYA NATIONAL CONGRESS | KNC |
| 8. | MAZINGIRA GREENS PARTY OF KENYA | MGPK |
| 9. | NATIONAL DEMOCRATIC MOVEMENT | NDM |
| 10 | WIPER DEMOCRATIC MOVEMENT- KENYA | WDM-K |
| 11 | DEMOCRATIC PARTY OF KENYA | DP |
| 12 | PARTY OF NATIONAL UNITY | PNU |
| 13 | UNITED DEMOCRATIC ALLIANCE | UDA |
| 14 | AGANO PARTY | AGANO |
| 15 | KENYA SOCIAL CONGRESS | KSC |
| 16 | ORANGE DEMOCRATIC MOVEMENT | ODM |
| 17 | PEOPLES PARTY OF KENYA | PPK |
| 18 | FORUM FOR RESTORATION OF DEMOCRACY-KENYA | FORD-KENYA |
| 19 | PROGRESSIVE PARTY OF KENYA | PPOK |
| 20 | JUBILEE PARTY | JP |
| 21 | MAENDELEO DEMOCRATIC PARTY | MDP |
| 22 | NATIONAL RAINBOW COALITION | NARC |
| 23 | KENYA AFRICAN DEMOCRATIC UNION-ASILI | KADU-ASILI |
| 24 | KENYA PATRIOTS PARTY | KPP |
| 25 | COMMUNIST PARTY OF KENYA | CPK |
| 26 | KENYA AFRICAN NATIONAL UNION | KANU |
| 27 | SAFINA | SAFINA |
| 28 | CHAMA CHA UZALENDO | CCU |
| 29 | NATIONAL AGENDA PARTY OF KENYA | NAPK |
| 30 | PEOPLES EMPOWERMENT PARTY | PEP |
| 31 | PEOPLES DEMOCRATIC PARTY | PDP |
| 32 | THE NEW DEMOCRATS | TND |
| 33 | UNITED DEMOCRATIC MOVEMENT | UDM |
| 34 | SHIRIKISHO PARTY OF KENYA | SPK |
| 35 | PARTY OF DEMOCRATIC UNITY | PDU |
| 36 | MILLENNIUM PARTY OF KENYA | MPK |
| 37 | FRONTIER ALLIANCE PARTY | FAP |
| 38 | FARMERS PARTY | FP |
| 39 | ECONOMIC FREEDOM PARTY | EFP |
| 40 | FEDERAL PARTY OF KENYA | FPK |
| 41 | MUUNGANO PARTY | MUUNGANO |
| 42 | NATIONAL PARTY OF KENYA | NPK |
| 43 | JIRANI MZALENDO ASILI PARTY OF KENYA | J-MAPK |
| 44 | CHAMA CHA MASHINANI | CCM |
| 45 | ALLIANCE FOR REAL CHANGE | ARK |
| 46 | FORUM FOR REPUBLICAN DEMOCRACY | FORD |
| 47 | REPUBLICAN LIBERTY PARTY | RLP |
| 48 | ROOTS PARTY OF KENYA | RPK |
| 49 | CITIZENS CONVENTION PARTY | CCP |
| 50 | AMANI NATIONAL CONGRESS | ANC |
| 51 | DEVOLUTION PARTY OF KENYA | DPK |
| 52 | UNITED DEMOCRATIC PARTY | UDP |
| 53 | DILIGENCE DEVELOPMENT ALLIANCE | DDA |
| 54 | PEOPLES TRUST PARTY | PTP |
| 55 | MAENDELEO CHAP CHAP PARTY | MCCP |
| 56 | DEMOCRATIC CONGRESS | DC |
| 57 | LIBERAL DEMOCRATIC PARTY | LDP |
| 58 | GREEN CONGRESS OF KENYA | GCK |
| 59 | NATIONAL LIBERAL PARTY | NLP |
| 60 | MOVEMENT FOR DEMOCRACY AND GROWTH | MDG |
| 61 | ALTERNATIVE LEADERSHIP PARTY OF KENYA | ALPK |
| 62 | UKWELI PARTY | UP |
| 63 | EMPOWERMENT AND LIBERATION PARTY | ELP |
| 64 | THIRDWAY ALLIANCE KENYA | TAK |
| 65 | JUSTICE AND FREEDOM PARTY | JFP |
| 66 | GRAND DREAM DEVELOPMENT PARTY | GGDP |
| 67 | UNITED GREEN MOVEMENT | UGM |
| 68 | USAWA KWA WOTE PARTY | UKW |
| 69 | UNITED PROGRESSIVE ALLIANCE | UPA |
| 70 | THE SERVICE PARTY | TSP |
| 71 | NATIONAL ORDINARY PEOPLES EMPOWERMENT UNION | NOPEU |
| 72 | NATIONAL RECONSTRUCTION ALLIANCE | NRA |
| 73 | DEMOCRATIC ACTION PARTY- KENYA | DAP-K |
| 74 | PARTY FOR PEACE AND DEMOCRACY | PPD |
| 75 | CHAMA CHA KAZI | KAZI |
| 76 | TUJIBEBE WAKENYA PARTY | JIBEBE |
| 77 | KENYA UNION PARTY | KUP |
| 78 | UMOJA SUMMIT PARTY | USP |
| 79 | PAMOJA AFRICAN ALLIANCE | PAA |
| 80 | MABADILIKO PARTY OF KENYA | MAPK |
| 81 | ENTRUST PIONEER PARTY | EPP |
Contacts for the Office of the Registrar of Political Parties
Location: Karuna Close, Waiyaki Road, Westlands; Lions Place, 1st Floor
Phone: 020 4022000 , 0772281357
Read also List of Kenyan Politicians to Watch in 2023