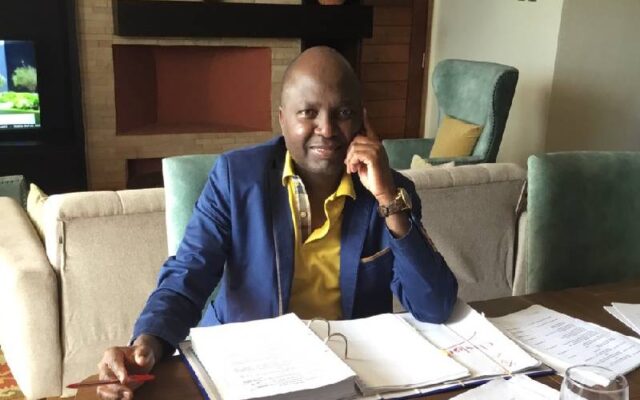 Donald B Kipkorir Biography, Personal Life & Net Worth
Donald B Kipkorir is a seasoned Kenyan lawyer and an advocate of the high court who throws his weight behind opposition Leader Raila Odinga. The city lawyer has litigated a number of high-profile cases in Kenya including one in which he represented the Nairobi County Government in a land tussle.
Business Daily reported on 6 July 2022 that City lawyer Donald Kipkorir was to be paid Sh1. 3 billion, one of the largest legal fees granted in Kenya's litigation history, for defending the Nairobi County Government against the Ministry of Defence in a case over the tract of land on which Embakasi Barracks stands.
We will explore the flamboyant lawyer's biography, personal life, and career.
Donald B Kipkorir Age and Birthplace
He was born in the Marakwet County town of Cheptongei. Mr. Kipkorir will be 55 years old in 2023. He grew raised in a low-income family as the third of nine children. Donald considers his poverty acute because he had never worn shoes before coming to Nairobi for university studies.
Education Background
He attended a village school that was struggling. His mother moved him to a better school in the village and sold Busaa to pay for his school fees. Donald remarked on Twitter that he was educated by his mother and her mother.
He had planned to become a priest and had already enrolled in the seminary, but his entrance to the University of Nairobi to study law changed his plans.
Donald Kipkorir excelled at university, earning a Bachelor of Laws degree. He went on to the Kenya School of Law, where he earned his Postgraduate Diploma in Law. He then began his clerkship at Nyairo and Company Advocates.
Donald is the KTK Advocates Law Firm's founding partner. Donald B Kipkorir began his legal career with Wetangula and Company Advocates, one of the most popular firms of the 1990s, prior to the formation of this outstanding firm. Working with Senator Moses Wetangula gave him important life lessons, such as acting on gut and instinct.
Also, working at the firm helped him hone his skills. He petitioned against one of Kenya's greatest lawyers at the time, Satish Gautama, as a young lawyer in his twenties. He won a landmark case in which he represented Gulamhussein Sheikh, who had sued Akasha for a debt of three million US dollars.
Donald decided to embark on his own road by establishing the KTK Advocates law company. According to sources, he took out a loan that would have taken him 36 months to pay off, but he paid it off in one year. He is a dedicated professional who gives his all to his law firm. The advocate announced in a tweet that he would work 15 hours straight from 6 a.m. to 9 p.m.
The KTK is one of Kenya's most successful law firms, as the Managing Partner and Commercial Litigation Lead in the Litigation Department. This was due to Korir's influence.
Read Ahmednasir Abdullahi Bio, Age, Cars, Wealth, Charges and Net Worth
His excellent twenty-five (25) years of practice have provided him with extensive knowledge in Corporate and Commercial Law, as well as a strong track record in Commercial Litigation. Donald Kipkorir is also a registered Patent Agent, Commissioner for Oaths, and Notary Public.
Donald B Kipkorir Wife & Kids
In January 2017, Advocate Kipkorir married Noni Weru. The couple is the proud parents of a gorgeous son. Donald is claimed to have several children with various moms, some of whom are adopted. He grew up with an abusive father and was hesitant to marry because neither he nor his mother had the perfect father or husband.
As an adult, he makes an effort to make time for his many children. According to recent reports, he gave his daughter a Volkswagen as a graduation gift and arranged a lavish birthday party for his son.
Kipkorir's Mission
Donald would like to be recognized for having an impact on the lives of many individuals in the country and around the world. He has paid school fees for children in need, provided employment opportunities for the unemployed, and participated in donations and charities.
Wealth & Net Worth
Donald has amassed a substantial fortune over the years. He attributed his success to his own efforts and hard work. Many might describe him as lavish, but they would be wrong. Donald's life philosophy is to be happy, and that is how he lives. He once made news on social media after purchasing a Range Rover Sports House 2016 model for Ksh 24 million.
Read also Kenyans Who Own Helicopters and Cost of Hiring One
He recently purchased a Mercedes E300 and uploaded images of it on his social media pages. Donald is unconcerned with people's opinions because he feels that money gives you a choice, which explains why he speaks out because he is not obligated to anyone.
A holiday property in Nanyuki valued at Ksh 27 million, a home in Karen for Ksh 60 million, a home in Kilimani, and a home in his village are among his other assets.