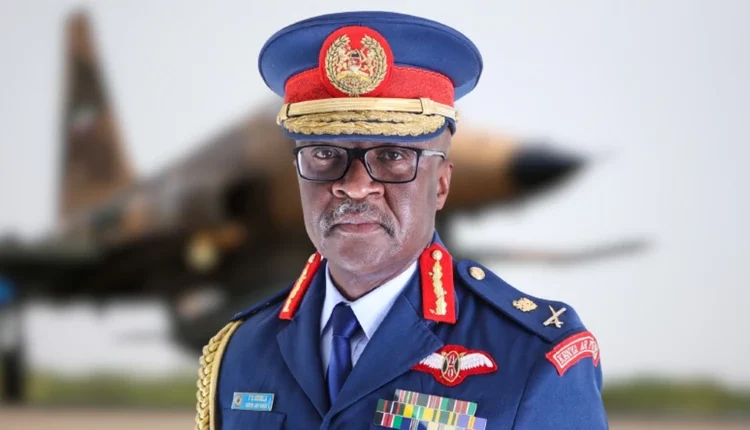 General Francis Ogolla's biography and Illustrious Millitary Career
President William Ruto promoted Lieutenant General Francis Omondi Ogolla to full general and named him the new Chief of Defence Forces on Friday, April 28. General Ogolla will also act as the President's and Cabinet's primary military adviser.
The Tonje Rules, enacted by former Chief of Staff General Daudi Tonje, established a rotation system that assures equal opportunities to manage the Kenya Defence Forces between its three branches: Army, Navy, and Air Force.
General Francis Ogolla, Kenya's newest highest-ranked military commander, has had a distinguished career that includes time as a fighter jet pilot.
As a result, the President had to pick the next CDF from the Kenya Air Force, as the outgoing CDF, General Kibochi, was from the Army and replaced General Mwathethe from the Navy.
This rotation method ensures that leadership in the Kenyan military is fair and equal.
General Francis Ogolla's fighter jet training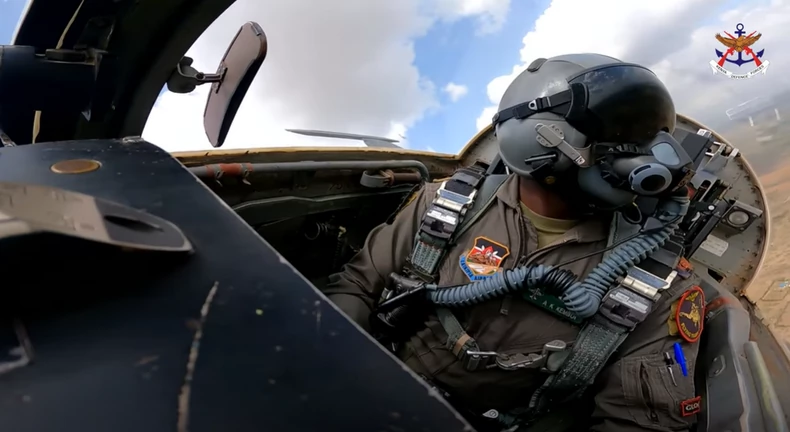 General Francis Omondi Ogolla is a distinguished and well-respected senior officer in Kenya's Defense Forces.
On April 24, 1984, he enlisted in the military and was commissioned as a 2nd Lieutenant on May 6, 1985.
He joined the Kenya Air Force as a fighter pilot and began his military career.
Gen Ogolla has advanced through the ranks throughout the years, obtaining different promotions and taking on increasingly difficult duties.
He served in the United States Air Force as a fighter pilot and instructor pilot, and he also received training in imagery intelligence, counter-terrorism, and accident investigation.
His commitment to lifelong learning and professional improvement has been a defining feature of his outstanding career.
General Francis Ogolla's education
Gen Ogolla has a varied academic background in terms of education. He has a Bachelor of Arts in Political Science, Armed Conflict, and Peace Studies with First Class Honors from the University of Nairobi.
He also holds a Diploma in International Studies and Military Science from Egerton University and a Master of Arts in International Studies from the University of Nairobi.
He also studied at the National Defence College of Kenya and the École Militaire de Paris (a Paris-based military training institution).
Gen. Ogolla has held a number of roles in Training, Command, and Staff over the course of his career. These positions include base commander at Laikipia Air Base, deputy commander of the Kenya Air Force, commanding officer of the tactical fighter wing, chief flying instructor at the Kenya Air Force Flying Training School, and operations desk officer at the Kenya Air Force Headquarters.
He has contributed considerably to the creation and execution of numerous operational and training initiatives that have greatly increased the efficiency of the Kenya Air Force and the Kenya Defence Forces as a whole.
Read Minister of Defense Aden Duale Bio, Career, Marriage, Education, Salary, and Net Worth
Francis Ogolla's leadership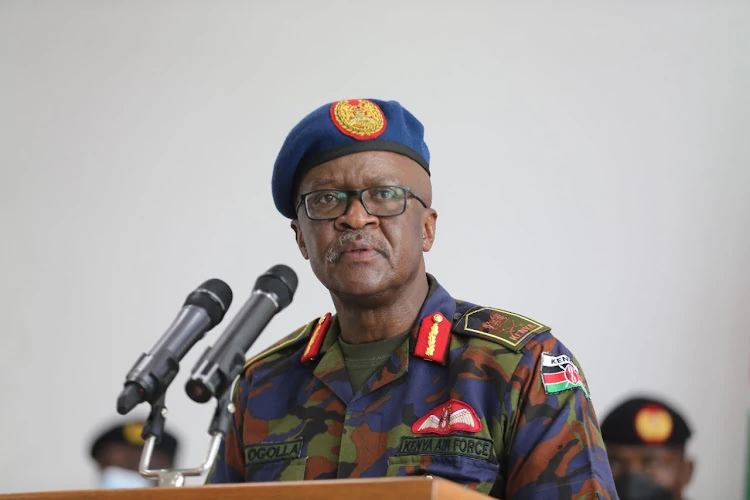 Gen. Ogolla has received various awards and distinctions for his outstanding leadership, tactical knowledge, and professional accomplishments.
On July 15, 2018, he was given the position of Kenya Air Force Commander, a position he held for three years.
He was named Vice Chief of the Defence Forces on July 23, 2021, after being promoted to the rank of Lieutenant General.
This is evidence of his unwavering devotion to responsibility, exceptional work, and his capacity to motivate and guide others.
General Francis Ogolla's personal life
Gen. Ogolla has participated in a number of organizations outside of his military service. From 1994 to 2004, he presided over the Military Christian Fellowship. From 2018 to 2019, he co-led the Association of African Air Chiefs.
He plays golf and likes to read in his spare time. He has two kids and is married to Aileen.
Over the course of his nearly four-decade military career, Gen. Ogolla has consistently shown a dedication to his duty, professionalism, and personal growth.
He enjoys high regard from both his colleagues and subordinates for his outstanding leadership and strategic thinking.
His numerous accomplishments and honors serve as motivation for future military people and are evidence of the value of ongoing education and self-improvement.