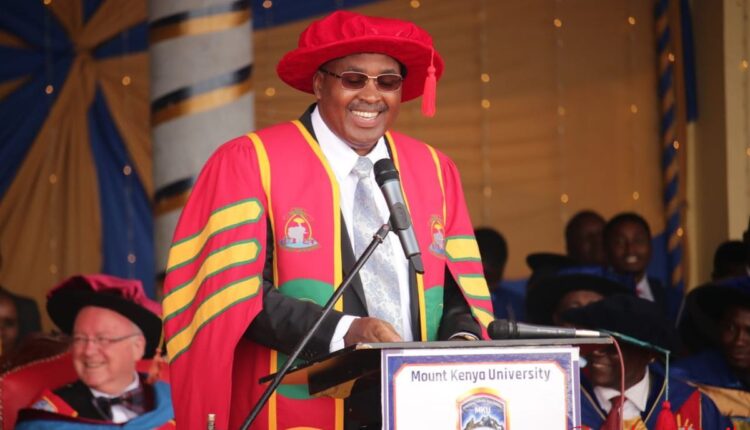 Who Owns TV47? Simon Gicharu Wealth, Business and Family
TV47 is one of the fast-growing TV stations in Kenya and it has been performing excellently in the highly competitive media space. The station was launched in 2019 with its main language being English and Kiswahili. The station began in Kigali, Rwanda in 2014 going by the name of Lemigo TV, and later changed to Royal TV before migrating to Kenya in 2019 and was changed to TV47.
The station's growth has been highly influenced by top-notch shows and news anchors. Dr. Ofweneke's show is one of the most celebrated shows in the country, recently Churchillshow, a popular comedy show left Nation Media Group and joined the station making it more popular. So, who owns the station? well, this article has everything you need to know about the owner of TV47.
Who Owns TV47?
The TV station is owned by a prominent Kenyan businessman, Simon Gicharu who has invested heavily in the education sector. He has drawn his success from the education sector owning one of the biggest Universities in Kenya,  Mount Kenya University. Following a successful venture in the education sector, Simon has now joined the media industry and all seem to be going well for the tycoon.
Simon Gicharu Bio and Business
Born in 1964 in Gathiruini Village, Kiambu County, Simon is the firstborn in a family of six children of the late Stephen Gicharu and the late Alice Wambui Gicharu. He was born in a humble background, his parents were peasant farmers and their income couldn't feed the whole family so he was he has to work in a coffee firm to help his parents meet the family's needs.
He graduated from Kenyatta University with a Bachelor of Science degree in Mathematics and Chemistry. After graduation, he joined the teaching industry becoming a secondary teacher where he worked for several years before he became a lecturer at Jomo Kenyatta University of Agriculture and Technology and later moved to Thika Technical Training Institute.
His teaching journey would later come to an end after he was sacked by the Teachers Service Commission. This marked the genesis of his entrepreneurial journey which wasn't easy, he began by vending milk using an old Chevy- Pick up to feed his family.
He tried to go back to teaching and applied for a position at the International School of Professional Studies which later changed to Inooero University but they turned down his application.
He worked his up and went back to the education sector this time as an investor, not a teacher. He went on and founded the Thika Institute of Technology in 1996 which operated as a college.
The institute grew and 10 years later the Commission of Higher Education gave the institution the authority to offer diploma and degree programs. After that, the institute fulfilled the requirement of the Higher Education Board and it was given the full authority to serve as a fully funded private University. The University has grown to be one of the biggest private universities in Kenya with numerous branches country-wide.
Simon Gicharu Wealth
Gicharu is one of the few Kenyans whose wealth has already hit a billion plus. According to him, he began his venture with Ksh 20,000 loan and he has created a business empire worth billions from Ksh 20,000. Currently, his net worth is valued at approximately 5 billion.
Wife and Kids
Gicharu is a family man married with three kids, more about his family life is still unclear.