Who Owns Acceler Global Logistics? Peter Muthoka Wealth and Businesses.
In your day-to-day routine, you might have come across trucks branded Acceler Global Logistics and maybe you have no idea what the company deals with. Well, Acceler Global Logistics is one the largest freight and logistics companies in Kenya, their main business is to plan, implement, and operates complex supply chain solution on a national and international level.
The company also ranks as one of the wealthiest companies in Kenya providing employment to over 5000 people. Being the planner, implementer, and operator, Acceler offers different services to its clients. Some of the services include transport and distribution, ocean, brokerage, ocean freight, customs, and warehousing. So, with all success behind it, who owns Acceler Global Logistics?
Who owns Acceler Global Logistics?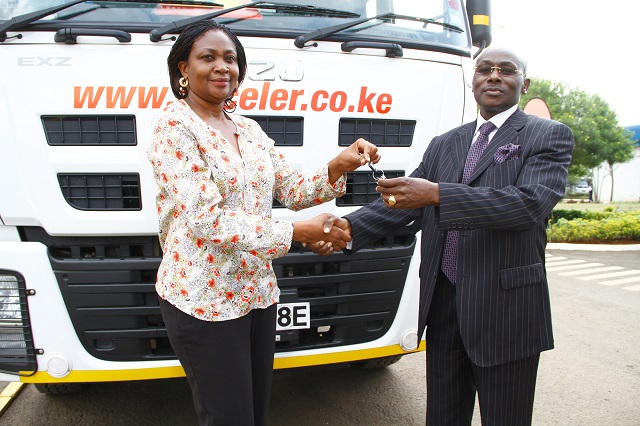 Acceler Global Logistics was founded in 1991 by a Kenyan business mogul by the name of Peter Muthoka with an aim of helping companies grow their wealth. The tycoon is an MBA holder in Strategic Management from Cambridge University and has grown to be one of the most successful businessmen in the country.
Following his successful venture, Peter Muthoka was recognized by the World Customs Organisation and he was awarded for his effort to boost trade in the region.  On top of that, Muthokas has also been conferred with the Elder of the Order of the Golden Heart by His Excellency, President Uhuru Kenyata.
Aside from his success in the business sector, Muthoka has also been very influential in the political arena. Even though he hasn't taken the political path, in 2017 he didn't get along with the Machakos Senator, Johnstone Muthama, and their differences led to Muthama losing the seat in 2017. While Muthama became a strong pillar for a then coalition, NASA. Muthoka on the hand took the side of Jubilee and supported Jubilee's candidate and they went on to win the NASA-dominated region.
In the approach to the 2022 campaigns, Muthoka joined the Azimio la Umoja joining the Akamba political King Kalonzo Musyoka in supporting Raila Odinga. Muthama on the other hand joined UDA supporting William Ruto. Unlike in 2017, Muthoka's bet didn't go through as Raila failed and Ruto won the election. However, despite his interest in politics, he has not yet declared his interest in any political seat.
Other Businesses
Away from Acceler logistics company, Peter Muthoka is also the founder and chairman of Transglobal Cargo Center. The company is also a logistics company that focuses on trucking, freight forward, and storage services. Cargo Center is one the leading companies operating in one of Kenya's largest airports, Jomo Kenyatta International Airport.
Peter Muthoka was also the largest shareholder in the famous CMC Motors in 2014 before he decided to sell off his shares in the company. According to Forbes, Muthoka sold off his share for close to Ksh 2 billion. He sold his shares to the Al-Futtaim Group of the UAE. Reports show his shares in publicly listed companies are worth over Ksh 4.5 billion.
Wealth
According to Forbes as of 2017,  the company was generating an annual revenue of over Ksh 50 billion. Muthoka is also one of the few Kenyans who have hit a billion in wealth.