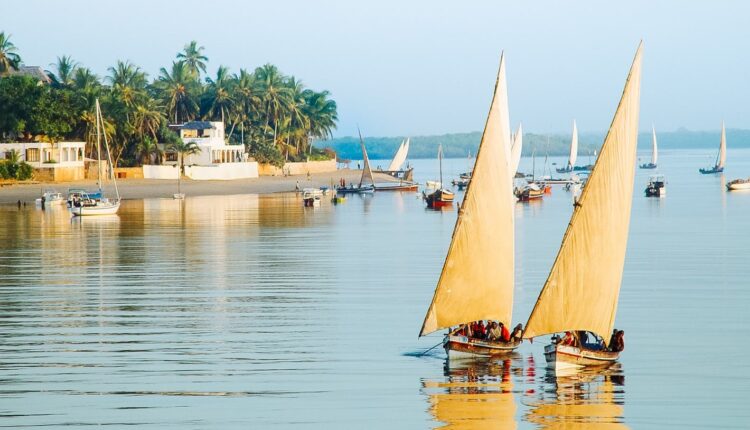 Top Ten Best Beaches in Kenya
Kenya is mostly known for its wildlife safaris and game reserves; however, Kenya is home to some of the world's best beaches. This article discusses some of the top ten best Kenyan beaches you can visit.
Kenya has similar geographic characteristics with some of the globe's top sun, sea, and sand vacation spots. Kenya has latitude with Seychelles, Maldives, Bali, and the northern part of Brazil, all tropical destinations.
Most of Kenya's stunning beaches are found in the southeast, roughly north and south of Mombasa. From various activities to pristine beach resorts and exhilarating water sports to isolated locations, these top beaches provide something for everyone, including spectacular vistas.
Top Ten Best Beaches in Kenya
1. Diani Beach
Diani Beach, located on Kenya's Indian Ocean coast, is known for its powder-soft sand and saltwater, a rainbow of colors. Colobus monkeys in black and white swing over the trees and climb over the beach mansions' rooftops. Aerial skydivers and kitesurfers are floating over the beach. Aside from that, there are some spectacular sunrises over the Indian Ocean if you get up early enough.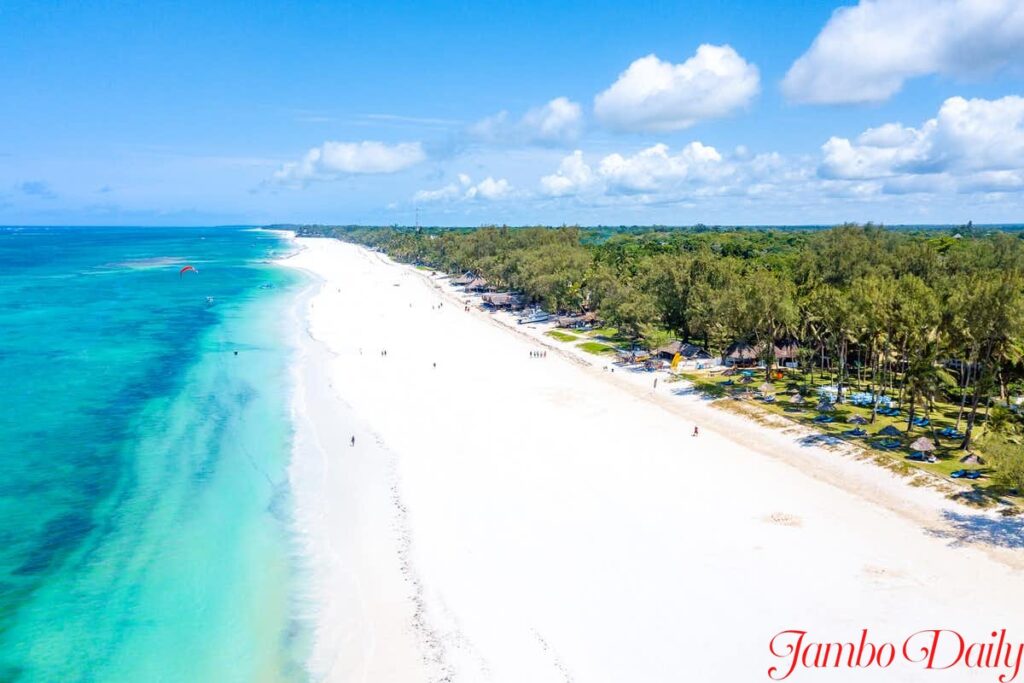 2. Nyali Beach
Nyali, Mombasa's most popular northern beach neighborhood, is an excellent alternative to Mombasa Island. Due to its proximity to the city, Nyali is an ideal place for a day trip. With several hotels located directly on the shore, however, it is also an ideal location for a beach vacation.
Nyali is one of the greatest spots in Kenya to attempt surfing since it is seldom crowded. Some of these popular beach activities are surfing, sunbathing, and swimming.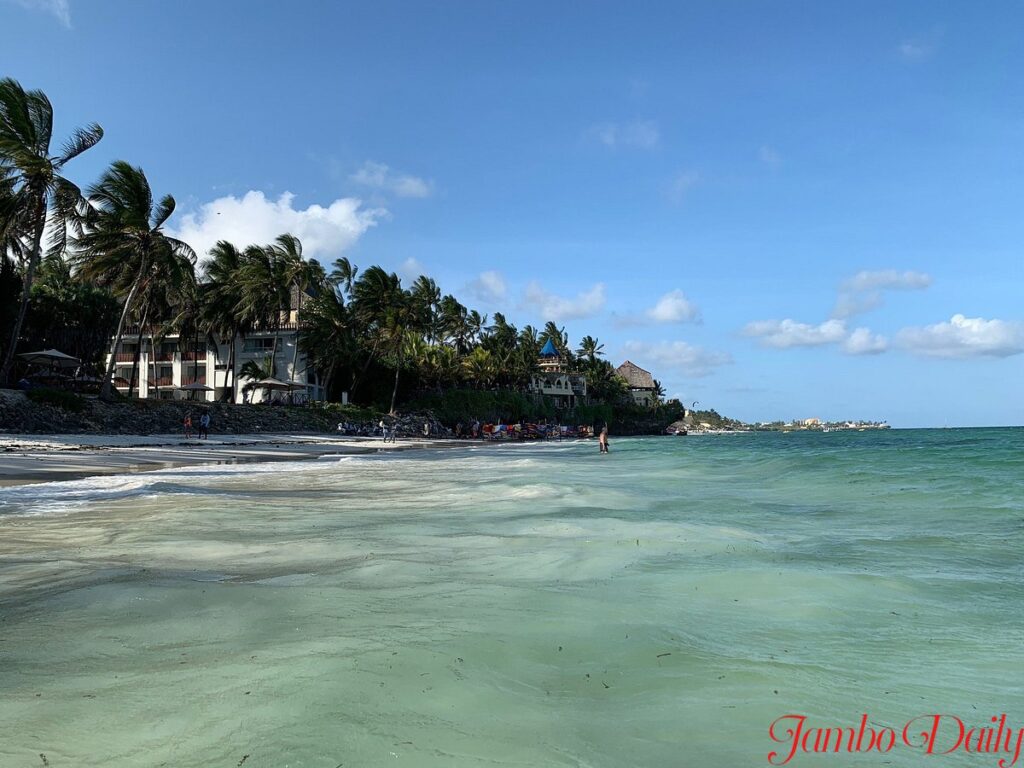 3. Watamu and Turtle Bay
Watamu Beach, situated approximately 16 kilometers south of Malindi, is one of Kenya's most popular coastal destinations. Its expansive coral reef makes it an ideal location for snorkeling and scuba diving. A stretch of sand near the reef is home to nesting sea turtles.
Watamu is a succession of beaches arranged around cerulean coves on a sandy peninsula between Mida Creek and the Indian Ocean. Depending on the time of year, you may be fortunate to swim alongside whale sharks. If not, go on a safari in the Arabuko Sokoke forest.
4. Malindi
Malindi beach is one of the most famous beaches on this list. It is famous for several reasons. One, it is where the Portuguese explorer Vasco da Gama arrived in Africa. Secondly, it offers an amazing climate, a vast of hotels, crystal clear water and beautiful views. You might go sailing, deep-sea fishing, windsurfing, or snorkeling south of the town center on the coral reef.
5. Lamu Beaches
Lamu Island is located off the coast of Kenya's North Coast. It's an ancient Swahili town on the East African coast that serves as a living museum of the African-Islamic-Arabian civilization that controlled the region for centuries. Donkeys are the most common mode of transportation in this area, which is fully pedestrian-friendly.
One of the island's most beautiful beaches is Shela Beach on the island's west coast. It's also one of the few areas along the Kenyan coastline where you can get a good ten on surfable waves since there is no barrier reef.
6. Mambrui
It's a little off the beaten path north of Malindi, but Mambrui is a secret spot for those who know their way along the coast. Another kitesurfing haven, Mambai, also offers deep-sea fishing, snorkeling at Malindi Marine Park, lengthy walks on deserted beaches, and fast trips into adjacent Tsavo East National Park.
Malindi Marine Park also offers opportunities for deep-sea fishing and snorkeling near Mambui. There are a few inexpensive hotels in town, but Che Shale is the place to stay on the cape.
7. Bamburi Beach
Bamburi Beach is one of Kenya's most popular tourist destinations. Bamburi Beach, located on Mombasa's North Coast, is a fantastic beach hideaway for people who like to spend time in the water and sun. The location is ideal for snorkeling and scuba diving due to the presence of a coral reef just off the shore.
You may ride a camel down the dunes at Bamburi Beach for a memorable experience.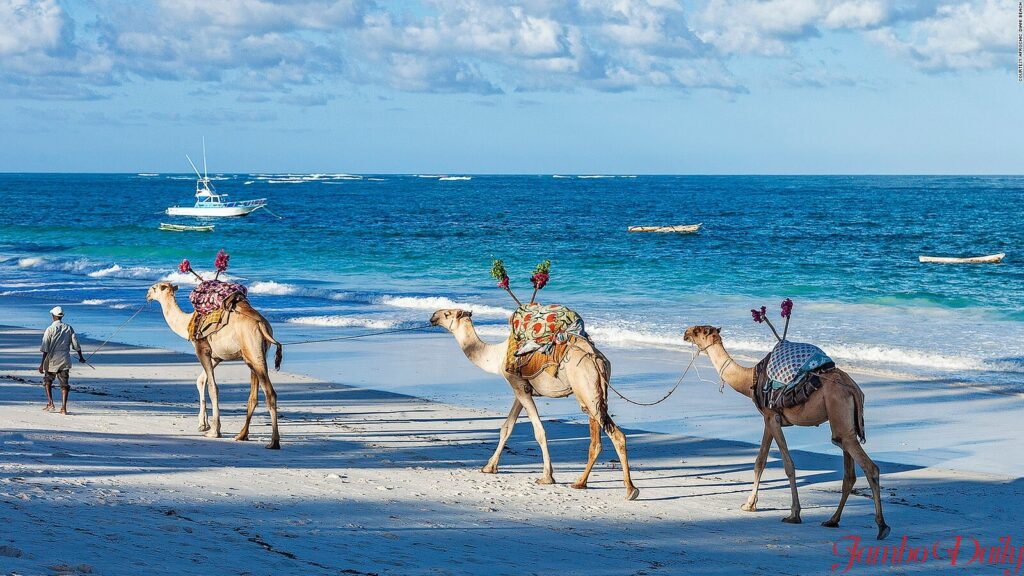 8. Tiwi Beach
Tiwi Beach is a hidden treasure located around 17 kilometers (10.5 miles) south of Mombasa. It is accessible by ferry from Mombasa, an enjoyable transportation mode. This is a tiny, uncrowded beach with plenty of recreational opportunities.
This quiet beach is sometimes overlooked in favor of its neighbor, Diani beach since it lacks services. At low tide, you can go near enough to the sandbars at Tiwi Beach that extend out to the reef to touch them. Except for the Amani Tiwi Beach Resort, there are no significant bars or restaurants.
9. Shanzu Beach
Shanzu is an isolated beach on North Coast. The sea is refreshingly clean, and the beach is white and speckled with coconut palms. Under the bright sunlight, the great length of the beach sparkles like a million small gems. In addition to a visit to Fort Jesus, no adrenaline-pumping activities are offered. Perhaps this is why German and Swiss visitors like it.
Shanzu Beach is home to various hotels and resorts, so you will have no problem choosing a place to stay or eating delectable seafood every day.
10. Gazi Beach
Gazi Beach is located on the south coast of Kenya, about 3 kilometers (1.8 miles) from Gazi, and is recognized for its seclusion and tranquility. This lonely strip of sand along the coast road between Diani and the Tanzanian border is known only to the most devoted Kenyan beachgoers. The seas are quiet, and the beach is flanked by ancient coconut palms, which shelter those who find the tropical heat too intense.