Ruiru Bar Where Revellers Get Head Massage While Drinking (Video)
Ruiru Bar Where Revelers Get Head Massage While Drinking. A video of a man getting massaged on the head while gulping a bottle of beer has elicited mixed reactions among Kenyans online. In the video, a lady in white attire is seen caressing a man sitting near the counter with some bottles of beer on the table.
The man also appears to have come straight from a barber shop as black dyeing on his head seems to have been done a few minutes before.
The video was shared on Twitter by a lady identified as Mwende Frey, who owns a barber shop by the name Man's Chamber at Kamakis, Ruiru.
Video: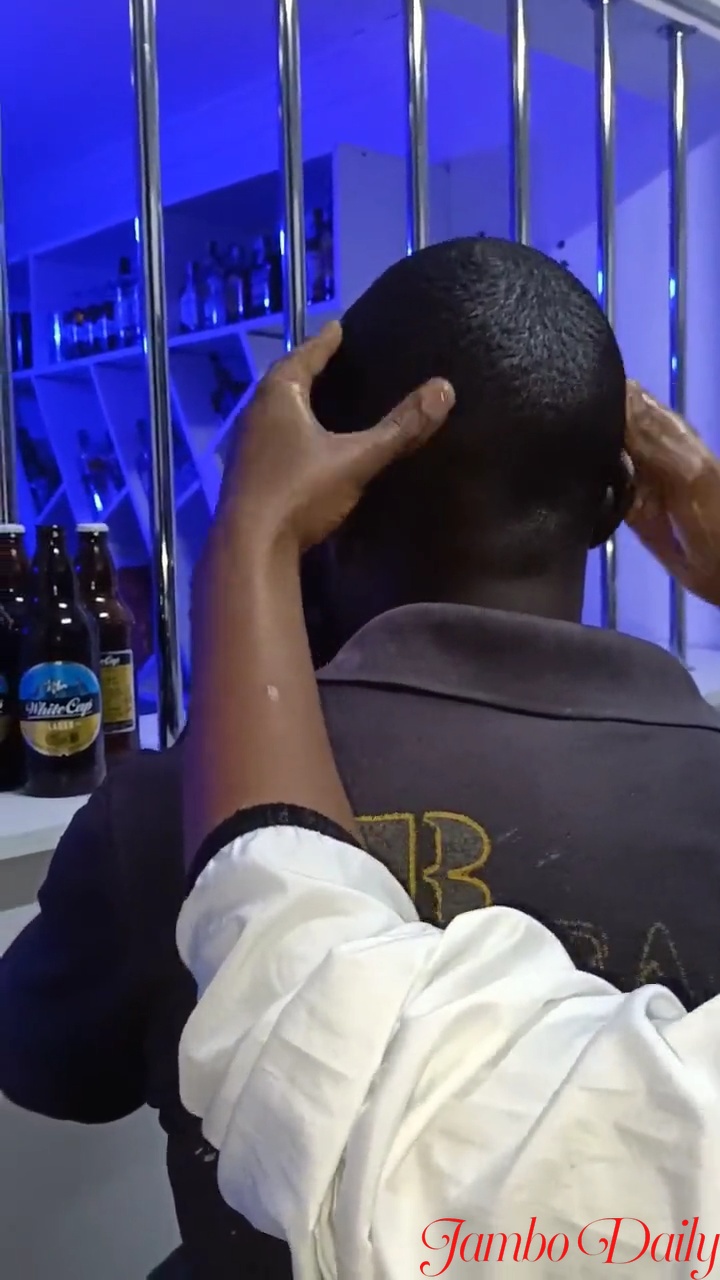 The Barbershop is known for all the wrong reasons. For instance, in one instance a video that leaked online showed a woman twerking and whining her waist for a man who was getting a haircut.
In another instance, it could be clearly seen that all the workers at the barbershop are ladies. This led to speculation that the barbershop might be a brothel operating under the name of a barbershop. However, Mwende came out to clear the air that the business was a barbershop and nothing more.
The name of the controversial bar has since been revealed as Uncle Booze, a club that operates in Kamakis just near the famous barbershop. Kenyans have since leaked the bar to Mwende's barbershop with speculations that it might be her other business or partnership that she was promoting.
Other Kenyans were left in awe as they wondered about the kind of creativity in the country. Some praised the bar saying they would soon pay a visit while others condemned the incident.
Activities such as massage, twerking, romancing, and even kissing have been on the rise among Kenyan barbershops and spas. These are the places that men visit when they feel distressed or need to take a break from the normal. Therefore, such activities have been incorporated to serve them well while away from normal life.
As a result, women have been complaining of these spots, claiming their husbands get side chicks from these places, who make them neglect their duties in the families.