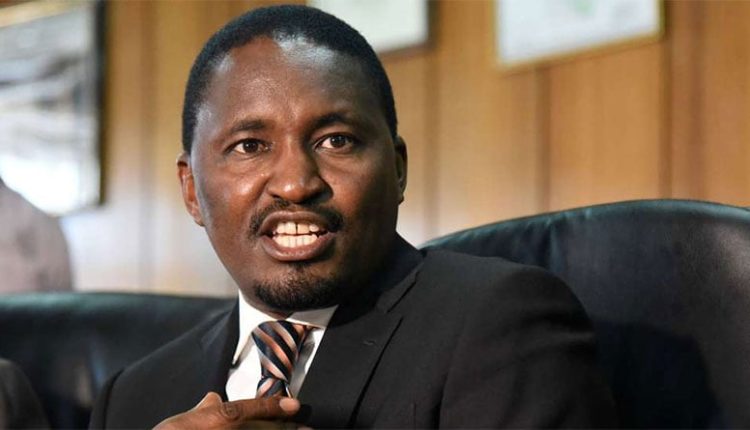 Mwangi Kiunjuri Bio, Age, Career, Politics, Family and Net Worth
Festus Mwangi Kiunjuri is an astute Kenyan Politician and the current MP for Laikipia East Constituency. He is a teacher by profession.
He has served as a Member of Parliament and as a Cabinet Secretary in former president Uhuru's government. He was the former Cabinet Secretary for Agriculture, Livestock, Fisheries, and Irrigation.
He was known as 'wamalocust' because he was the one who gave updates on the situation of the nation when a swarm of locusts swarmed over Kenyan land, causing fear and havoc.
Mwangi Kiunjuri Age and Birthplace
Kiunjuri Festus Mwangi was born on April 29, 1969, in Kieni, Nyeri county, in the Kahurura Forest part of Mount Kenya. He is a member of Kenya's Kikuyu ethnic group. Kiunjuri will be 53 years old in 2023.
Mwangi Kiunjuri Background
He spent a significant portion of his life in Kieni, Nyeri County. His father was a dresser at a nearby clinic, while his mother was a peasant farmer. Being the 11th child in a family of 12 made living difficult because the small income could not comfortably support the entire family.
He once admits to wearing his first pair of shoes in fourth grade. He used to sell clothes and vegetables on campus when he wasn't attending classes. This enabled him to pay for his education and has helped him become the accomplished individual he is today.
Mwangi Kiunjuri Education History
From 1983 to 1987, he attended Dr. Kiano Boys High School for his primary schooling. From 1988 to 1989, he attended Kangema High School for secondary education. Kiunjuri earned a Bachelor of Education (Arts) degree from Moi University in 1994.
Mwangi Kiunjuri Politics
Mwangi Kiunjuri was elected to parliament to represent the Democratic Party in 1997. He eventually held the seat until 2007. He has also served as Assistant Minister of Water and Irrigation and Assistant Minister of Energy.
Kiunjuri was a member of the Party of National Unity (PNU). In the 2007 Kenyan parliamentary election, he was elected to represent the Laikipia East Constituency in the National Assembly of Kenya until 2013.
After facing the axe from President Uhuru's cabinet in 2020, he decided to try his second bid in politics by running for Laikipia East MP in the 2022 general elections. To the surprise of many, Kiunjuri triumphed despite the massive UDA wave that swept the Mt Kenya region.
Read Kimani Ichungwa Bio, Age, Career, Personal Life, Net Worth
Mwangi Kiunjuri's Professional Career
Kiunjuri has spent a significant amount of his life immersed in politics. He took over as Cabinet Secretary for Devolution and Planning in 2015, succeeding Anne Waiguru.
Waiguru resigned due to allegations of corruption. On October 26, 2017, he was appointed Cabinet Secretary for Agriculture, a position he held until January 14, 2020, when he was succeeded by Peter Munya.
Kiunjuri Mwangi Dismissed from the Ministry
His dismissal from the office of CS for Agriculture came as a surprise to him. Kiunjuri was fired following an alleged Uhuru- Raila four-hour private meeting at Raila's house. Kiunjuri claimed that he was a victim of Uhuru's witch-hunt.
The firing came shortly after he discovered he had been duped by President Uhuru Kenyatta since he had committed to dissolve his Grand National Union (GNU) party and support Uhuru Kenyatta's re-election. He did, however, say that he will continue to back Uhuru.
Mwangi Kiunjuri Wife, Daughter
Mwangi Kiunjuri is married to his beautiful wife Wangui Kimathi. They have a lovely daughter as a result of their union.
Mwangi Kiunjuri's Net Worth and Residence
Mwangi is considered to be among the wealthiest Kenyan MPs with a net worth of approximately Kshs. 799 million. He has amassed considerable riches, particularly in the real estate market.
Mwangi Kiunjuri has made significant investments in agriculture and real estate. He has real estate in Nanyuki, Sagana, and Nairobi.
Contacts for Mwangi Kiunjuri
His mailing address is P.O. Box 220 in Nanyuki, Kenya.