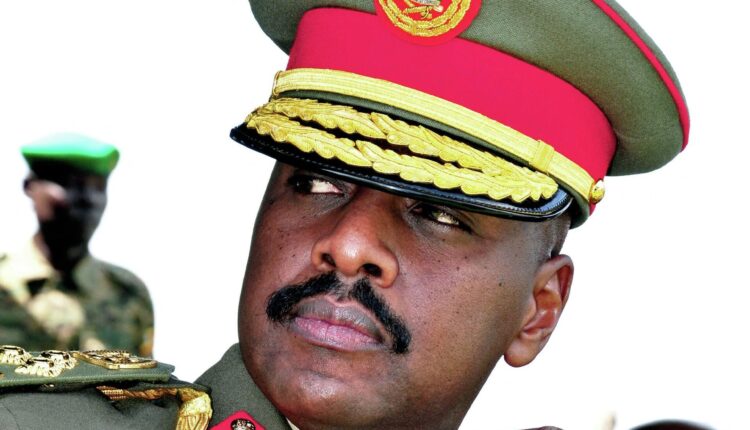 Muhoozi Kainerugaba Biography, Age, Career, Education, and Net Worth
Muhoozi Kainerugaba is a Ugandan four-star general who was previously serving as the commander of the Uganda People's Defense Force's Land Forces (UPDF). He is the son of Ugandan President Yoweri Museveni.
Muhoozi was promoted to a position of a four-star general despite online trolling from Kenyans after he hinted that it would take him and his army two weeks to capture Nairobi,  the capital of Kenya, and put it under siege.
NMuhoozi Kainerugaba Age and Birthday
Muhoozi Kainerugaba was born in Dar es Salaam on April 24, 1974. Yoweri Museveni and Hope Rwaheru are his parents. He is 48 years old as of 2022.
General Muhoozi Education
Muhoozi received his education in Tanzania, Mount Kenya Academy in Nyeri, Kenya, and Sweden. When his father was elected president, he attended Kampala Parents School, King's College Budo, and St Mary's College Kisubi, where he graduated in 1994.
Mainerugaba's educational background is unknown. He did, however, attend the University of Nottingham from 1996 to 1998, where he allegedly studied for a BA in Political Science Degree, which is supposed to last three years rather than two.
Read George Kinoti DCI Biography, Age, Career, Education, Family, Wife, Net Worth
Military Education
Muhoozi was initially accepted into the Egyptian Military School for company and battalion commander courses before being transferred to the Kalama Armoured Warfare Training School. Later that year, he enrolled in a one-year course at the United States Army Command and General Staff College at Fort Leavenworth, Kansas.
He then completed the Executive National Security Programme at the South African National Defence College.
Muhoozi Kainerugaba Career
Muhoozi's military career began in 1999 as an officer cadet with the UPDF. Despite opposition from some of Museveni's NRA comrades such as David Sejusa and Kizza Besigye, Muhoozi rose through the ranks of the UPDF.
Muhoozi was promoted to colonel in September 2011, and then to Brigadier General in August 2012, when he was named Commander of Special Forces Command. Muhoozi served as the Senior Presidential Advisor on Special Duties from 2017 to December 2020.
Read Nuclear Power: Uganda's First Nuclear Energy Project Approved
In February 2019, President Museveni promoted Muhoozi to colonel, the second highest rank in the UPDF army after general. Muhoozi was named Commander of the UPDF Land Forces in June 2021.
Muhoozi Kainerugaba Net Worth
Muhoozi's estimated net worth is $2 million. He makes the majority of his money through his military career.