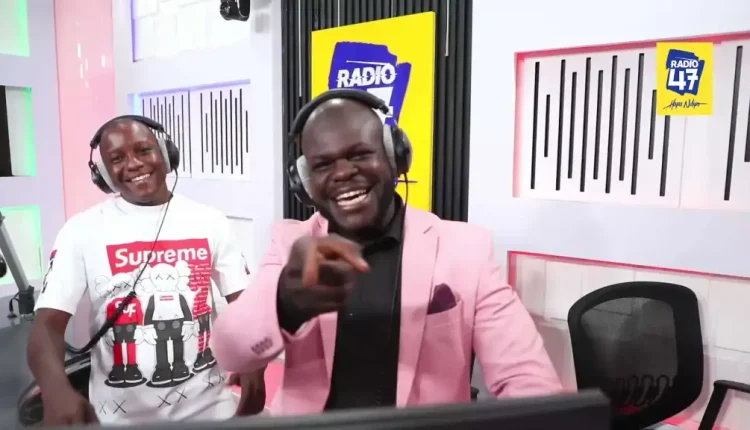 List Of Radio 47 Presenters, Programs and Frquencies
Here is a list of Radio 47 Presenters who have taken the airwaves by storm in a new and digital radio experience.
The newest radio station in Kenya, Radio 47, which is owned by Simon Gicharu, the Founder of Mount Kenya University (MKU), who also owns TV 47, is now making waves across the country.
The station's debut preparations began in 2022, and the most recent step was a hiring frenzy for the best radio talent in the nation.
The upstart station has snatched up well-known figures in the media sector in the talent chase that has damaged top radio stations.
List Of Radio 47 Presenters
Radio Maisha of Standard Group has lost a number of presenters to Radio 47, including Beatrice Maganga, Lynda Oriaso, Geoffrey Mung'ou, Billy Miya, Mbaruk Mwalimu, Mwashumbe and Ali Kauleni Hassan, also known as Hassan Mwana wa Ali.
In addition, 2 revered Radio Maisha Djs- Dj Ian and Dj Imo have also ditched the station and joined Radio 47.
Sports commentator and presenter Hassan Mwana wa Ali has extensive experience. The station's Sports Editor will be Ali, a well-known Swahili sports pundit.
Irene Kaimuri and Eric Wambugu, two former Radio Maisha producers who left in January, have also joined the newcomer.
Moreover, award-winning gospel broadcaster Evah Mwalili, widely known as Mama Taifa, was swooped up by Radio 47 from Milele FM.
Read also Top Five Media Houses in Kenya.
Radi 47 Programs are as follows
From 4:00 AM until 6:00 AM on weekdays, the station broadcasts NURU 47, hosted by Eva Mwalili.
After Nuru, BREAKFAST 47, led by Emmanuel Mwashumbe and Mkamburi Chigogo, will take place from 6:00 AM to 10:00 AM.
Malkia Mwanaisha Chidzuga hosts MCHIKICHO from 10:00 AM to 1:00 PM, while Manucho the Young Turk hosts BAZE 47 from 1:15 PM to 3 PM.
Billy Miya and Mbaruk Mwalimu host MASKANI from 3:00 to 7:00 PM, and a veteran of the media field hosts CHEMBA from 8:00 to 11:00 PM.
Elizabeth Mutuku is the host of the 90-minute political chat show KIKAO CHA HOJA, which airs every Wednesday from 7:30 to 9:00 p.m. Every Saturday from 7:00 AM to 11:00 AM, Ali Hassan Kaluleni hosts the educational program BAHARI YA ELIMU.
Other programs that air on Saturdays and Sundays include SATO VIBE, MIKIKI YA SPOTI, Saturday Drive, RADIO 47 JUMAPILI, EXTRA VIWANJANI, and KALI ZA KALE.
All of Kenya's major cities are covered by Radio 47's frequencies.
Prof. Simon Gicharu, the owner of Mount Kenya University (MKU) and the owner of TV47, is behind the radio station. According to reports, he bought radio frequencies from a private investor who sold them after the elections.
The station, which started broadcasting early March has gained a ton of followers and listeners within a short time thanks to the big names it has poached from pother media houses. Its fan base has been growing fast as well as subscribers and followers an social media pages.
Much is expected of the station, which has since shown interest to be the game changer has been received well by Kenyans.In an era where there is stiff competition between mainstream media and digital/social media, and it requires one to have different strategies in order to thrive.
Cape Media, which owns the new radio station as well as TV 47 is a fast-rising media house that has been projected to reach the ranks of giant media houses such as Radio Africa Gropu and Media Max networks in the near future if it plays its cards well.
Radio 47 FM Kenya Frequencies
| Frequency | Town |
| --- | --- |
| 103.0 | Nairobi |
| 92.9 | Mombasa |
| 101.2 | Kisumu |
| 100.9 | Eldoret |
| 92.9 | Malindi |
| 89.5 | Lamu |
| 89.5 | Garsen |
| 97.9 | Meru |
| 99.9 | Kisii |
| 92.1 | Nakuru |
| 97.3 | Nyeri |
| 92.1 | Laikipia |
| 93.4 | Narok |
| 89.0 | Kitui |
| 104.3 | Webuye |
| others | unspecified |