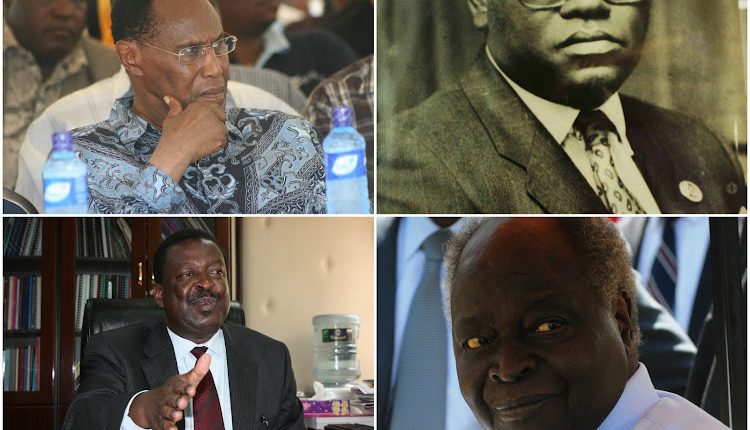 List of All Kenya's Vice Presidents Since Independence
This is a complete list of all Kenya's vice presidents since independence including two deputy presidents. It is well known that Kenya has had five presidents since its independence. But what about vice presidents and deputy presidents-elect? Unfortunately, not everyone is aware of this. Some may be surprised to learn that several prominent Kenyan leaders once served as vice presidents. Let's get started on our list right away.
Kenya's Vice Presidents Since Independence
1. Jaramogi Oginga Odinga (1911 – 1994)
Jaramogi Oginga, Raila Odinga's father, was the first Vice-President of Kenya when the country became a republic in 1964. He resigned from office on April 14, 1966, after a disagreement with Mzee Jomo Kenyatta.
2. Joseph Murumbi
As Kenya's second Vice President, Joseph Murumbi took over from Jaramogi. He was only in office for 120 days before being replaced by the President.
3. Daniel Arap Moi
The third VP was Kenya's second President. The late Daniel Arap Moi is the longest-serving Vice President, having served for 11 years under Mzee Jomo Kenyatta. When Jomo died, he succeeded him as President.
4. Mwai Kibaki
Mwai Kibaki served as a Vice President under the late Moi for 9 and half years (1978-1988). He later rose to become the President in 2002 after president Moi retired, endorsing Uhuru Kenyatta. He died on 21 April 2022 aged 90 years.
5. Josephat Karanja (1931 – 1994)
Josephat Karanja was the Vice President of Kenya from March 1988 to May 1989. He was succeeded by George Saitoti.
Read List of Kenya's National Assembly Speakers Since Independence
6. George Saitoti
George Saitoti was in office from 1989 to January 1998. At some point, they disagreed with Moi and he dismissed him. The position of Vice President was vacant for 15 months. Moi later reinstated him in April 1999, and he served until the end of the KANU era.
7. Musalia Mudavadi
Musalia Mudavadi, the leader of the Amani National Congress, was Kenya's vice president for the shortest time. He was only in office for 60 days before resigning to run for President in 2002.
8. Kijana Wamalwa
Kijana Wamalwa was Kenya's eighth Vice President, serving under former President Kibaki. He is the only Vice President who died while in office.
9. Moody Awori
Moody Awori held the position from September 2003 to January 2008.
10. Stephen Kalonzo Musyoka
The Wiper party's leader, Kalonzo Musyoka, was the last person who held the title of Vice President before the title was adjusted to Deputy President under the Constitutional Reform of 2010. He was in office from January 2008 to April 2013.
Read Kalonzo Musyoka Biography, Career, Age, Net Worth, Wife and Education
11. William Ruto
William Ruto was the first politician to use the term deputy president as proposed by the 2010 constitution. He was elected alongside President Uhuru Kenyatta in the 2013 general elections.
The two went on to vie for a second term in 2017 and won again. Ruto later vied for President in 2022 and won against Raila Odinga, his main rival.
12. Rigathi Gachagua
Rigathia Gachagua alias Riggy G is the newest deputy president in town. He was elected alongside President William Ruto on the 9th of August 2022 in the general elections. He is known for his vocal tone, especially when telling off those criticizing the government including the opposition.