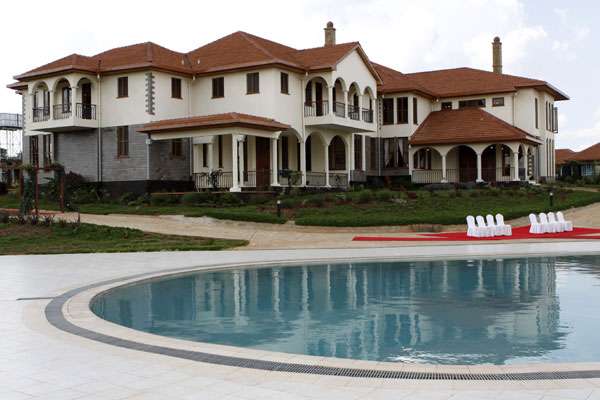 Kenyan Politicians With Most Expensive Houses
You will get to know of Kenyan politicians with the most expensive houses in Kenya i this particular write-up.
All over the world, politicians are known to be one of the richest groups of individuals, from driving luxurious cars to leading lavish lifestyles. Fortunately for them, their costly lifestyles are sponsored fully by the government using taxpayers' money, and they don't have to worry about their pockets running dry.
In addition, they have the opportunity and loopholes to make quick money through the positions they hold. They also don't have to worry about retirement as loads of cash in retirement benefits as them How then can they fail to put up expensive houses and drive flashy cars?
Certainly, Kenyan politicians are not an exception. Here is a list of Kenyan politicians with the most expensive houses.
Kenyan Politicians With Most Expensive Houses
1. Raila Odinga
Although informally, the Ksh 1 billion house on the hill has been referred to as Raila's statehouse, a spotless opulent residence for the Azimio Presidential flag bearer. Insiders who have stumbled upon the palace speak loftily about its ten bedrooms, four spacious kitchens, two large meeting rooms, 2 miniature conference rooms, collective numerous offices.
The Sh 1 billion residence also boasts a helipad large enough to accommodate two helicopters landing simultaneously, six Jacuzzis, and an Olympic-sized swimming pool!
2. William Ruto
The home features a Jacuzzi, two pools, and a sizable playground. The Deputy President is presently a resident in his Karen residence.
Read Kenyans Who Own Helicopters and Cost of Hiring One
3. Mike Sonko
Mike Sonko, a former governor of Nairobi, invested a staggering Ksh 150 million in the construction of this spectacular residence in Machakos. The affluent senator also has a house in Runda.
4. Evans Kidero
Another prominent politician with the most costly home—indeed, it's like paradise—is the former governor of Nairobi County, Evans Kidero.
The residence of Kidero, which is one of Kenya's most costly homes, is situated in Muthaiga.
5. Ali Hassan Joho
A beach lies nearby the Ksh 390 million home in Nyali. It is among Kenya's most exquisite homes.