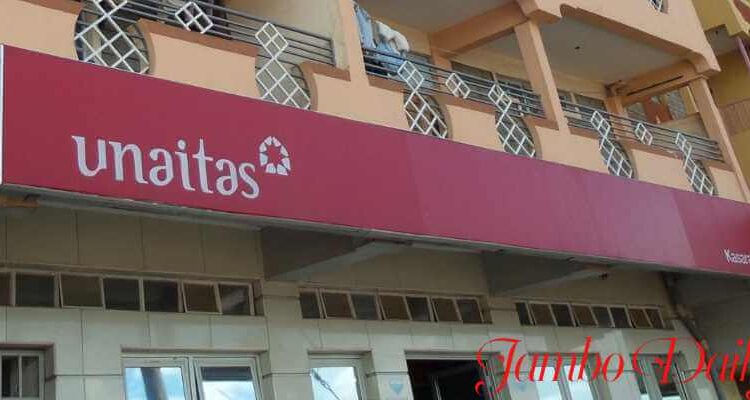 How To Transfer Money From Mpesa to Unaitas Sacco
Unaitas Sacco is one of the leading SACCOs in Kenya that has managed to gain a huge following for the past three decades. In this article, we cover how you can easily transfer money from Mpesa to Unaitas SACCOs within a blink of an eye.
Unaitas originated from tea farmers in 1993, it started as a cooperative society with only a few members. The cooperative Society grew with time and eventually, Unaitas Sacco was born, the Sacco was licensed in 2012 under the Sacco Societies Act.
As part of its growth, the Sacco now boasts a membership of over 320,000 members. Speaking of the membership, their membership entails individuals, small businesses, as well as investment groups.
As a financial institution, their aim is to ensure they empower small-scale businesses in the best way they can. Despite having a wide range of services, Unaitas is well-known through its Biashara Loan docket.
Just like any other financial institution that gives cares for its customer's needs, Unaitas has also embraced mobile banking. Mobile banking helps their client to access their respective bank accounts without visiting any of their branches.
To ensure all of their customers are on board with the new trend, Unaitas has partnered with Safaricom's Mpesa services which are used by over 90% of Kenyans. Through this partnership, Unaitas has developed a unique number that Mpesa users can use to deposit money to their respective Sacco accounts.
Below we discuss step-by-step of depositing money to Unaitas Sacco via the Mpesa Pay bill number.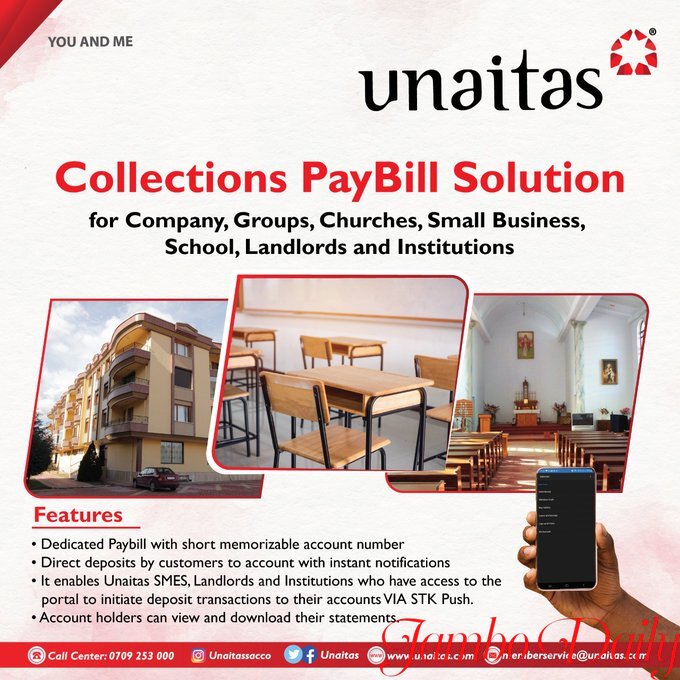 Transfer Money From Mpesa to Unaitas Sacco Using Pay Bill Number
On your phone open the STK app/ Mpesa App/ Safaricom App
Open the Mpesa Menu
Select the "Lipa Na M-Pesa," option
Then select the "Paybill" Option.
Under the Business Number field enter "544700" (Please note this is the valid
Unaitas Pay bill number).
Under the Account, Number field enters a valid Unaitas account number that you wish to credit.
Enter the amount you wish to transfer.
Then enter your 4-digit M-Pesa PIN.
Then wait for a confirmation message
Transfer Money From Unaitas to Mpesa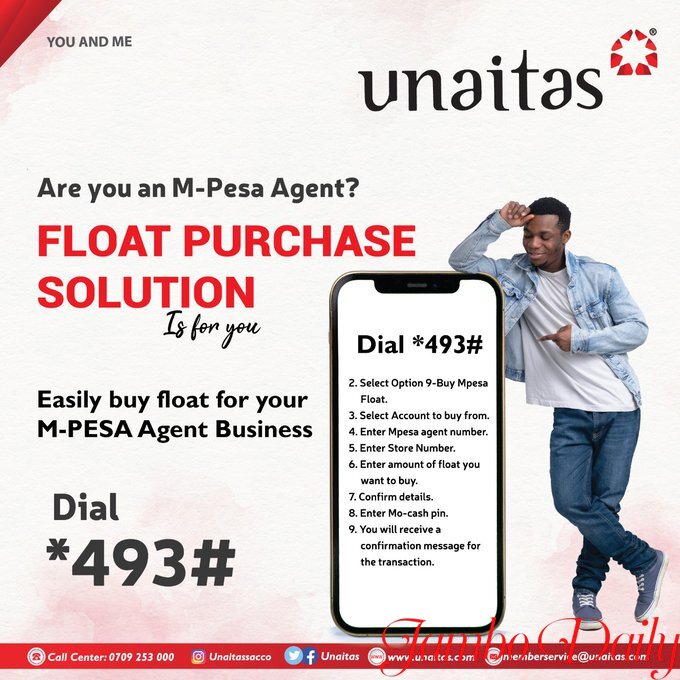 As easy as it is to transfer money from Mpesa to Unaitas the process is also much similar when it comes to withdrawing from Unaitas to Mpesa. However, in this process, you have to register for mobile banking. To register visit the nearest branch for assistance. Once you are done follow these steps and you'll be good to go.
On your phone dialler, dial *493# and press the call button
Enter your National ID number to log in
Then Enter your Mo-Cash PIN.
Choose Withdraw Option.
Select the Account Number to withdraw from in case you have multiple accounts.
Enter the amount you wish to transfer and confirm the withdrawal.
Wait for a confirmation message.