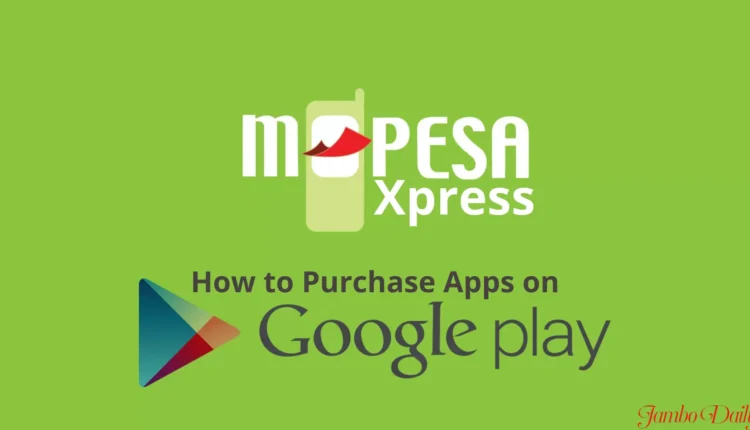 How to Subscribe And Use Mpesa Xpress On Google Play Store
This article provides a guide on how you would subscribe and use Mpesa Xpress on the Google Play Store step by step. As much as most of the Play Store applications are free, there are those that require to be purchased before use or being installed. In recent times the primary option for purchasing these apps and games was by credit or debit cards.
However, Safaricom has refashioned this way by introducing Mpesa Xpress a first maiden solution that can accumulate the process of acquiring such applications. Mpesa Xpress will be a service offered to registered customers with smartphones so as to be able to purchase apps and other digital goods from the Google Play Store using Mpesa for payments.
The service is available to users in Kenya who have registered Mpesa Accounts, Google Accounts, and smartphones.
How to Subscribe to Mpesa Xpress.
first, ensure that you are registered for Mpesa.
On your phone download the My Safaricom app  you may use  your Sim Toolkit
On your Android device enter your Google Play store, and click on your profile section on the top right side.
 choose your preferred Google account
 Opt for the payment & subscription section and select your payment method
 Select ' add Mpesa Xpress biling'. enable the feature will redirect you to a registration page where you will be able to register your personal details and save them
 Before opting in make sure that you are using the network associated with your registered Mpesa number and that your ddata bundles are active.
How to use Mp
Xpress
esa 
Opt into the Google Play Store App on your smartphone and search for the desired app or game you intend to purchase.
2. Once you find your desired app, proceed and open the app or game, at which point the cost of either the app or the game will be displayed above.
select "Mpeas Xpress" during the purchase, simply tap on the indicated price, and when opening a new window
a confirmation text from the window will appear indicating the amount and the payment option.
after you click buy you will receive a notification on your smartphone requesting you to enter your Mpesa PIN to complete the transaction.
upon confirmation, the actual amount will be deducted from your Mpesa account to complete the transactions
lastly the app will start installing automatically on your phone. if you encounter any error while installing the app kindly contact Google for assistance at Google Help Center Support.google.com/googleplay.
how to refund after purchasing the app/ game
start by searching for the specific app or game that you want to request a refund for on the Google Play Store
once you locate the app/game, click on the "refund" icon. the option is usually found on the app's detail or setting.
On clicking the refund icon, the app or game will be uninstalled from your smartphone. The app will no longer appear on the device.
After a successful uninstallation of the app or the game, you will receive a refund confirmation message from Mpesa to acknowledge the refund process
Mpesa Xpress unavailability
There might be some encounters errors when the developer does not accept Mpesa Xpress Billing as payment, fear not opt for the debit or credit option to facilitate your purchase