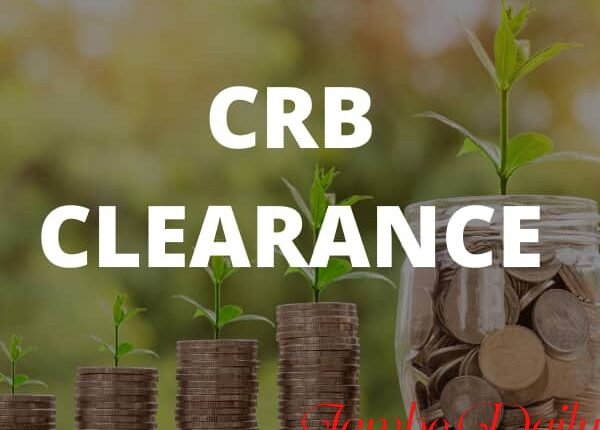 How to get CRB Clearance Online and Pay Through M-Pesa.
You can easily find yourself blacklisted in Kenya by the Credit Reference Bureau Kenya (CRB). With your name on their list, getting a loan from any financial institution is nearly impossible. In this article, we focus on how to get the CRB clearance certificate online and pay through M-Pesa.
Having a good credit report in the current era is highly significant and that's where CRB comes in to make sure they create this record. In Kenya, there are three CRB agents mandated with the collection of data concerning loans given by lenders and coming up with reports.
The three agents include Trans Union, Creditinfo, and Metropol. The three agents are licensed to operate and are regulated by the Central Bank of Kenya and clearance certificate from any of the three you are good to go.
However, if you have been listed as a loan defaulter then getting the clearance certificate will be a little bit complicated since you have to first settle your arrears with the institutions that have forwarded your name to these agents.
After settling your debts, it usually takes two to three days for your new credit score to reflect on CRB systems. Please note the CRB clearance certificate is valid for the day of issuance. This is because of the day-to-day borrowing so you can't use the same certificate for a longer period.
How  to Get CRB Status for Trans Union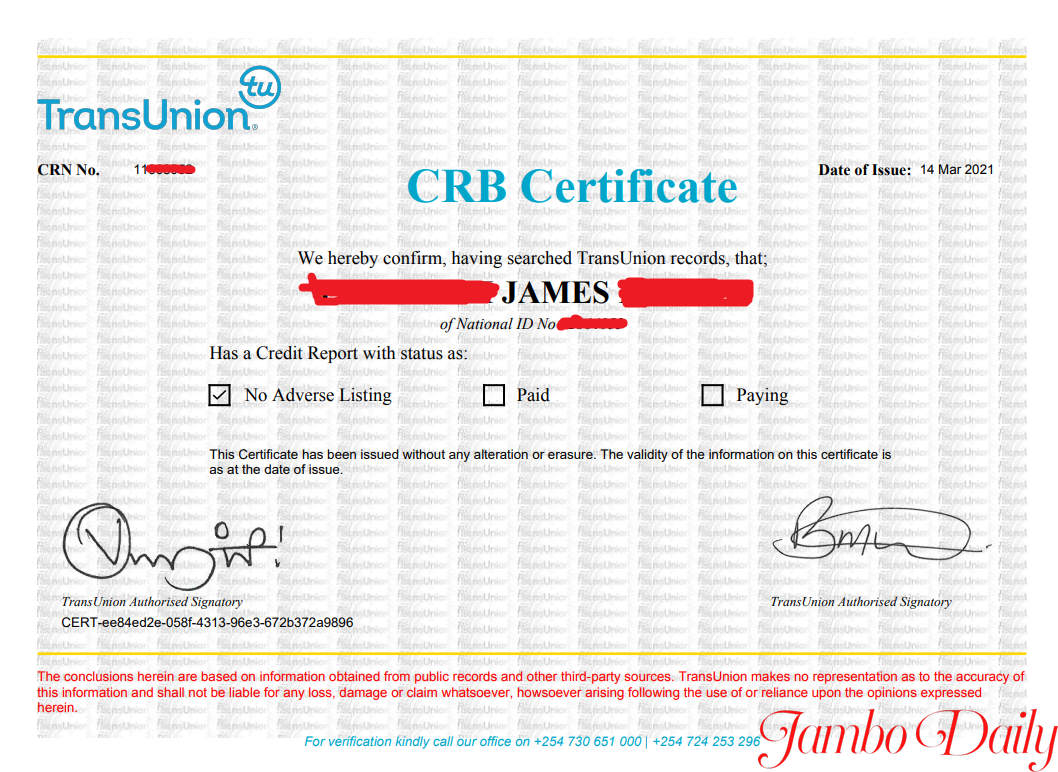 Before you apply for the certificate it's better to check your listing status with your preferred CRB agent. For Transunion follow these steps,
Send an SMS to 21272 starting with your full names
Enter your ID number
Select CC (Credit Status)
You'll get an SMS with your status, "negative" or "good" Check your status with Transunion they have one free time after that you will be charged 650. This amount will be expected to be paid via their paybill number 212121, account number enter your ID number.
CRB Status for Metropol
For Metropol, you have to use a USSD code to register with them first.
Dial *433# using a Safaricom sim card
Enter your national ID number
Confirm the details to complete the transaction
Send Ksh 50 to their paybill number 220338
Enter your ID as the account number
You'll get an SMS with a unique pin, reference number, and special link for other services
Dial the *433# again and enter the pin and wait for an SMS with full details about your status.
CRB Status for Creditinfo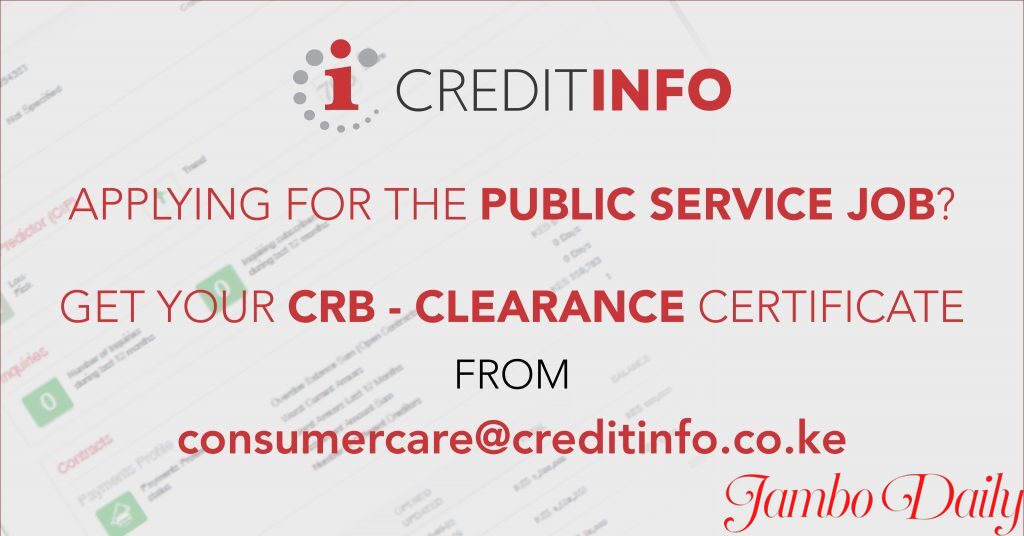 Creditinfo has a simpler way of doing things all you need is an internet connection and follow the steps.
Visit the Creditinfo website
Sign up and request for credit report
An email will be sent with the full report
As a new member, you'll receive a one-year free credit report and monitoring of financial services.
After one year you'll have to pay a fee of 350 per year.
How to get CRB Clearance Certificate via Metropol.
On your browser visit the Metropol website
Log in using the mobile number that you registered with
Enter the pin you received on the SMS
Once you log in choose the "Clearance Certificate" option
Then go to your m-pesa menu
Lipa na Mpesa
Paybill
Enter 220388
Enter your ID number
Pay 2,200 Sh
Enter pin and complete the transaction.
Go back to the website and follow the instruction on how to download the certificate.
Clearance certificate via Trans Union
Using Trans Union is somehow simpler compared to others.
Using Mpesa pay 2200 Ksh via their Paybill, 212121.
Enter your ID number as the account number
Once the transaction is complete forward the M-Pesa payment message to

c

e

r

t

@

t

r

a

n

s

u

n

i

o

n

.

c

o

.ke
You'll receive an email with how to get the certificate.