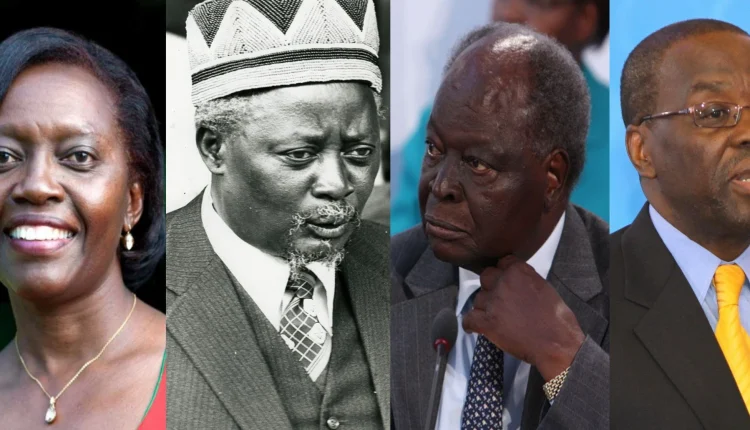 High-Profile Resignations in Kenya Since Independence
This is a list of high-profile resignations witnesses in the Kenyan Government since the country's independence. Since the country's independence in 1963, many high-profile government officials have resigned, either for reasons of credibility, dispute with who is who in the authorities, or to make way for inquests or even scandals, to name a few.
We investigated the main resignations since independence and recorded them for you below.
High Profile Resignations in Kenya Since Independence
1. Jaramogi Oginga Odinga
Jaramogi's resignation as Kenya's first Vice President was the first high-profile resignation during the Jomo Kenyatta administration. Jaramogi objected to Jomo and walked away three years after the country's independence. He then founded his own party, the KPU, and effectively became the chief opposition leader a position that his son Raila Odinga has maintained to date.
2. Murumbi Joseph
Kenya's second vice president resigned after only a year in office because he disagreed with Kenyatta's handling of the then-opposition led by Jaramogi and general state affairs.
3. Matiba Kenneth
This was during Moi's presidency. Matiba resigned as Transport and Communication Minister in 1988. Matiba was also a Kiharu legislator at the time. He resigned as a minister after being "rigged" out of the Kanu Sub branch leadership.
4. Mwai Kibaki
Former President Mwai Kibaki resigned from the government in 1991 and founded the Democratic Party. He was the Health Minister in President Moi's administration at the time of his resignation.
5. Simeon Nyachae
After 7 years in politics, Simeo Nyachae resigned from the Finance Committee in 1999.
He had too many problems in the Treasury to stay any longer, and his superiors saw him as too candid for that position.
Read Ten Kenyan Politicians Who Were Student Leaders
6. Amos Kimunya
After the Grand Regency Hotel fiasco, then-finance minister Amos Kimunya was forced to resign (Laico). His resignation is among Kenya's high-profile resignations.
7. John Koech.
He resigned from Moi's government after losing his support and disagreeing with Moi on leadership issues.
8. Kiraitu Murungi
Kiraitu was the Justice Minister at the time and was forced to resign as a result of the infamous Anglo Leasing debacle. His decision to quit is among the top high-profile resignations in Kenya's history.
9. David Mwiraria
He resigned after being implicated in the Anglo Leasing scheme while still serving as finance minister at the time.
10 George Saitoti
George was the Education Minister at the time of his resignation, and the primary reason for his decision to resign was the Goldenberg scandal.
Read List Of Kenya's Ministers Of Education Since Independence
11. Martha Karua.
She resigned in 2009 while serving as the Minister of Justice. She resigned after discovering that five judges had been sworn in without her knowledge. Karua had previously exchanged words with then-chief justice Evans Gicheru. Her's is one of the most famous high-profile resignations in the government, especially by a female candidate.
12. Willy Mutunga
Prior to Justice Maraga, the former Chief Justice of Kenya chose to step down a year before his term was due to allow his successor adequate time to plan for court cases that may arise from the general elections. He later became the Commonwealth Special Envoy to the Maldives.
13. Roseline Akombe
The former IEBC commissioner resigned, claiming that the commission cannot conduct reputable elections in its current form. This emerged after the general public and the opposition stacked pressure on the IEBC commissioner and CEO Chiloba to resign. She resigned and fled the country, afraid for her life.
14. Polycarp Igathe
Igathe was elected as Mike Sonko's running mate for the role of Deputy Governor of Nairobi City County on the Jubilee political party ticket in the 2017 general elections. On January 12, 2018, he abruptly resigned, citing a lack of confidence in his boss.
15. George Kinoti- DCI
He resigned from the role of the Director of criminal investigations in September 2022 after William Ruto was sworn in as President. Prior to that, he had served as the country's top detective since January 2018.
He is believed to have resigned due to his rivalry with the President who had slammed him on several occasions during President Uhuru's regime.
If you feel any information has been left out and would like it added to this article, feel free to email us at info@jambodaily.com