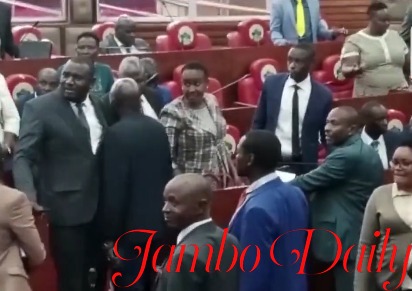 "Hatukutaki" Angry Meru MCAs Fire at Governor Kawira Mwangaza
Drama broke out in the Meru County Assembly after Angry Meru MCAs left Governor Kawira Mwangaza's meeting on Wednesday.
The MCAs can be heard shouting "Hatutaki!" as they walked out in a video that has gone viral.
Mwangaza was compelled to deliver her speech outside the Chambers during what was supposed to be the assembly's formal opening.
This comes after the MCAs adjourned Tuesday's regular House session to discuss the governor's behavior.
Read Mixed Reactions as Linturi Merges with Meru MP in a Political Pact.
The ward representatives decided to call her out because they felt she had disrespected them, under the leadership of Speaker Ayub Bundi.
The MCAs have decided that they are not prepared to listen to the governor during this afternoon's address, according to Bundi.
They also claimed Mwangaza had ignored their summonses, which she refuted.
Mwangaza posted pictures of herself with various MCAs at various public events on her Facebook page.
"Today is Tupatane. Cowards cannot be leaders, "She wrote the images' captions.
The governor's nominees for the County Executive Committee have not yet been reviewed by the House.
Mwangaza asserted earlier on Wednesday that the MCAs intended to use her as a bargaining chip when they nominated candidates for the upcoming Cabinet.
"I swore to serve the people, so as governor, I won't allow myself to be intimidated by anyone. I have to be with the people who voted for me, so I won't be sitting in the office to hear the MCAs "She spoke.
Here is the link to the video of Angry Meru MCAs