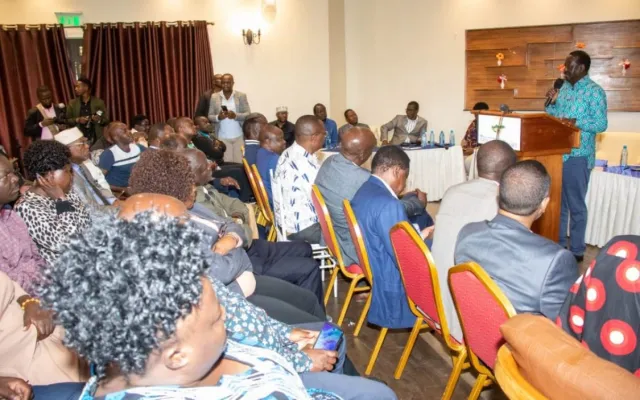 Azimio's 7-member team ahead of bipartisan talks with Kenya Kwanza
Following the cancellation of Azimio protests and the call for bipartisan talks by President Ruto, both sides are expected to appoint members for the panel.
In view of this, a group of seven House members has been presented by the Azimio la Umoja – One Kenya alliance to speak on behalf of the opposition in negotiations with the Kenya Kwanza administration.
Members of the National Assembly and the Senate make up the team that was announced on Thursday, April 6, during the Azimio la Umoja – One Kenya coalition Parliamentary Group meeting, which is presided over by Raila Odinga.
The seven include MPs Amina Mnyanzi from Malindi, Millie Odhiambo from Suba North, David Pkosing from Pokot South, and Otiende Amolo from Rarieda. The senators are Ledama Ole Kina from Narok, Edwin Sifuna from Nairobi, and Enoch Wambua from Kitui.
On a number of topics brought up by the opposition during recent protests, the Legislators will have a discussion with their Kenya Kwanza government counterparts.
We'll send representatives to the select committee. Lowering the price of unga and electricity, auditing the IEBC servers used before, during, and after the 2022 elections, reviewing the dismissal of the IEBC four, and having the government consider restructuring the IEBC by decentralizing its structures will be the points of reference, according to Raila.
Nonetheless, Raila issued a warning that if the negotiations failed, the coalition would resume the demonstrations which were put on hold last Sunday.
"If there are no genuine engagements, we will once more mobilize Kenyans in accordance with Article 37. Only Kenyans can remove the imperial presidency and confront the monopoly of power through a constitutional revision", he continued.
Raila, who accuses the IEBC of depriving him of victory in the most recent presidential election, had voiced his concerns on the recently enacted IEBC (Amendment) Bill 2022. He asserts that the bill changed the first schedule of the Parent Act to alter the structure of the selection panel in charge of overseeing the filling of vacancies at the commission.
Read List of Kenyan Politicians to Watch in 2023
He also objected to the creation of a seven-person panel to select the new IEBC officials.
He charged Ruto with making purposeful attempts to sway the selection of the new team that will take the place of the commissioners who retired, resigned, or were removed from office because of gross misconduct and abuse of power.