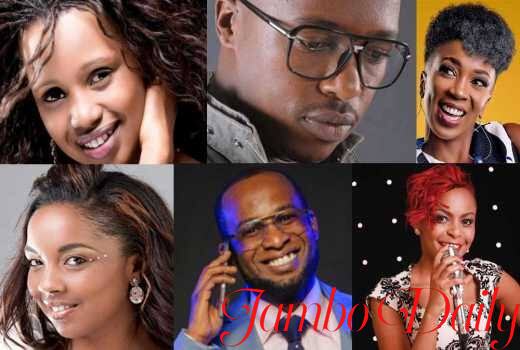 Top Ten Gospel Artists In Kenya.
Here are the top ten gospel artists in Kenya.
Kenya boasts of various artists who are talented in different fields, and play a great role in the Kenyan entertainment and cultural scene. Singing is arguably the most used form of entertainment as it covers all the sectors of life including the political, social and economic pillars.
There are many categories which music is classified to and particularly there are secular and gospel. Today we are going to venture into the top ten faces behind gospel hits in kenya.
Size 8.
Linet Munyali ,well-known as size 8 is a very promising gospel artist who started her gospel career in 2013. She appeared in the limelight when she released "Mateke".
The song pushed her career upward since then she had already released many songs like "umetenda" and "yesu ni mwamba". She has received various awards  like Groove awards and  recognition .She is married to city Dj Samwel Muraya (Dj mo )
Guardian Angel.
Unlike others gospel artists, Guardian angel is a reggae dance hall artist  who started his music career while still in school. This played a key role in boosting his career later in life as he had already familiarized himself with music at a tender age.
Peter Omwaka, Despite growing up in difficult conditions and living in the streets while still a young boy, today his music has transformed him into one of the most revered and successful gospel singers in the country.
Recently he dropped  and album "Thanks for coming " in which he has featured various artists because he strongly believes in togetherness. He was recently crowned the artist of the year in 2019.
Read: Top Ten DeeJays In Kenya 2021.
Mercy Masika.
She is a kenyan award winning gospel artist as well as a song writer and a composer .She  released  an album "zaidi", which in a recent interview she said is going places owing to the vibrant songs it features.
Having been in the industry for 13 years, she inspires and motivates other young and upcoming artists. Personaly, she believes that we all have desired dreams that must come to fulfillment. The "Mwema"hit maker is just the best.
Moji Short Baba.
James Muhia alias Moji short baba , is a kenyan gospel artist intially known in a group named Kelel Takatifu. The group started with a wave but later they parted ways to chae individual careers, as such Moji and his colleague Didi ended up alone.
From the moment they broke up, Moji has been so promising with his music, making him appear among  the best top ten gospel arstists in the industry. "Cheza na gospel" is an album she recently released and it has  been played all over the airwaves, pushing fairly well.
Mr seed.
Moses Tarus Omondi, is a kenyan recording and perfoming artist .He was recently signed under EMB records but after some time he fell out with Bahati, the CEO of the Record Label. However, that would not deter the determined singer, he recently launched his own empire ,Starborn Records where he is the CEO.
Through the label, he has released his album: "Black Child" that has done so well in the industry, topping charts and attracting the attention of other celebrities in the country. "He is the only existing gospel artist"; These are the exact words by Eric Omondi recently where he awarded him Ksh1 million to boost his career.
Read Top Ten Best Rappers in Kenya.
Eko Dyadda.
He is Kenyan gospel musician who specializes in hip hop gospel . The singer is known for dropping his tribal birth names in 2009 during the post-election violence in his efforts to fight tribalism.
He has also decided to give his sons names that are not affiliated to his tribe. "Ni vidole" hit maker is doing so well in his music career, his lines , the flow , the video are just on point.That makes him appear among the top gospel artists in Kenya .
Kambua.
Kambua Mathu , is a gospel musician in Kenya, over the years , she has been in the gospel music industry, releasing  hits like ; "usiku na mchana" and "Niskie".
These songs achieved a great breakthrough and since then, she has been releasing hits after hits with "shukrani" being the most recent one. For 13 years now she has been topping charts in the gospel scene and continues to advance her career daily.
Janet Otieno.
Her wish wasn't to get into music life, but after discovering her talent in church choir, she decided to give it a try. The year 2013 was her breakthrough, after releasing "Nijaze", she ruled the airwaves as the best female gospel artist by then. She has since continued to push her career forward, appearing among the top gospel artists in Kenya.
Danny Gift.
He  was among the artists signed under Bahati's EMB records before things went south, leading to his exit. Danny Gift is remembered  from the hit "Kazi ya Msalaba" that  he featured Daddy Owen and it's among songs that made him famous . His latest track called "Unanijali" was received well in the industry and is among the hits that have helped him top the gospel industry.
Read popular-ugandan-artist-back-to-the-industry-by-storm
Eunice Njeri.
She has turned out as a female gospel artist who is so promising in his music career despite the challenges that came on her way. She has however managed to overcome her obstacles and is currently doing well in the industry.
Just like any other artist, she discovered her talent in the school choir, and decided to nurture it. Sure enough, her talent has proved to be great and has paid well off.