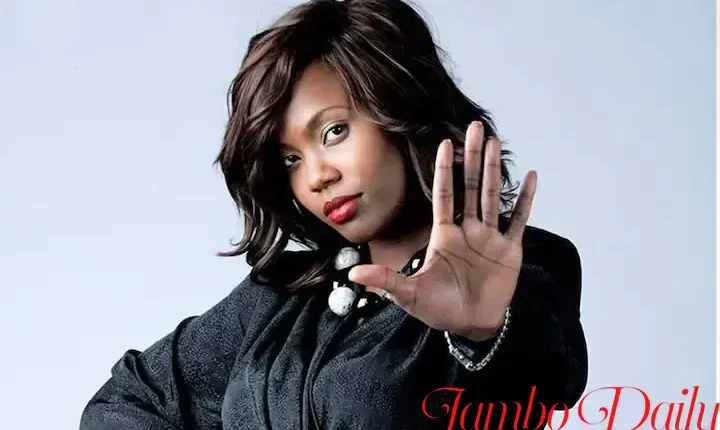 Sanaipei Tande Bio, Age, Career, Relationship & Net Worth
Sanaipei Tande is a musician, songwriter, radio broadcaster, performer, and host of karaoke events. She gained notoriety after her band-mates and she won the East Africa Coca Cola Pop stars Talent competition in 2004.
Sanaipei Tande has immersed herself in a variety of entertainment-related scenes. Everywhere she goes, she transforms into the best.
Sanaipei Tande Age and Birthday
The singer was born in Mombasa, Kenya, on March 22, 1985. The parents of Sanaipei Tande are not well-known.
She received her primary schooling at Loreto Convent Mombasa. While still residing with her parents in Mombasa, she enrolled at Mama Ngina High School to complete her high school studies before transferring to Agha Khan High School.
She pursued her high school studies at St. Lucy Kiriri Girls after moving to Nairobi. She got accepted to Kenya Medical Training College to study pharmacy after finishing high school. She chose to delay and temporarily pursue a career in music, which was her love, thus she didn't finish her education.
Sanaipei Tande Career
Sana and the other band members, Pam Waithaka and Kevin Kev Waweru, released their debut song, Leta Wimbo, after winning the 2004 East Africa Coca-Cola Popstars Talent Search. Leta Wimbo was followed by seventeen further track albums.
Sadly, the band split up in 2005, and the singer then began her solo career. She started working as a presenter at Capital FM, where she co-hosted the program Hits, not Homework with Eve D'Souza.
Tande joined Kiss FM in 2006 before transitioning to the mid-morning drive show on Easy FM with Oga Obinna and Edward Kwach.
Sanaipei Tande started putting on karaoke nights in several venues around Nairobi, and she still does it now. Sanaipei has been in a number of regional productions in addition to radio and music, where she has portrayed prominent characters including Kina and Aziza.
Sanaipei's career in singing and every other aspect of the entertainment industry into which she has ventured has been fruitful. She may be earning a significant fortune for herself with such tremendous achievement. She hasn't disclosed her wealth, though, in the public domain.
Relationship
Despite their being rumors that Sanaipei Tande and Otile Brown were having an affair, she publicly denied these claims, saying that they were simply collaborating on a song.
Sanaipei Tande Networth
Sanaipei Tande has found it challenging to maneuver the music entertainment sector and maintain her position at the top. She is an extraordinary source of motivation for aspiring presenters and singers alike.