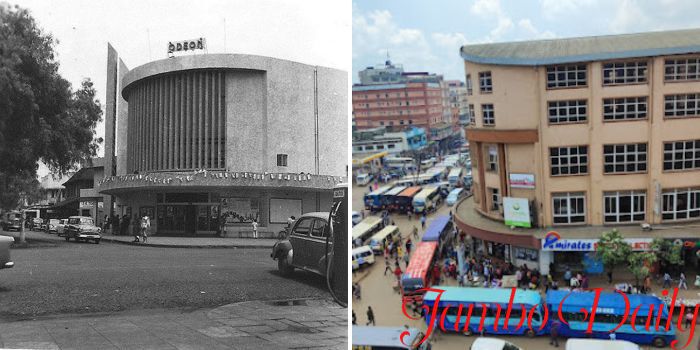 Odeon Cinema, How Colonial Theatre Turned to Famous Bus Stage
In Nairobi's Central Business District (CBD), Odeon Cinema is a well-known landmark that doubles as a transit hub from where you can easily get public transportation to a variety of residential neighborhoods in Nairobi and its surroundings.
Easy access is provided to a number of city routes, which lead to places like Ruiru, Westlands, Kahawa West, Lavington, and even neighboring counties like Kiambu.
This well-known bus stop is located at the intersection of Tom Mboya Street and Latema Road and is flanked by numerous stores and kiosks. This is where you may buy a variety of products, such as apparel, shoes, and accessories, in addition to other necessities.
A thriving market located at Odeon Cinema is a great location to visit if you're looking to buy used clothes and shoes. It opens every evening at 5 p.m.
The Odeon is a street full of people and a wide variety of merchandise that perfectly captures the spirit of a typical Kenyan street. Here, you may negotiate well with the nighttime vendors, who provide a large selection of goods.
Oscar Deutsch, a British businessman, established the "Oscar Deutsch Entertains Our Nation," a movie theater in the UK, before founding Odeon Cinema in 1928.
The name "Odeon" comes from Greek and means "a place for singing." It is related to "Nickelodeon," which was first referenced in 1888 and was first used to refer to small theaters in the US in 1905.
1930 saw the opening of the first Odeon theater, which was situated in Birmingham's Perry Barr. Harry Weedon used Art Deco architecture with a maritime theme to design it.
Kenya's first Odeon theater was constructed in the early 1950s. Its first conversion into a church hall did not prove profitable for its owners, and it battled to remain afloat.
Starring Pradeep Kumar, Bina Rai, and Mubarak Mechant, the Drama/Romance film Anarkali was the first movie to be shown at this theater.
Odeon closed all of its theaters in most countries on March 17, 2020, as a result of the then ongoing pandemic.
Odeon disclosed in December of that year that it was losing billions of dollars a month as a result of the closure and that the emergency funding that had been supplied was nearly depleting.
In addition to various recreational uses, the theater is currently utilized for photo and film shoots.
Read also, Who Owns Popular OTC Building? The Story of Victor Maina, the Real Estate Mogul