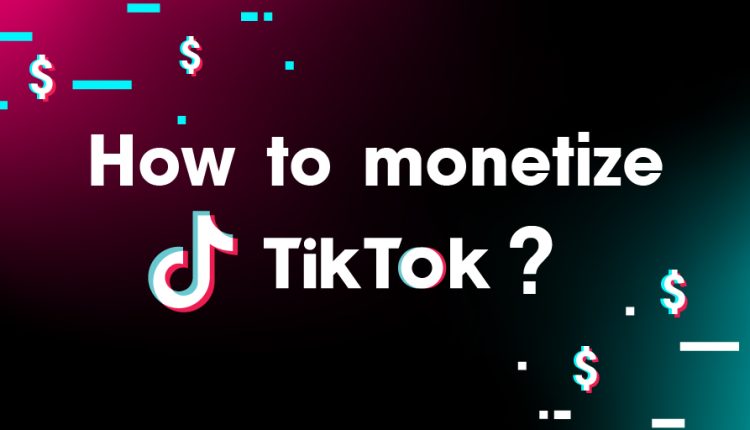 How To Make Money On TikTok
You've come to the right place if you're looking for ways to make money on TikTok.
With the recent rise of online content creation, many people have begun using their influencer status to make money on TikTok.
This blog post will outline some of the most successful methods TikTokers are using today to capitalize on their social media presence and guide you on how to make money with your content.
Whether you're just starting out or have an established presence on the app, these suggestions can help you take your monetization strategy to the next level!
How to Make Money on TikTok
1. Create sponsored content
It's easier than you think to make money on TikTok! With a little imagination and the right strategies, you can make money from your TikTok account.
Here are ten surefire methods for making money on TikTok:
Brands are constantly looking for new and engaging ways to reach their intended audience, and TikTok is the ideal platform.
Influencers can earn money on TikTok by using sponsored content.
This entails producing product-focused posts or stories in exchange for financial compensation from the brand.
While the process is more involved than other methods, it is well worth the effort because it pays well and is relatively easy to produce due to its format of bite-sized videos.
2. Grow and sell TikTok accounts
Aspiring social media stars are constantly on the lookout for new platforms to expand their following and make money.
TikTok, the short video app that has swept the world in recent years, is an excellent place to begin.
Building a following on TikTok, on the other hand, can be difficult, especially if you're starting from scratch.
This is where purchasing and selling TikTok accounts come into play.
You can make a profit by purchasing an existing account with a large following and reselling it.
This is a great way to make money on TikTok without having to create your own content.
Read How To Make Money Online In Kenya
3. Product Promotion
Product placement is an effective TikTok money-making strategy.
Instead of simply creating content, you can include specific products, such as clothing or beauty products, in your videos.
This type of advertising is becoming increasingly popular on the platform and, when done correctly, can provide a lucrative income stream.
When incorporating product placement into your videos, make sure to clearly mention the product or service by name or demonstrate it visually.
This ensures that your target audience fully understands the products you are promoting.
4. Contribute to TikTok's creator fund
Making money on TikTok is possible if you know how to go about it.
One of the best ways to turn your passion into revenue is to join the Creator Fund.
This fund was established to promote talented content creators and provide them with the opportunity to earn money from their videos.
All that is required to participate in this fund is a well-made and entertaining video that adheres to TikTok's guidelines.
5. Earn money with TikTok ads
If your following has grown to a certain size, you can make money by running ads on your videos.
TikTok Ads appear as mid-roll ads between two people's videos.
When a user watches your video advertisement, you are paid for each view.
If you have a larger following and can create videos related to the products or services you're advertising, this is a great way to make money.
6. Earn money with affiliate marketing
Affiliate marketing is becoming increasingly popular on TikTok, and it is a lucrative business model.
To get started, join a reputable affiliate program and look for products or services in your niche market.
Then, create content centered on these products or services and include an affiliate link in the video caption.
When someone clicks on the link to buy the product or service you're promoting, you get paid.
Read 20 Legit Platforms to Make Money Online in Kenya
7. Create a product.
Another great way to make money on TikTok is to create a product or service that meets the needs of your target audience.
You can tailor content to promote whatever goods or services you've created if you have a solid understanding of what your followers are looking for and a clear idea of what you offer.
Use TikTok to showcase what you have available, whether it's an ebook, online course, physical product, video series, or something else, and watch the money start rolling in.
8. Earn money by partnering with influencers.
Endorsers are in rising demand these days, and you can take advantage of this by collaborating with brands on sponsored posts and content.
You'll be compensated for each post or video you publish and share on your TikTok page.
Choosing the right brand to collaborate with and creating compelling content that appeals to your target audience are the keys to success here.
If you do this, you can earn a good living from TikTok influencer partnerships.
9. Volunteer as a Brand Ambassador
Finally, becoming a brand ambassador for a product or company can help you make money on TikTok.
You represent the brand and create content that advertises its services or products in this type of promotion.
Brand ambassadors are typically compensated in cash, but some businesses may provide freebies or discounts in return for your content creation.
10. Earn money as a TikTok trainer.
Being a social media expert entails not only creating your own content but also assisting others with theirs.
As a TikTok coach or advisor, you can apply your knowledge to assist businesses and individuals in developing their brand visibility on the platform.
You could provide content strategies, analytics analysis, and advice on what kind of content sells best.
You can also make a profit helping others succeed by becoming a TikTok mentor and specialist on the platform.
These are a few of the best ways to earn money on TikTok and turn your hobby into a profitable business.
Keep in mind that it takes time. Create interactive, high-quality content and engage with your followers on a regular basis.
Read Best Online Survey Sites to Make Money Quickly
Tips for Creating Successful TikTok Content
Creating TikTok material that connects with your followers can be a lucrative way to earn money.
However, it is critical to understand that in order to create successful content, you must follow some guidelines and techniques.
First, ensure that your content is of high quality. To improve your videos, make sure the illumination and sound are good, and that you use the right editing tools.
Next, include relevant hashtags and keywords to help your content reach a wider audience.
Finally, remember to interact with your followers. Make it a point to respond to comments and questions, and to offer useful advice or information whenever possible.
Read How to easily Get Verified on Instagram
How to Estimate TikTok Success
Measuring success on TikTok can be difficult for most people, but with the right tactics and techniques, you can track your progress and maximize your efforts.
The first step is to establish specific objectives. Please make sure they are measurable and attainable so that you can track your progress and see when you have completed them.
Next, keep an eye on your analytics. Make it a habit to check your insights page on a regular basis to see how your content is performing and to identify trends or patterns that might help optimize future content.
Finally, experiment with various kinds of content and techniques to determine what actually works for your audience. Make sure to evaluate the outcomes of each test and use these perspectives to guide your future content creation.