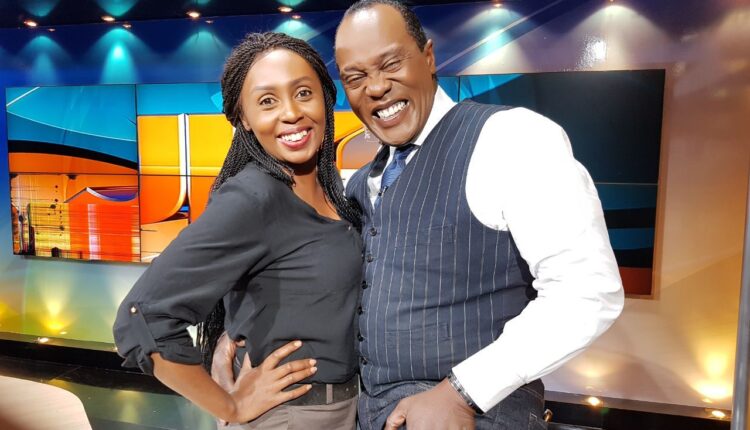 Highest Paid Journalists In Kenya 2022.
You will get to know the highest-paid Journalists in Kenya here.
Does journalism pay? This is a question that most people ask before deciding on whether to pursue the course and yes it does. I am sure you have seen high-end media personalities flaunting expensive houses and luxurious cars on social media. Some even pocket more than MPs, company CEOs, and other individuals occupying top seats in the country. For now, let's get to know some of the top-earning journalists in the country.
Jeff Koinange.
The well-known news anchor, talk show host at Citizen television, and also a radio presenter at hot 96 FM Kenya, is the highest-paid journalist in Kenya. Jeff pockets more than Ksh 2 million from his basic salary and numerous allowances. He says he has not achieved all this effortlessly but through hard work, diligence, and determination, which has really paid well.
Jeff koinange recently graduated from Kingsborough Community college, New York University. He owns a fleet of mansions and bungalows and a collection of luxurious cars that shows the fruits of his hard-earned wealth.
Maina Kageni.
Maina Kageni is one of the most famous and highly paid radio presenters in Kenya. His is a lifetime career that has shaped him into one of the most revered media personalities. He hosts the morning breakfast show at Radio Africa's Classic 105 where he addresses critical issues of marriage and relationships as well as trending topics in the country.
His show, which he hosts alongside funnyman Mwalimu King'an'gi attracts a huge base of listeners from all corners of the country but mostly from Nairobi city.
Read Relief as Radio Stations Barred From Conducting Lottery Games.
Maina is so far the highest-paid radio presenter in Kenya, earning a whopping Ksh 1.5 Million from his basic salary and allowances. He owns mansions that are priceless and vehicles that are worth millions. Due to his discipline, hard work, and determination, he remains undefeated at his work.
Linus Kaikai.
Working as the chairman of editors Kenya, he is also director of strategy and innovation. He comes second in the list of highest-paid journalists in Kenya pocketing Ksh 974,500 every month. He holds a bachelor's degree in journalism and is one of the seasoned media personalities in the country.
Joe Agego.
He works at Royal Media services as a director and is also part of the editorial team. From his heavy roles at the giant media house, he fetches a sum of Ksh 970,000 monthly. He was formerly working at the Kenya Broadcast Cooperation (KBC), from where he was poached by Royal Media Services.
ReadRadio Maisha's Billy Miya Flaunts His Cooking Skills On Social Media.(Photos)
Francis Gachuri.
Francis is majorly focused on political journalism, and he currently stands out as the highest-paid political journalist in Kenya. He pursued a bachelor's degree in Mass Communication at Moi University and has continued to level up his career, outshining many. He takes home Ksh 700,000 from his basic salary and allowances. He was recently promoted to senior reporter at Citizen TV, a move that opens him up to more exposure in the media industry.
Rashid Abdalla.
He is a Swahili news anchor at Citizen Tv where he hosts alongside Lulu Hassan, her wife. He earns Ksh 680,500 that sets him high in the category of highest-paid Swahili news anchors. He has managed to secure his relevance in the media industry even after many downfalls, from losing his job at QTV then NTV to a high-end news anchor role at Royal Media.
Read Top Ten Best Rappers in Kenya.
Mzazi Willy M. Tuva.
He is a television show host at citizen where he hosts the much-hyped Mseto East Africa. The show attracts a huge base of fans not only from Kenya but entire east Africa. He pockets Ksh 690,000 from the show on a monthly basis. Despite being a TV host, he ventures into other entertainment gigs and concerts that pay him pretty well.
Lulu Hassan.
She is one of the best female Tv presenters that many admire for unmatched eloquence in her job. She works alongside his husband, Rashid Abdalla at citizen TV, where both deliver the best of their careers. She earns a monthly salary of Ksh 550,000, including allowances.
Victoria Rubadiri.
Being the senior English news anchor at Citizen Tv, Royal media services, Victoria earns a total of Ksh 485,000 per month. She is one of the most hardworking journalists, exhibiting diligence in her work that's behind all his success.
Read Top Ten DeeJays In Kenya.
Yvonne Okwara.
She is also a senior news anchor and Citizen TV where she has been for a long period of time, shaping his journalism career. She earns a total of 479,000 shillings and that premiers her name in the list of highest-paid journalists in Kenya.
These are some, but not all of the highest-paid journalists in Kenya. From this write-up, we can round up that journalism is a career that pays. It however requires a lot of hard work, determination, and courage. Branding yourself as a journalist is the most important move one can take, and that is what all top journalists have done, as you can see on this list.