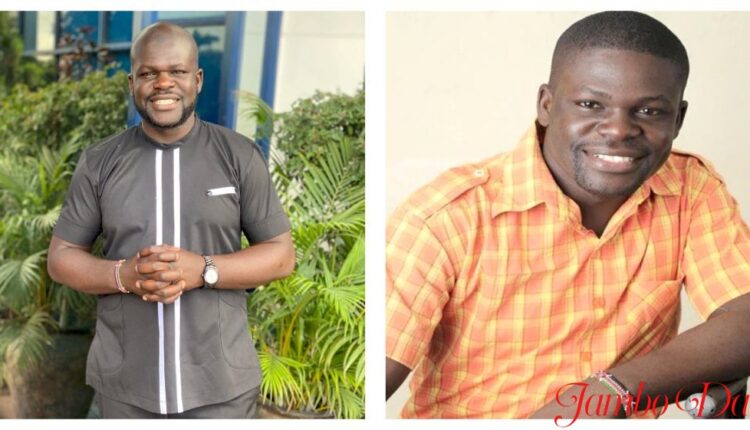 Billy Miya Biography, Illustrious Media Career and Salary at Radio 47
Billy Miya is a Kenyan radio personality who has worked for several Radio Sations in Nairobi and Mombasa Counties. He currently works at Radio 47 after shifting from Radio Maisha early this year.
He began his career on Kenya's coast and has worked hard to establish himself in the profession. In 2009, he recieved the best male presenter and coast region Nzumari award.
Carving out a niche in the market is difficult enough, so achieving so and receiving an award is an accomplishment in and of itself. Billy Miya has unquestionably accomplished both. He calls himself "Kamanda wa Hizi Shughuli" on Radio 47's evening drive show dubbed 'Maskani 47'.
Billy Miya's name was synonymous with Radio Maisha evening drive show BillynaMbaruk before the two left after finding greener pastures at Cape Media. Joining hands with Mbaruk Mwalimu, the incredible duo made the station one of the most popular in Kenya.
The two broadcasters left the Mombasa road-based radio station owned by Standard Media to join the rapidly growing Radio47.
Age and Birthday
Billy Miya was born on December 16, 1985.
Education
The presenter attended Kaloleni Primary School before moving to Tudor Day High School. He then enrolled in Our Lady of Mercy Ringa Boys in Homa Bay County, where he finished high school.
Following high school, he applied for a Diploma program at Mombasa Polytechnic, which is now known as the Technical University of Mombasa. He did not receive his admittance letter, causing his father to inquire about the institution's delay.
He was informed that the letter had been sent and that the intake was overdue. He had no choice except to take a certificate course, which he did.
Speaking of his 16-year radio career, Billy recounted how his fascination in the world of media, particularly radio, began at a young age.
He explained to the TV47 host how he would record his favorite tunes from the radio on his father's cassette tapes.
This earned him a beating, but it did not dampen his enthusiasm for radio. To learn the craft, he would listen to the presentations.
Billy Miya Career
As a child, he enjoyed listening to Metro Radio and would even record his favorite songs on his father's cassette player. This got him into trouble more than once.
The award-winning presenter began as an intern at Pwani Radio, where he later acquired a job. He hosted Tafrija la Pwani on Pwani Radio, an evening show that aired beyond Mombasa's borders.
After a disagreement with the station's management, he departed to join Baraka FM. He was initially appointed to host Mziki Mzuka and then Mega Breakfast Show, both of which were popular in the region at the time.
Moving to the City
Billy Miya first landed in Nairobi for work when he was offered a gig at Milele FM, where he worked for only a brief time before being approached by another station. He joined Radio Maisha and shared the breakfast show with MCA Tricky. This brought him immense joy, and he pledged to bring in new talent.
" I'm bringing in new talent. A voice that has not previously been heard on the radio. It has never happened before, and I plan to give stuff that everyone would want to hear," the broadcaster told Kenyans.co.ke.
He was later shifted to the evening drive show #MaishaJioni where he was paired with Mbaruk Mwalimu. This was after MCA Tricky left to join Milele FM for breakfast show.
Read MCA Tricky Biography, Age, Career Education, Family, Girlfriend, Net Worth.
Moving to Radio 47
Billy Miya was among the many presenters who left Radio Maisha in early 2023 when the station experienced a mass exodus. He moved to Radio 47 along with his co-host Mbaruk Mwalimu, where the two currently work.
It was rumored that the company was broke thus was not able to pay its presenters. Other who left with the wave include Sports Journalist Ali Hassan, Beatrice Maganga, Dj Imo, Emmanuel Mwashumbe and their talented producer Eric Wambugu.
Billy Family
He is married to Khadija Khamis, and they have three children, two boys and a girl. Miya is a committed father who confessed to SDE how much his life changed after becoming a father.
"A lot of things have changed. When I had my first child, I made numerous changes in my life, such as cutting off friends and ensuring that everything I do is for the sake of my family.
This is to ensure that I preserve enough for them, so that even if I am not around long enough, they will have a decent life….," Billy explained.
Billy is the first of four children, two boys and two daughters. The radio host was very protective of his siblings and would beat anyone who attempted to tamper with them. He was raised as a Christian, but later converted to Islam.