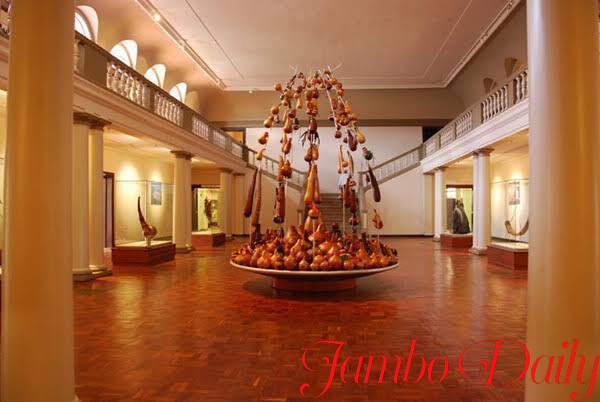 Top ten best museums in Nairobi Kenya.
Kenya has several museums and historic sites spread across the country, but a good number of them are located in Nairobi city.
Are you planning to visit Nairobi for an adventurous experience but have no idea where to start? Look no more.
Here are the top ten instagramable museums that all Nairobians love.
Nairobi National Museum.
The Nairobi National Museum is located at the Museum Hill, about a fifteen-minute walk from the CBD. The entry fee for citizens is only ksh 600 while foreigners pay Ksh 1200 only, feels good being Kenyan, right? The Nairobi Museum first opened its doors in 2008.
This was a result of government's quest to preserve Kenya's historic and cultural heritage. Bearing the tag of a national museum, it is an interesting chilling spot worth paying a visit.
Karen Blixen.
It is located 10km from the city center, and plays a key role in preserving the history of Kenya.
The facility features various historical artifacts such as handicrafts and traditional posters. It also has traditional books of diverse topics and other historic items.  The gardens may be rented for events such as weddings, corporate activities and other undertakings.
Nairobi Gallery. 
It is a national monument that represents temporary art exhibits and houses the Murumbi African heritage collection. The facility features a well crafted wooden entrance that makes it appear meticulous and attractive to the visitors. It is found within central business district, Nairobi.
Bomas of Kenya. 
Located in  Nairobi south, Bomas of Kenya is a state of the art traditionally constructed facility that houses the history of various Kenyan tribes.
It is the hallmark of Kenya's historic and cultural heritage located in a quiet and serene environment suitable for meetings, conferences and music festivals.
The facility has welcomed over 10 million visitors under its roof and proudly continues to. Drama and music events are usually held here owing to the facility's huge capacity to accommodate large crowds of people at once.
It also features ancient traditional houses from distinguished Kenyan tribes and a serene environment suitable for mind relaxation.
Polka Dot Art Gallery. 
Polka Art Gallery is located at Souk Shops in Karen, Nairobi City, Kenya. It is an historic center that displays art work from Both Local and International artists. It offers various exhibitions of art and drawings mounted on the wall; the place is such a gem for one to miss it.
You will be amazed by the warm welcome gesture from well suited receptionists and a hospitable company all through your visit.
Kenya National Archives.
Situated in the midst of the central business district in Nairobi downtown, it holds volumes of records and archives preserved since the early days of Kenya's colonial era.
The facility contains archival materials and historic artifacts that were used by early man to facilitate his life. Details of Kenya's political past and struggle for independence can also be found here.
All materials preserved here are accessible to the public as well as special interests groups such as researchers, historians and students, however at a small fee.
The facility forms the face of Kenya's historic sites, this explains why it is reffered to as the national archives. The museum is easily accessible from all sides of Nairobi city and is a common figure especially to newbies looking for direction to various Nairobi estates.
Banana Hill Art Gallery.
Owned by two of Kenya's most revered visual artists, Rahab and Shine Tani, the facility features adventurous art exhibitions. At times, the management stages performances by various artists, which attracts hundreds of fans.
Rahab and Shine Tani established Banana Hill Art gallery to support themselves and other artists to come up with great artistic content that could attract fans and help them earn out of their art. This came after a series of challenges from the mainstream industry and their own quest for success.
Circle Art Gallery. 
It was founded in 2012 to provide consultancy service to individual and corporate collectors and art institutions. It exhibits carefully curated, challenging and thought-provoking contemporary art.
The facility management invites guest curators to collaborate with them on various projects. Apart from that, they participate in international and community affairs aimed at supporting upcoming artists in society.
Kaloki Nyamai Studios.
Despite being a private set up, the place does so well in art exhibitions. Nyamai was inspired towards opening the facility by his mother who did fashion and her grandmother who was a musician.
The artistic nature of her kins careers inspired her greatly, leading to the establishment of one of the iconic museums in Nairobi city, Kaloki Nyamai studios.
Paa ya Arts Centre. 
The facility forms Kenya's oldest and indeginous art Centre. It has various types of art exhibitions which places it among the most visited art centers in Nairobi.
A number of renowned artists have visited the place to grab an idea of what art entails, with some setting up their own artistries afterwards.