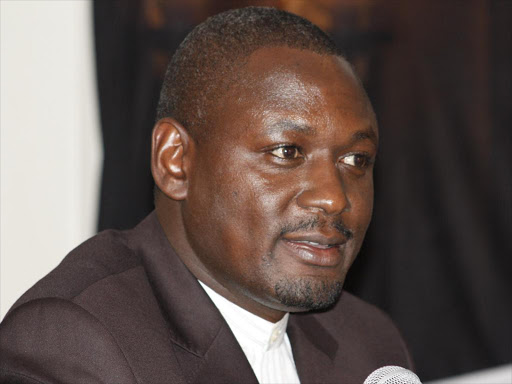 Otiende Amollo Bio, Age, Career, Education, Family and Net worth.
Otiende Amollo is a Kenyan Lawyer, a lawmaker, and an astute politician. He is the current member of parliament for the Rarienda Constituency in Siaya County.  Prior to becoming a member of parliament, he had served in several positions in the government and organizations.
Otiende Amollo Age and Place of Birth
Paul Otiende Amollo was born on 1st February 1971 in the Maseno area, Kisumu County. He is 51 years old as of the time of this publication.
Educational Background
Amollo began his studies at Maseno Mixed Primary School, where he excelled, then in 1986, he enrolled at Maranda Boys' High School.
He excelled academically, being the top student at Maranda High School in 1989 with a KCSE Mean grade of A. (plain). Some of his teachers who got a chance to comment on his conduct constantly affirmed that he was a good student, well-behaved, and a diligent follower of rules.
Read Schools Offering Diploma and Degree in Law Kenya
He occasionally visits the school to speak with boys and inspire them as one of the most successful Maranda Alumni. Later on, he enrolled in the University of Nairobi's Bachelor of Laws (LLB) program, where he earned his initial degree in 1995.
In addition to earning a law degree from the University of Nairobi, he also holds the following academic qualifications.
Diploma in Law from the Kenya School of Law- 1996
Certificate in International Human Rights Law from the University of LUND, Sweden- 1998
Master's degree in Master of Laws (LL.M) from the University of Nairobi (D.A.A.D. German Academic Exchange Program) Scholarship- 2004
Advocate of the High Court of Kenya, Commissioner of Oath Certified Public Secretary and Notary PublicKenyan Government- 2011
Honorary Doctor of Letters (Honoris Causa) DegreeMaseno University- 2014
Otiende Amollo Political Career
Otiende Amollo was first elected into office as an Mp in the 2017 general elections. He took over from Nicholas Gumbo who has served as Rarienda MP since 2007. In the 2022 general elections, he run again for the position and won by a significant margin.
The MP won reelection with 37,676 votes against his closest competitor Agustin Adhola, who received 23,266 votes under a United Democratic Movement (UDM) ticket.
Rarienda vied for the seat on an ODM ticket after he was handed a direct nomination owing to the fact that he had no competitor in the party.
Read How to Start a Law Firm in Kenya
Working for the government
Amollo has long been recognized as one of Kenya's top High Court attorneys (Notary Public, Commissioner for Oaths, and Certified Public Secretary). He now represents the Rarieda Constituency in the National Assembly.
Since 2011, he has served as the Head of the Commission on Administrative Justice (Office of the Ombudsman) for the Kenyan government.
He has performed several duties for the nation, including:
Executive Director of the International Council of Jurists (Kenya – Section)
Executive Director of Action Aid International (Kenya)
Member of the Kenyan Law Society's Council
Secretary General of the East African Law Society.
Amollo is a well-known researcher who has conducted extensive studies and given presentations on the subjects of constitutional law, philosophy, and practice, the African Human Rights System, and the relationship between HIV/AIDS and the law.
Due to his excellent performance of the duties and obligations assigned to him by the government, he currently bears the title of Elder of the Burning Spear (EBS) of the Republic of Kenya and numerous other Commendations and recognitions.
Also, he belongs to the following organizations for professionals:
The Law Society of Kenya (LSK)
The International Jurists Commission (Kenya Chapter)
Association of Commonwealth Attorneys (CLA)
Association of International Bars (IBA)
The Society for East African Law. (EALS)
HIV/AIDS Kenya Legal and Ethical Problems Network (KELIN)
The Law Forum's founding member (University of Nairobi)
A founding member of the All African Human Rights Pressure Group's steering committee (AAHR & G)
Otiende Amollo wife and kids
Otiende and Lilian Amollo tied the knot in the open air at a colorful wedding ceremony years ago. The two are blessed with 6 children including triplets. They include Rodney, Miriam, Paula, and the triplets Jewel, Jean, and John.
Otiende Amollo Hobbies
He enjoys football so much. He currently represents Railway Wanderers F.C., a 1922-founded soccer team, on the field. Amollo also has a penchant for drama, which he first found while still at Maranda. In actuality, he won the National Drama Festival's award for best actor.
He also enjoys fishing a lot. He even participates in fishing trips on Lake Victoria and spends the majority of his free time visiting orphanages that his late father, John Amollo Samba, founded.
Otiende Amollo Net Worth
Amollo's value is estimated to be around Ksh. 100 million, despite the fact that he maintains his personal financial affairs private. He owns a number of residences in Nairobi and a luxurious vehicle that is worth millions of shillings.
He also acknowledged having made significant investments in real estate and stock in his own law company.
Hon. Otiende Amollo can be reached at +254-020-271-6012/15.
Email for the office: office@otiendeamollo.com
Visit the website at otiendeamollo.com.