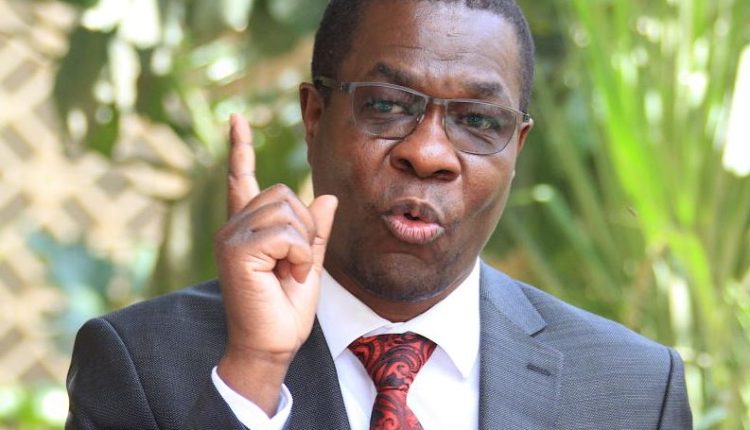 Opiyo Wandayi Bio, Age, Education, Career, Wife and Net worth.
James Opiyo Wandayi is a Kenyan vocal politician and a member of parliament currently serving his third term as Ugunja MP. He is the current minority leader in the national assembly. He was first elected into office in 2013 and has continuously retained his seat in the subsequent general elections.
Apart from being a vocal politician, he also has his fair share of scandals and controversies. On March 13, 2016, he was suspended from attending parliament proceedings after he disrupted then-President Uhuru Kenyatta's State of the Nation address during a joint parliament sitting.
Opiyo Wandayi Age and Birthplace
Hon Wandayi was born and raised in the rural settlement of Ugunja in Siaya County.
Opiyo Wandayi Educational Background
He completed his elementary and secondary education at Siaya before enrolling in the University of Nairobi to pursue his undergraduate degree.
Afterward, he pursued postgraduate degrees in law at Daystar University, an MBA at the United States University – Africa, and a diploma in management from the Kenya Institute of Management.
Read Otiende Amollo Bio, Age, Career, Education, Family and Net worth.
Opiyo Wandayi Career
Prior to entering the elected political arena, where Wandayi thought his true calling lay, he temporarily worked in the private sector. He was first elected in 2013 and then again in 2017 as the MP for Ugunja.
He was politically involved during his college days and for a while. After the 1997 Saba Saba (July 7) and Nane Nane (August 8) rallies in support of multi-party democracy, he was even imprisoned for five months as a suspected aggressor. He claims that he was more of an activist and doesn't consider himself a career politician.
He has consistently been passionate about inspiring constituents to get more involved in community affairs, promoting their welfare and well-being, and assisting them in the development of their own successful personal lives.
He also owns the Opiyo Wandayi Foundation, a community-based organization that aims to empower communities through social development activities.
The Opiyo Wandayi Foundation (TOWF) has a positive mindset for the country that is based on a solid foundation of community-driven development approaches and trust.
The Foundation collaborates with organizations on a national and local level around the country through strategic and hand-picked partnerships.
Political Positions
As earlier stated, he is the current member of parliament for the Ugunja constituency from 10th March 2013 and a Member of the Orange Democratic Movement (ODM)- the firebrand political party in the country.
He was also a member of the Coalition for Reforms & Democracy (CORD), a coalition that aimed to install Raila Odinga as the President during the 2013 general elections
In parliament, he has served as a Member of the Departmental Committee on Environment & Natural Resources and a Member of the Departmental Committee on Agriculture, Livestock, and Co-operatives.
Read Raphael Tuju Bio, Age, Career, Education, Family, Wife and Net Worth
Scandals and Controversy
Opiyo Wandayi Ejection from Parliament
The MP was expelled from the House in March 2016 for interfering with President Uhuru Kenyatta's speech during his address to a joint meeting of the National Assembly and the Senate. Opiyo Wandayi was put on administrative leave by Speaker Justin Muturi until the end of the session, which was scheduled to end in December.
Opiyo Wandayi, however, appealed the Speaker's decision to the High Court, which ruled that he should be permitted to return to the House awaiting the hearing and resolution of his case.
Then majority leader Aden Duale questioned the court order, claiming it had conflicted with the National Assembly Standing Orders. Opiyo Wandayi rejected his suspension and threatened the Speaker with legal action if Muturi disobeyed the court's directive to let him return.
What Transpired in Parliament
The State of the Nation address by President Kenyatta was interrupted by some Lawmakers blowing whistles in the House. Just as the President was about to stand to begin his annual address, the whistles were blown. By reciting the Standing Orders to the members, Muturi attempted to restore order in the chambers.
He repeatedly informed the MPs that the President must be heard in silence during the address in accordance with the Standing Orders, but to no avail. Members who were not prepared to listen to the address were requested to leave the chamber by Muturi. After the 30-minute interruption, whistling started up again as Uhuru stood to deliver the message.
Wandayi was later allowed into the house proceedings after the High Court noted that Wandayi's continued absence from the house was denying his constituents the right to representation.
IEBC Committee proposal
Opiyo Wandayi famously rejected the Joint Select Committee's proposal to pay Independent Electoral and Boundaries Commission (IEBC) commissioners as a condition of their resignation, arguing that the agreement between the committee and the Commission was not justifiable because there is no law that permits payment for work that has not been completed.
Opiyo Wandayi Wife
Despite being under public watch, Opiyo Wandayi has managed to keep his family and children off the cameras. Details about his wife and kids are yet to be unraveled.
Opiyo Net worth
Just like his family affairs, Opiyo Wandayi keeps his net worth under wraps. He however earns Ksh 710,000 per month and several allowances as an MP, which makes his earnings over 1 million a month.