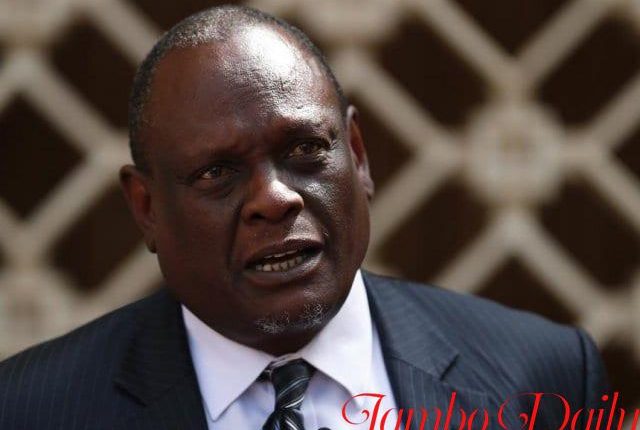 "Akitaka Endorsement Ya Uhuru Arudishe Pesa" Murathe Fires At Ruto.
Jubilee Party Vice Chairman David Murathe now says that Kikuyu Nation; which includes all counties in the Mount Kenya Region, does not owe Deputy President William Ruto any political debt.
Murathe says that Ruto was paid billions of shillings to drop his presidential ambitions both in the 2013 and 2017 general elections, and therefore deserves no support from the region.
The 63-year-old father of two says if Ruto wants an endorsement from Uhuru Kenyatta and back up from the Mount Kenya region, he should return the money that was rendered to him.
"Kikuyu Nation doesn't have any political debt with William Ruto. We paid him billions to drop his presidential ambitions in 2013 and 2017. Akitaka endorsement ya Uhuru arudishe dollar, simple and clear," wrote Murathe on his Facebook page.
This comes almost four years after the President and his Deputy President broke out after a series of disagreements between them. The dissent between the two was believed to have been caused by the union between the President and the opposition leader Raila Odinga.
After the 2017 general elections, rivalry rose between President Uhuru and Raila Odinga, whom he defeated in the presidential elections, but was not willing to concede. Raila, along with other opposition leaders launched a massive campaign to encourage Kenyans to resist President Uhuru's government.
Raila would usually stage demonstrations in Nairobi every Monday where hundreds of his supporters would come out to riot and picket on the streets to express their dissatisfaction.
As part of the proceedings, a National Resistance Movement led by general Miguna Miguna was formed. The main aim of the movement was to create a wave in the country that would pressure the Jubilee government to resign and leave power to the opposition. However, that was not to happen.
The opposition leader issued orders commanding his followers to stop consuming products from certain companies and firms such as Safaricom, Bidco Africa, Brookside Dairy, and many others. Some of his die-hard followers went ahead to dump Safaricom lines and changed to Airtel and Telkom.
Despite all the drama, the Jubilee government remained unshaken and continued to conduct its operations as usual. The state of security in the country was however experiencing constraints, and the police had to hurl teargas and irritating water at the demonstrating crowds every Monday. Cases of security breaches among several estates in Nairobi were reported daily and this posed a risk to National Security.
The demonstrations continued for a while until some concerned parties, including religious leaders, started calling for a union between the president and the opposition leaders.
Read: Ruffle as Ford Kenya Exits NASA To Join One Kenya Alliance.
On 9 March 2018, Kenyans woke up to the news that President Uhuru and Raila Odinga had held a meeting and resolved to sort out their issues in harmony. This was symbolized by the two greeting each other in front of the statehouse in what later came to be known as, The Handshake.
Since then, the President and his Deputy started having disagreements which later turned sour, leading to an abrupt end to their long-time friendship.
A section of Kalenjin leaders have since been conducting campaigns to pressure the President to back Ruto in his 2022 presidential bid. They have been implying that the President and the entire Mount Kenya Region owe Ruto a political debt since he supported him in 2013 and 2017, and they ought to support him in 2022.
However, the president has remained mute about the issue and has been heard on several occasions saying that the presidency is not only meant for two ethnic groups but for all.
Read: David Murathe Biography, Age, Career, Education, Family, Wife, Net Worth, Scandals
In a past event, Uhuru was quoted saying that he did not have the power to premier anyone to the presidency, and that leadership comes from God. He concluded that the leader who is meant to succeed him is the one who shall win and he didn't really care who that would be.
Murathe, on the other hand, has been a strong critic of the deputy president since the days' handshake was born. He has been sabotaging any attempts by Ruto to convince the public that he deserves support from the president.
The henchman says that Ruto has served his two terms as the deputy president and should go home with the president come 2022.