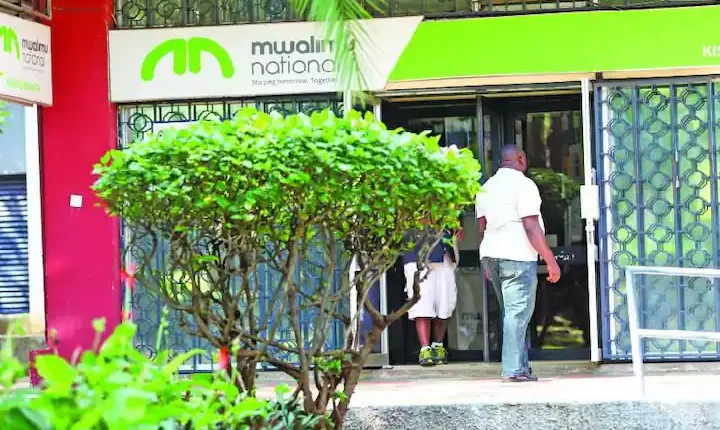 Mwalimu Sacco Loans Types Requirements & Interest Rates
Mwalimu National is the country's largest African Sacco, with members from all around the country. The institution's goal is to empower and enable tutors to gain access to inexpensive financial services. Mwalimu Sacco loans, for example, have significantly cheaper interest rates.
Mwalimu National Sacco provides a variety of loans to teachers and members. They are all suitable for different sorts of financing and have varied interest rates and conditions. To choose the best credit, you must first comprehend the loans given by this company.
This article highlights different types of mwalimu sacco loans, interest rates, loan amounts and repayment terms.
Mwalimu Sacco loan types
The alternatives for funding available to you as a member are listed below. We have provided the prerequisites for loan approval as well as their related interest rates.
BOSA loan products
Back Office Services Activities financing is made against your deposits. Products offered here include:
Wezesha loan
Wezesha is the only financing option that does not require a six-month wait before applying for loan processing. As a new member, you have immediate access to up to Ksh. 600,000, and your first savings deductions are deposited into your account. A third of the fund will be kept as reserves for you.
The following terms and conditions apply:
The product is only for new members
A loan interest rate of 13% will apply
The maximum repayment period is 36 months
A 2% processing fee is deducted
The credit should be guaranteed fully
Shares boosted will earn Mwalimu National Sacco dividends on a pro-rata basis
Emergency funding
This credit is only available for unforeseeable events or circumstances. Furthermore, you can only access one type of emergency financing at a time. The following terms are applicable:
A monthly interest rate of 1% on a decreasing balance is applied.
It must be paid back within 24 months.
Based on a third of your net wage, the multiplier is x5.
School fees loan
You can only apply for this for educational purposes. Only one school fee credit is issued at a time. The terms include:
1% interest rate per month based on reducing balance It should be repaid within 24 months
The maximum limit you can obtain is five times your deposits.
The amount is based on the 1/3 net salary rule.
Normal loan
This is a short term form of financing that will help you in meeting immediate financial essentials. The terms below apply:
1% interest per month on a reducing basis
The maximum loan repayment schedule is 36 months
You can only have a maximum limit of 3 times your deposits subject to the 1/3 salary regulation.
Only one standard loan can be granted at a given time
Development loan
You can only take this medium-term loan for investing purposes. You cannot have more than one credit at a time.
1.17% interest rate per month on a reducing balance basis
It should be reimbursed within 48 months
You can only access a maximum of 4 times your deposits where the a-third-salary rule will apply
Super loan
Super loan is long-term financing that should be used for investment purposes. The following terms apply:
1.20% interest per month
A limit of 4 times your member deposits Should be paid back within 60 months
You can only take one Super Loan at a time
Vision 84
Another long-term investment credit that Mwalimu Sacco offers is Vision 84. Its terms include:
1.29% interest per month on a reducing balance system
Maximum repayment time is 84 months
You can access up to 5 times your member deposits, and the 1/3 salary regulation applies
Read also, Sheria Sacco Membership Eligibility & Requirements
Mwalimu National Sacco FOSA loans
Products from Front Office Services Activities (FOSA) are designed to suit all the needs of teachers by offering inexpensive and necessary banking services.
The items consist of:
Karibu loan
Newly employed teachers and interns are the only groups that can access this fund. The following conditions apply:
A 1.5% interest rate per month You should be a member
The repayment period is within 90 days after you receive your first salary
Newly employed TSC teachers can access a maximum of Ksh. 60,000, which will be disbursed in three phases of Ksh. 20,000 per month.
Interns will only be issued with not more than Ksh. 30,000 paid in three Ksh, 10,000 tranches
The recovery period for each installment is five months
You are given 90 days grace period from the time you receive the last set of funds.
The loan is repayable through your salary or any other legal finances.
You will need the following to qualify:
A posting letter from the TSC
A copy of your national identity card certified by the school deputy and principal
A guarantor
A copy of your TSC casualty returns Pay-point loan application form which should be signed by your school Deputy or Principal
Salary Advance
You can apply for this kind of loan if you have any emergency in the month before the monthly payments are disbursed.
These are the conditions:
Repayment is due at the end of the given month.
You can borrow up to 80% of your net pay or even S.A.Y.E.
The rate is 5%.
FOSA instant credit type 1
Just like the name suggests, you will be given your credit amount instantly if you qualify.
You should be ready to accept the following:
Should be reimbursed within 30 months
The rate is 1.5% per month based on reducing balance
The limit granted is your S.A.Y.E savings times 10
FOSA instant credit 2
Type 1 and 2 differ as they have different rates, payment period, and other terms as illustrated below:
An interest of 1.25% per month
Should be repaid within 12 months
The maximum financing granted is 16 times your net salary.
The figure is also 10 x your S.A.Y.E savings
Mobile loans from Mwalimu Sacco
You can transact as a member while relaxing in the comfort of your home or office thanks to their go-mobile application. You can carry out all financial operations, including bill payment, purchasing airtime, money transfers, and obtaining an instant loan fromhttps://www.mwalimunational.coop/ Mwalimu Sacco.
M-loan
M-loan is the solution for you if you require a rapid loan without a lot of paperwork. The interest rate is based on how quickly you repay the debt.
One month at 4%
Two months at 4%
Three months at 4%
Only credit of 80% or less of your net pay, or even S.A.Y.E., may be taken. Every month, the institution receives the principle and interest payments.
Individual loans to businesses
The products in this category are made to support your company development as a Mwalimu entrepreneur. They consist of:
Personal loan
In many financial institutions, you can get financing without the usual group conditions if you have a successful firm. You can borrow as little as Ksh. 150,000 and as much as Ksh. 5,000,000.
These regulations serve as this product's guidelines:
Monthly interest rates of 1.25% on a declining balance basis It should be repaid over a period of 36 to 60 months.
The maximum time will be significantly influenced by the amount given.
Using securities like logbooks, title deeds, and other legal documents, you should secure it.
Group loans
Individual funds from a group are distributed in this sort of company finance for the purpose of growing an already operational business. It must have been around for at least six months.
The following tiers provide the basis for the credit:
Tier one with a 12-month payment option between Ksh 30,000 and Ksh 150,000
The second tier, ranging from Ksh. 151,000 to Ksh. 250,000, must be paid within 24 months.
Tier three is repaid from 251,000 to 500,000 Kenya Shillings in 36 months.
For all of the aforementioned, a monthly interest rate of 1.33% will apply.
As your firm expands, you must start at tier 1 and work your way up to tier 3. If you succeed at the third level, you can advance to borrowing from as an indepedent client.
Motorcycle loan
To be eligible for this loan, you should:
Have BOSA of not less than Ksh. 100,000
Maintain a monthly contribution to your savings account of Ksh. 1,000
Contribute 30% of the invoice price
The logbook will be jointly registered with Mwalimu Sacco until you complete the repayment
A comprehensive cover during the loan term is compulsory
Welfare services
Mwalimu National works to maintain your wellbeing, comfort, and tranquility. There are some safeguards in place to help you in times of need because none can foretell what will happen in the next nanosecond.
Risk fund
It is compulsory for everyone
You pay Ksh. 300 per month
The funds will be used to pay last respect to any deceased family member as listed:
Self – Ksh. 80,000
Spouse – Ksh. 50,000
Children (Maximum 4) – 20,000
Burial benevolent fund
Compulsory for all members
Ksh. 150 per month
The following will be issued for a decent send-off:
Self – Ksh. 60,000
Spouse – Ksh. 55,000
Children (Not more than 6) – Ksh. 35,000
Parents – Ksh. 20,000
Parents in-law – Ksh. 15,000
You should have a copy of a death certificate to make any claims. For a child, you need a birth notification or certificate and any other supporting document, such as a letter from the sub-chief.
Senior savers loan
Senior members who have accumulated up to Ksh. 1.5 million in Back Office Savings are eligible for the program. The salary-dividend rule does not apply. You just need to pass all financial flows through your Mwalimu Sacco account, including business profits, pension payments, and other cash flows. The best candidate for this funding is someone who has retired or is about to do so. To be eligible
Your total loans in the institution should not exceed 85% of your free deposits.
Securities such as logbook and commercial title deeds are mandatory
The product has the following features:
Processing fee of 2%
The maximum amount is Ksh. 15 million
The repayment term is not more than 120 months.
You must demonstrate your ability to repay and provide sufficient collateral and business appraisal
Mwalimu Sacco customer care contacts
For complaints and any questions, direct them through the following official communication channels:
Head office: Mwalimu Towers, Hill Lane, Off – Mara Road, Upperhill.
Postal address: P.O. Box 62641 00200 Nairobi Kenya
Phone: +254 020 295 6000, +254 709 898 000
SMS number: 0721 270 944
Email:

m

w

a

l

i

m

u

@

m

w

a

l

i

m

u

n

a

t

i

o

n

a

l

.

c

o

o

p

Website: mwalimunational.coop
Mwalimu Sacco loans are the best for teachers. Unlike banks, interests on existing loans are never adjusted upwards.