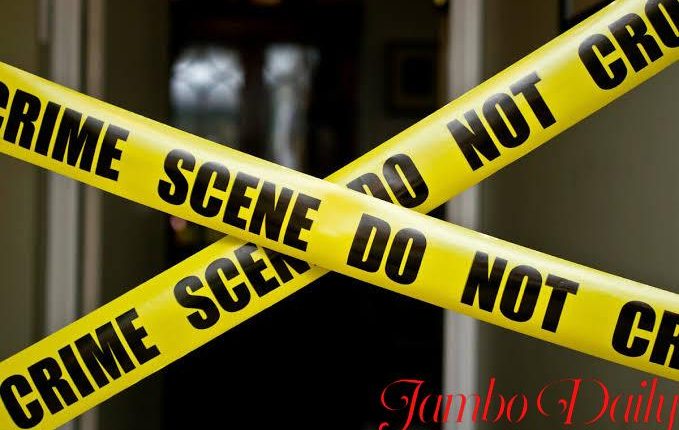 Rogue Probox Driver Stabs Boda Boda Rider To Death in Meru
Police officers in Meru have arrested and detained an aggressive man who is believed to have stabbed a boda-boda rider to death following a small feud that ensued between them on Monday 5 April.
It was reported that Ian Mwenda, 25, was riding from Maua towards Antubochiu market on Monday evening when strong winds blew off his cap. The cap fell on the road, which prompted him to turn back to pick it up unaware of the impending danger of death.
George Miriti Kalung'e, who was driving behind the rider in a navy-blue Toyota Probox Succeed suddenly got furious when Mwenda stopped his bike on the road to pick his cap.
According to one of the eyewitnesses, Kalung'e immediately stopped his car and angrily charged at Mwenda, demanding to know why he had stopped on the road. He mocked the rider by asking if he wanted to be knocked down (dead).
Mwenda on noticing that the man had no good intentions rode off towards the lower Antubochiu market to avoid further arguments. But an angry Kalung'e could not just give up, he got into his vehicle and followed him at a high speed.
He overtook Mwenda a few meters ahead, blocked the road, came out of the vehicle brandishing a Machete, and suddenly stabbed him in the chest.
The machete pierced through Mwenda's chest from the left side and he fell dead on the road. The good Samaritans rushed him to Maua Methodist Hospital where the doctors declared that he had already died.
Police officers from Maua Police Station immediately launched a manhunt and the assailant was arrested at Mutuati. The officers seized his vehicle whose windscreen was broken, along with blood-stained clothes.
The exhibits have been preserved for further forensic investigations as police continue searching for the murder weapon. The suspect who is currently behind bars is awaiting arraignment in court.
This comes even as cases of crime in the country have increased in the past few days. On Easter Monday, a man identified as Kevin Okal attacked his 70-year-old grandmother at Nyalenda slum and beheaded her before carrying the head to Kisumu central police station.
On Wednesday, March 7, a GSU officer attached to CS Matangi's office is reported to have shot his wife dead before turning the gun at himself.
Again, last week, a 24-year-old man was killed in a bizarre incident when he visited his girlfriend and found her having fun with her two male friends at an apartment in Embakasi.
With the increasing crime rates and murder incidents, the focus is now being shifted to mental health issues with speculations that it might be the major cause of these crime incidents.
The adverse effects of the Covid-19 pandemic along with its repercussions including the lockdowns and loss of jobs and income have also been included in the blame game.
Domestic issues have also proved to be a major cause of concern with regard to murder and violence with spouses killing each other and their children.
There is a need for various sectors to come together and restrategize on how to handle these crime issues which have become a pain in the ass for society.
Source: DCI KENYA.