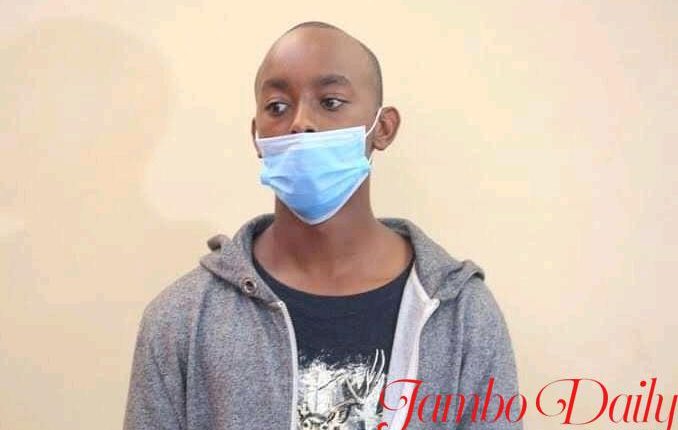 Lawrence Warunge; Prime Suspect in Kiambaa Homicide Denies Murder Charges
Lawrence Warunge, the prime suspect in the Kiambaa Murder incident now tells the court that he is not guilty of the offense. The 22-year-old Mount Kenya university student was accused of killing his parents, young brother, and cousin in a murder incident that occurred in January 2021.
Appearing virtually before high Court Judge Mary Kasongo on Thursday, April 15, the suspect pleaded not guilty to the five murder counts against him.
This comes months after he confessed to DCI detectives that he silenced his parents, two siblings, and a farmworker on January 5, 2021. Warunge claimed that his parents had allegedly neglected him, which prompted him to eliminate them. He further said he was inspired by a movie film 'Killing Eve' to commit the offense.
The suspect had earlier on been declared unfit to stand judgment and had been in police custody since then.
He was declared fit to stand trial on Tuesday 13 April following a psychiatrist examination and subsequently arraigned in court two days later.
Warunge allegedly attacked his parent's home on the night of January 5, 2021, and started off with the unsuspecting gardener. After killing the farmworker, he proceeded to the kitchen where his mother was preparing a meal. He hit her on the head with a blunt object before stabbing her severely.
He then attacked his younger brother who had come to the rescue of his mother. By that time, his father had the light of what was happening and had planned to escape. He, unfortunately, fell from the balcony and hurt his leg, which gave warunge a chance to kill him.
According to a report by a pathologist, warunge's 55-year-old father was stabbed more than 30 times in the chest.
The suspect is then said to have gone back to the house to finish his young nephew, whose cries for mercy fell on deaf ears. On an ironic counter, the suspect reportedly ate the food his mother had prepared and watched a TV program before escaping to hideout.
The crime suspect will be detained at  Remand Prison in Industrial area pending his pretrial hearing on May 11, 2021.