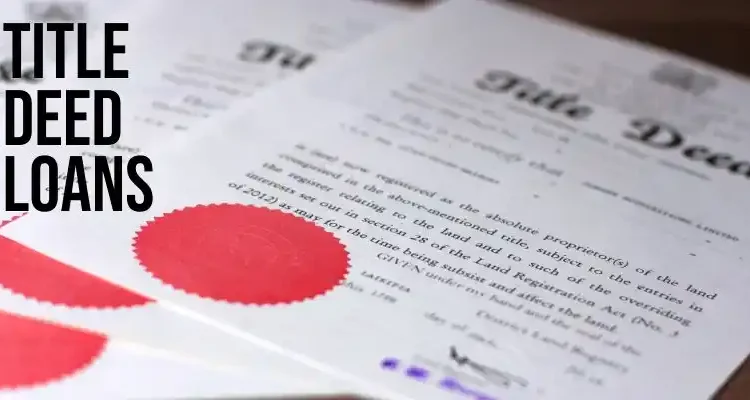 List Of Title Deed Loan Lenders In Kenya
This is a list of Kenya's top title deed loan providers. These are lenders who make loans to customers using the title deed as security/collateral. In most circumstances, the loan provided covers up to 50% of the land's worth.
What is a Title Deed Loan?
A title Deed loan is a sort of loan in which a valuable asset is used as collateral. The popularity of title loans can be attributed to two factors. For starters, an applicant's credit score is not used when determining loan eligibility. Second, because the application standards are less demanding, a title loan for small amounts can be approved quickly.
Title deed loans are very popular among landowners who would wish to stake out their land in exchange for quick cash to solve biting financial challenges. However, it is important for borrowers to note that they risk losing their land in case of loan default.
This article outlines the leading title deed loan providers in Kenya, highlighting the requirements and interest rates.
List Of Title Deed Loan Providers In Kenya
1. Mwananchi Credit
Mwananchi Credit is a financial organization that specializes in financing solutions for small and medium-sized businesses (SMEs) and people. It provides quick title deed loans at a low APR of 20%. The repayment duration ranges from 3 to 12 months.
The organization has offices in Nairobi, Mombasa, Eldoret, Thika, Kitengela, and Kisumu.
Eligibility Criteria
You must be a salaried employee or a self-employed professional or non-professional.
At the time of loan maturity, you should be no older than 60 years old if you are a salaried employee and no older than 65 years old if you are a self-employed professional/non-professional.
Requirements
The title deed, both original and copy.
Property appraisal and search.
KRA PIN.
National identification card.
The property has a legal charge over it.
Consent of the spouse.
6 months of bank statements.
The cheque book.
Contacts
Call 0709 147 010.
Email: info@mwananchicedit.com
Physical location: Ecobank Towers 10th floor, Muindi Mbingu Street, Nairobi.
2. Jijenge Credit
Jijenge Credit is a non-deposit micro-lending institution that provides funding for business or personal expenses that are backed by your title deed. The loan term can last up to 24 months.
Requirements
Title deed in original and two copies.
Original ID and two copies.
2 colored passport-size pictures.
Bank and Mpesa statements over the previous six months.
Located at Nairobi Town House, Suite 605, Kaunda Street, 6th Floor.
0722 843 770 is the phone number.
3. Maendeleo Capital
Maendeleo Capital is a microfinance lending institution that does not accept deposits. It provides title deed loans that are ideal for meeting your unique needs. In 24 hours, you can borrow up to Kshs 500,000 on title deeds.
Original title deed and a copy.
Copy of ID, 2 passport photos, and KRA PIN.
A chequebook account.
6 months bank statement.
Land valuation report.
Utility bill or rental house receipt.
Location: Applewood Adams, Ngong Road.
Contact: 0745 560 008.
4. Citizens Credit
Citizens Credit provides title deed loans to individuals or small and medium-sized organizations (SMEs) in need of operating capital to finance their businesses in order to capitalize on growing business possibilities.
Requirements
Copy of the title deed.
Valuation report of the property.
Legal charge over the property.
Location: 11th Floor, Finance House, Loita Street, Nairobi.
Contact: 0722 646 687.
Read also, List of Top Mortgage Lenders in Kenya
5. Atlantis Finance
Atlantis Finance is a Nairobi-based non-deposit microfinance lending firm with branches in Mombasa, Nakuru, and Kisumu.
It provides title deed loans that are backed by a land title deed or a lease title, depending on the situation. The loans do not exceed 50% of the property's worth and, in any case, do not exceed Kshs 2 million shillings.
Application Requirements
Personal or business bank statement for the last 6 months.
Original title deed.
Duly signed spousal consent form.
Land search done by Atlantis advocates.
Valuation is done by Atlantis-approved valuers.
Duly filled application form.
PIN certificate of application.
Contact: 0701 746 656.
6. Finezza Capital
Finezza Capital only makes low-interest title deed loans against mortgage-able title deeds. The loan given ranges from Kshs 100,000 to Kshs 500,000. This can be increased to a maximum of Kshs 8,000,000 under certain circumstances.
Requirements for application
6 months personal bank statement.
The interest rate of 5% per month is fixed over a 12 months period.
Original and 2 copies of title deed.
National ID.
Location: Marsabit Plaza, Ngong Road.
Contact: 0721 482 852.
7. Metro Credit Ltd
These loans are backed by a land title deed or, in some cases, a lease title. The loans do not exceed 50% of the property's worth.
Application Requirements
Personal or company bank statements for the last 6 months.
Postdated checks for all installments.
The original title deed.
Signed spousal consent paperwork.
Charge documents were signed in triplicate.
Atlantis-conducted land search.
Valuation by Atlantis Valuers
Application form duly completed.
A copy of the applicant's ID.
The applicant's PIN certificate.
Photographs in color that are passport size.
Contact: 0745-555-005 | 0745-555-006
8. Bashy African Credit
Bashy African Credit is a Nairobi-based non-deposit microfinance institution. The company's main focus is on small-scale logbook loans (secured loans with a car) and financial services. They also offer logbook loans at current market rates.
Their title deed loans are processed in less than two weeks and can be repaid over three to twelve months. The APR might be as low as 13.5 percent. (1.2% monthly).
Requirements
Original & 2 copies of logbook
Original &2 copies of National ID
2 copies of KRA pin certificate
2 colored passport-size photos
6 months bank & M-pesa statements
Read also, List of Salary Advance Loan Lenders in Kenya
9. Fairdeal For Cash
Fairdeal for Cash is located along Mfangano Street in Nairobi.
Call 0722169168 or 0736161339
10. Springboard Capital Limited
This financier is located on the 3rd floor of CPA Centre KCA University along Thika Road in Nairobi.
Call 0705715054 or 020 5133700-99