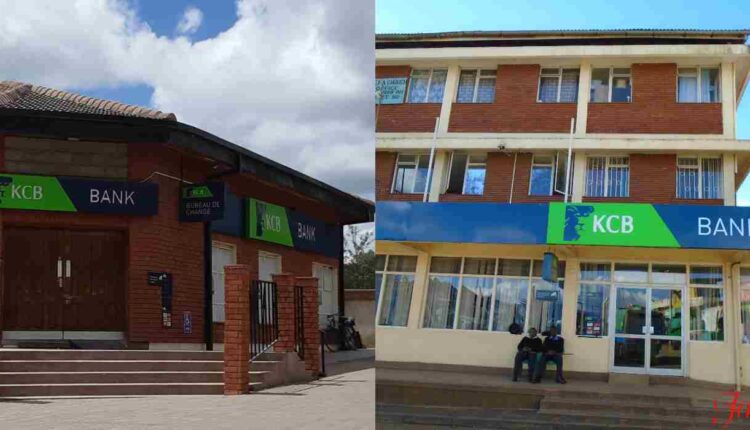 List Of KCB Bank Branches In Kenya, Their Locations, and Branch Codes
The KCB Bank branches in Kenya are listed here. KCB is the oldest bank in the nation, it was founded on January 1st, 1896. At the Kencom House on Moi Avenue in Nairobi, the company's headquarters are situated.
With a total asset base of $977.5 billion, the Kenya Commercial Bank is the biggest bank in Kenya. Additionally, KCB has a sizable customer base of over 26.2 million.
Read How To Become a KCB Agent, Requirement, Float and Commission
Below is a list of KCB Bank branches in Kenya and their corresponding codes.
| | | |
| --- | --- | --- |
| Branch Code | Branch Name | Location |
| 091 | Eastleigh | Grand Royal Hotel, General Waruinge |
| 092 | KCB CPC | Kencom House |
| 094 | Head Office | Kencom House |
| 095 | Wote | Wote |
| 096 | Head Office Finance | Kencom House |
| 100 | Moi Avenue Nairobi | Moi Avenue Street |
| 101 | Kipande House | Adjacent To Kenyatta Avenue/ Loita Street, Opposite GPO |
| 102 | Treasury Sq Mombasa | Treasury Square, Mombasa |
| 103 | Nakuru | Junction Of Kenyatta Avenue And Moi Road |
| 104 | KICC | KICC Building, Harambee Avenue, Ground Floor, Next To Conference Caterers Restaurant |
| 105 | Kisumu | Oginga Odinga Road, Next To Law Courts/ Kisumu Hotel, Kisumu |
| 106 | Kericho | KCB Building, At The Intersection Of Kenyatta Road And Kericho – Kisumu Highway |
| 107 | Tom Mboya | Hamburg House, Tom Mboya Street |
| 108 | Thika | Opposite Police Station, Kenyatta Highway |
| 109 | Eldoret | KCB Building, Along Kenyatta Street |
| 110 | Kakamega | Along Kenyatta Avenue, Off Kakamega – Webuye Highway, Opposite Yako Supermarket |
| 111 | Kilindini Mombasa | Moi Avenue |
| 112 | Nyeri | Next To White Rhino, Along Kiburini Road |
| 113 | Industrial Area Nairobi | KCB Enterprise Building, Along Enterprise Road, Industrial Area |
| 114 | River Road | KCB Building River Road Central Business District |
| 115 | Muranga | Kaharati – Kangari Road, KCB Building, Opposite Family Bank, Githumu |
| 116 | Embu | Meru Highway, Embu |
| 117 | Kangema | Next To Iyego House, Along Kangema – Kiangunyi Road, KCB Building, Kangema |
| 119 | Kiambu | Kiambu Rd, Kiambu |
| 120 | Karatina | Behind Starbucks Hotel & Opposite Karatina Open Market, Nairobi – Nyeri Highway, Nyeri |
| 121 | Siaya | Next To The Municipal Council Offices, Opposite The Postal Corporation Building, Siaya |
| 122 | Nyahururu | KCB Building, Subukia Road, Nyahururu, Nyandarua |
| 123 | Meru | Meru |
| 124 | Mumias | Nabongo Road Mumias |
| 125 | Nanyuki | Laikipia |
| 127 | Moyale | Moyale Town |
| 129 | Kikuyu | Opposite Kikuyu Law Courts, Kikuyu, Kiambu |
| 130 | Tala | Tala Machakos |
| 131 | Kajiado | KCB Building, Along Nairobi – Namanga Road, Kajiado |
| 133 | KCB Custody services | |
| 134 | Matuu | Matuu |
| 135 | Kitui | Kitui Maendeleo ya Wanawake, Mbusyani Rd, Kitui |
| 136 | Mvita | KCB Building, Along Jomo Kenyatta Avenue, Mombasa |
| 137 | Jogoo Rd Nairobi | Jogoo Lane Junction, Opposite Uchumi Supermarket, Jogoo Rd, Nairobi |
| 139 | Card Centre | |
| | | |
| --- | --- | --- |
| 140 | Marsabit | Marsabit |
| 141 | Sarit Centre | The Sarit Centre |
| 142 | Loitokitok | KCB Building, Along Lorugum Road, Loitokitok, Kajiado |
| 143 | Nandi Hills | Hospital Road, Near Eastern Produce Co. Ltd, Nandi Hills |
| 144 | Lodwar | KCB Building, Along Lorugum Road, Lodwar, Turkana |
| 145 | UN Gigiri | United Nations Ave, Nairobi |
| 146 | Hola | Hola |
| 147 | Ruiru | Ruiru Town |
| 148 | Mwingi | Kitui |
| 149 | Kitale | Along Robert Ouko Street, Opposite Barclays Bank, Kitale, Trans Nzoia |
| 150 | Mandera | Mandera Town |
| 151 | Kapenguria | Within Makutano Town, Along Makutano – Kapenguria Road, Kapenguria, Makutano, West Pokot |
| 152 | Kabarnet | KCB Building, Moi Road, Off Kabarnet – Nakuru Road, Kabarnet |
| 153 | Wajir | Wajir Township, Along Isiolo – Mandera Road, Wajir |
| 154 | Maralal | Next To Maralal Post Office And Maralal District Hospital, KCB Building, Maralal, Samburu |
| 155 | Limuru | Ngure Tharao Building, Opposite Family Bank, Limuru, Kiambu |
| 157 | Ukunda | Likoni – Lungalunga Road, Next To Ukunda Post Office |
| 158 | Iten | Along Kapsowar Road, Off Eldoret – Kabarnet Highway, Iten, Elgeyo Marakwet |
| 159 | Gilgil | Gilgil |
| 161 | Ongata Rongai | KCB Building, Magadi Rd, Kajiado |
| 162 | Kitengela | Along Nairobi – Namanga Road, Kitengela, Kajiado |
| 163 | Eldama Ravine | Tandui Building, opposite garden square, Eldama Ravine town |
| 164 | Kibwezi | Kibwezi – Kitui Rd, Kibwezi |
| 166 | Kapsabet | Along Wilfred Bungei Street, Opposite Post Office, Kapsabet, Nandi |
| 167 | University Way | University Way, Nairobi City |
| 168 | KCB Eldoret West | Kiptagich House, adjacent to Central Bank of Kenya, along Uganda Road, Eldoret Town |
| 169 | Garissa | Corner House, Lt Tumbo Road, Next To Main Roundabout, Garissa |
| 173 | Lamu | Lamu Sea Front, Lamu |
| 174 | Kilifi | Kilifi Ganze Road, Kilifi |
| 175 | Milimani | NSSF Building, Bishops Road, Block A, Ground Floor, Nairobi |
| 176 | Nyamira | County Headquarters Ground Floor, Nyamira – Kisii Road, Nyamira |
| 177 | Mukuruweini | KCB Building, Off Othaya – Karatina Road |
| 180 | Village Market | Village Market |
| 181 | Bomet | Along DC Road, Off Narok – Kisii Highway, Opposite Bomet Health Centre, Bomet |
| 183 | Mbale | Elgon Masaba, Cathedral |
| 184 | Narok | Along Narok – Nairobi Highway, Opposite Oltalet Mall, Narok |
| 185 | Othaya | Othaya |
| 186 | Voi | KCB Building, Along Hospital Road, Voi, Taita Taveta |
| 188 | Webuye | Webuye Town |
| 189 | Sotik | Sotik-Ndanai Road, Sotik |
| 190 | Naivasha | Moi Road, Opposite Naivasha Railway Station, Naivasha, Nakuru |
| 191 | Kisii | Kisii Town |
| 192 | Migori | Migori – Muhuru Rd, Suna |
| 193 | Githunguri | KCB Building, Next to Githunguri Police Station, Along Ruiru Uplands Road, C65, Githunguri |
| 194 | Machakos | Machakos- Kangundo Rd, Machakos |
| 195 | Kerugoya | Kerugoya, Kerugoya – Karatina Road |
| 196 | Chuka | KCB Building, Along Embu – Meru Highway, Chuka |
| 197 | Bungoma | Moi Avenue Street, Bungoma |
| 198 | Wundanyi | Adjacent To Shell Petrol Station, Opposite Danson Mwanyumba Stadium, Wundanyi, Taita Taveta |
| 199 | Malindi | Near Total, Lamu Road, Malindi |
| 201 | Capital Hill | Madison Insurance House, Ground Floor, Upper Hill Rd, Nairobi |
| 202 | Karen | Karen |
| 203 | Lokichogio | Along Lodwar – Lokichoggio Road, Next To Former UN Camp, C/ O, KCB Gigiri, Lokichoggio, Turkana |
| 204 | Gateway Msa Road | Gateway Mall Mombasa Road |
| 205 | Buruburu | Sunview Plaza, Along Bumbani Road, Buruburu Estate, Behind Uchumi Supermarket, Nairobi |
| 206 | Chogoria | Opposite PCEA Chogoria Hospital, Chogoria |
| 207 | Kangare | Near Githurnu, Along Kangari – Kaharati Road, KCB Building |
| 208 | Kianyaga | KCB Building Kianyaga Kiburia, Mucagara – Thumaita Rd |
| 209 | Nkubu | Nkubu- Meru |
| 210 | Ol Kalou | Ol Kalou Town |
| 211 | Makuyu | Makuyu, Nyeri Highway |
| 212 | Mwea | Along Embu – Nairobi Highway, Kerugoya, Embu |
| 213 | Njambini | Njabini Town, South Kinangop, Njabini, Nyandarua |
| 214 | Gatundu | Along Kenyatta Road, Gatundu |
| 215 | Emali | Mombasa Road, Emali |
| 216 | Isiolo | KCB Building, Isiolo |
| 217 | KCB Flamingo | Pioneer Building, Along Kenyatta Avenue, Nakuru |
| 218 | Njoro | Njoro Rd, Njoro |
| 219 | Mutomo | Elijah Nthenge House, Mutomo |
| 220 | Mariakani | Ground Floor, UAP Better Simple Life, Mombasa Road, Mariakani |
| 221 | Mpeketoni | KCB Building, Mpeketoni |
| 222 | Mtitu Andei | Mombasa Road, Mtito Andei |
| 223 | Mtwapa | Mtwapa |
| 224 | Taveta | Amal Building, Next To Amal Petrol Station, Eldoro Road, Taveta, Taita Taveta |
| 225 | Kengeleni | Kengeleni Investment Building, Along Nyali Road, Mombasa |
| 226 | Garsen | Garsen Rd, Tana River |
| 227 | Watamu | Watamu |
| 228 | Bondo | Bondo Town |
| 229 | Busia | Rainbow House, Along Busia – Uganda Road, Busia |
| 230 | Homa Bay | Homa Bay Town |
| 231 | Kapsowar | Next To Kapsowar Main Market, Along The Road To The Dc'S Office, Kapsowar, Elgeyo Marakwet |
| 232 | Kehancha | Kehancha |
| 233 | Keroka | KCB Building, Kisii – Keroka Road |
| 234 | Kilgoris | Posta Road, Opposite Postal Office, Kilgoris, Narok |
| 235 | Kimilili | Kimilili, KCB Building |
| 236 | Litein | Litein |
| 237 | Londiani Branch | Londiani, KCB Building |
| 238 | Luanda | Kisumu – Busia Highway, Luanda, Vihiga |
| 239 | Malaba | KCB Building, Along Eldoret – Malaba Highway, Kamuriai – Malaba Road, Malaba, Busia |
| 240 | Muhoroni | Muhoroni, KCB Building, Muhoroni |
| 241 | Oyugis | Along Kisii – Kisumu Road, Oyugis |
| 242 | Ugunja | Ugunja Siaya |
| 243 | United Mall | United Mall Kisumu |
| 244 | Serem | Serem Shopping Centre, Opposite Serem Health Centre, Along Shamakhokho – Gambogi Road, Serem, Vihiga |
| 245 | Sondu | Kisii – Kisumu Road, KCB Building |
| 246 | Kisumu West | Obote Road |
| 247 | Marigat | Marigat |
| 248 | Mois Bridge | KCB Building, Eldoret – Kitale Road, Moi's Bridge |
| 249 | Mashariki | At The Junction Of Likoni & Lunga Lunga Road, Viwandani |
| 250 | Naro Moro | Along Nanyuki – Nairobi Highway |
| 251 | Kiriaini | Kiriaini |
| 252 | Egerton University | |
| 253 | Maua | Maua |
| 254 | Kawangare | |
| 255 | Kimathi | Kimathi Building, Kimathi Lane, Nairobi |
| 256 | Namanga | Along Namanga – Nairobi Road, Namanga, Kajiado |
| 257 | Gikomba | Cambodia Plaza, Gikomba, Along Old Pumwani Road |
| 258 | Kwale | Opposite Kwale Mosque, Next To Equity Bank, Kwale Kinango Road, Kwale High Road |
| 259 | Prestige Plaza | 2nd Floor, Prestige Plaza, Nairobi |
| 260 | Kariobangi | Kariobangi Light Industries, Outer Ring Road |
| 263 | Biashara Street | Jethalal Chambers, Biashara Street, Nairobi |
| 266 | Ngara | Ngara Road |
| 267 | Kyuso | Kyuso |
| 270 | Masii | KCB Building, Masii |
| 271 | Menengai Crater | Loncom House, Junction Of George Morara Road And Lower Bedi Road |
| 272 | Town Centre | |
| 278 | Makindu | Makindu-Mombasa Road |
| 283 | Rongo | KCB Building, Rongo |
| 284 | Isibania | Isibania |
| 285 | Kiserian | Country House, Along Magadi Road, Kiserian, Kajiado |
| 286 | Mwembe Tayari | Along Kwashibu Road -Mwembe Tayari |
| 287 | Kisauni | Along Hon. Karisa Maitha Road (Old Malindi Road), Mombasa |
| 288 | Haile Selassie | Kenyatta University Building, Haile Selassie, Nairobi |
| 289 | Salama House Mortgage Centre | Salama House, Mama Ngina Street, Ground Floor, Nairobi |
| 290 | Garden Plaza | Ufundi Co-Operative Plaza Ground Floor, Moi Avenue, Nairobi |
| 291 | Sarit Centre Mortgage Centre | |
| 292 | CPC Bulk Corporate Cheques | |
| 293 | Trade Services | |
| 295 | Nairobi High Court | Madison Insurance House, Ground Floor, P.O. Box 47382 Upper Hill Road |
| 296 | Mombasa High Court | Along Dedan Kimathi Road, Mombasa |
| 297 | Kisumu Airport | Kisumu International Aiport |
| 298 | Port Victoria | Port Victoria, Kisumu – Busia Highway |
| 299 | Moi International Airport | Moi International Airport, Mombasa |
| 300 | Nyali | Next To Nyali Naivas Shopping Centre |
| 301 | Westgate Advantage | Westgate Mall |
| 302 | Diaspora | |
| 303 | Kisii West | Zonic Hotel Complex- Along Kisii-Kisumu road |
| 304 | Mbita | Mbita Plaza, Main Street, Mbita Town |
| 305 | Sori | Main Street, Sori Town |
| 306 | Hurlingham | Priory Place Building, Hurlingham, Argwings Kodhek Road. |
| 307 | Kibera | Jamii Villas, Kibera drive, Ayany Estate, Kibera. |
| 308 | Thika Road Mall Branch | Thika Road Mall |
| 309 | Kasarani Branch | Pazuri Place, Next To Naivas Supermarket – Kasarani. |
| 310 | KCB Maasai Mara | Talek Centre, Outside The Maasai Mara Game Reserve, Talek Gate. |
| 311 | KCB Kabartonjo | Tumaini Stores building, Main street, Kabartonjo town. |
| 312 | KCB Eldoret East | Tarita Centre; adjacent to Gulf Energy, Ronald Ngala Street, Eldoret Town. |
| 313 | Kikima | Koki Plaza, Main street Kikima, Makueni |
| 314 | KCB JKUAT | Jkuat, Thika Road |
| 315 | KCB Changamwe | Changamwe |
| 316 | KCB Makongeni | KCB Building, Garissa Road |
| 317 | KCB Syokimau | Gateway Mall Mombasa Rd, Nairobi |
| 318 | KCB Moi Referral Hospital | Moi Teaching and Referral Hospital, Nandi Rd, |
| 319 | KCB Kitale Advantage | Along Robert Ouko Street, Opposite Barclays Bank |
| 320 | KCB Lavington | Lavington Mall |
| 321 | KCB ICD Kibarani | Kibarani |
| 322 | KCB Riverside Advantage | Riverside |
| 323 | KCB Gigiri Square | Gigiri Square Building, Office Block B |
| 324 | Kayole | Shujaa Mall, Kayole Spine Road |
| 325 | Garden City | Garden City Mall |
| 326 | JKIA | Jomo Kenyatta International Airport, Nairobi |
| 327 | Makutano | Meru |
|  ​​ ​​​​ 328 | Kericho East | KCB Building, At The Intersection Of Kenyatta Road And Kericho – Kisumu Highway |
Read Also