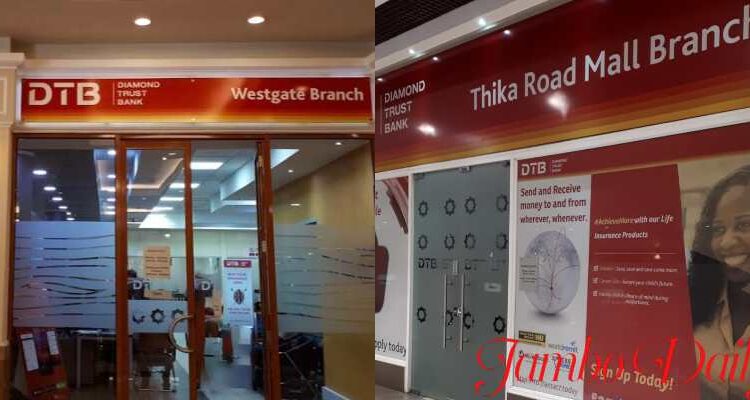 List of DTB Bank branches in Kenya, Locations, and Branch Codes
This page contains a list of Diamond Trust Bank-DTB branches in Kenya, along with their addresses and branch codes. It is a leading Tier 1 bank that is publicly traded on the Nairobi Securities Exchange (NSE).
DTB's recent growth has been fueled by its focus on the SME sector and its commitment to improving customer convenience through branch network expansion.
DTB is committed to enabling people to advance with confidence and success and has over 130 branches in Kenya, Tanzania, Uganda, and Burundi, some of which are 24/7 digital branches.
The Bank's heritage and values are encapsulated in its brand promise, Achieve More, and are brought to life by an engaged diverse workforce.
DTB has been operating in Kenya for over 75 years as an affiliate of the Aga Khan Development Network (AKDN). The bank has over 55 branches in Kenya.
List of Diamond Trust Bank DTB branches in Kenya
| | |
| --- | --- |
| Branch name and Location | Branch Code |
| 9 West | 055 |
| Biashara Street, Nakuru | 056 |
| Bungoma | 021 |
| Buru Buru | 024 |
| Busia | 048 |
| Changamwe | 016 |
| Courtyard Branch | 041 |
| Crossroad | 036 |
| Diamond Plaza | 035 |
| Diani | 020 |
| DTB Centre | 052 |
| Eastleigh | 015 |
| Eldoret | 014 |
| Eldoret Kago Street | 068 |
| Embu | 059 |
| Enterprise Road | 071 |
| Garden City Mall | 057 |
| Head Office | 000 |
| Industrial  Area | 009 |
| Jamhuri Street Malindi | 073 |
| JKIA | 037 |
| Jomo Kenyatta Branch Mombasa | 026 |
| Kakamega | 027 |
| Karen | 031 |
| Kericho | 028 |
| Kilifi Branch | 044 |
| Kisii | 010 |
| Kisumu | 003 |
| Kitale | 022 |
| Kitengela | 025 |
| Koinange Street | 069 |
| Lamu Branch | 043 |
| Lavington | 054 |
| Machakos | 060 |
| Madina Mall | 040 |
| Malindi | 011 |
| Mariakani Branch | 045 |
| Meru | 034 |
| Migori Branch | 039 |
| Mombasa | 002 |
| Mombasa Rd | 008 |
| Mtwapa Branch | 042 |
| Mwanzi Road | 070 |
| Nakuru | 018 |
| Narok | 061 |
| Nation Centre | 001 |
| Ngong Milele Mall | 062 |
| Nkrumah Road Mombasa | 072 |
| Nyali | 038 |
| Nyeri | 067 |
| OTC | 013 |
| Parklands | 005 |
| Prestige | 023 |
| Rivaan Center | 066 |
| Riverside | 065 |
| Ronald Ngala | 047 |
| Shimanzi | 033 |
| South C | 053 |
| T-mall | 017 |
| The Oval | 058 |
| Thika | 012 |
| Thika Road Mall | 046 |
| Tom Mboya | 050 |
| Two Rivers | 063 |
| Upper Hill | 029 |
| Village Market | 019 |
| Voi | 032 |
| Wabera Street | 030 |
| Watamu | 064 |
| West End Mall – Kisumu | 049 |
| Westgate | 006 |